Jazz-funk guitarist and New Mastersounds founder and frontman Eddie Roberts is 46 years old.
And the native of Wales had never really listened to the Allman Brothers' music until a few years ago, he revealed during a recent interview with Highway 81 Revisited.
His first true experience of listening to the legendary jam band happened in Pennsylvania — of all places — while Roberts was riding around with a promoter of the Equifunk festival in Equinunk.
"He said, 'I'm going to make you listen to the Allman Brothers. What do you think?'" Roberts recalled of his Allmans introduction during a weekend his British instrumental funk quartet performed at Equifunk. "It was fun. My wife is a huge (Allmans) fan. She's more into music than me."
Roberts and his band figure to get a deeper indoctrination into the Allmans' catalog — in Pennsylvania again — the weekend of Aug. 10-13, when New Mastersounds perform Friday at the Allmans-founded 2017 edition of the  Peach Music Festival on Montage Mountain near Scranton.
The festival is headlined by two nights of Widespread Panic in addition to performances by My Morning Jacket, Umphrey's McGee, Gov't Mule and Joe Bonamassa, among many others.
An "all-star" tribute to Gregg Allman and Butch Trucks, Allman Brothers Band founders and Peach Festival originators who both died over the past year, is planned for Saturday night by Allman Brothers Band alumni. Pink Talking Fish will perform the Allmans classic "Eat A Peach" album in its entirety, mixed with Pink Floyd, Talking Heads and Phish covers.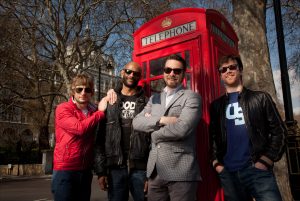 The New Mastersounds found a musical home in the U.S. well over a decade ago, and it's no accident the band from Leeds, England, has become a mainstay in American festival lineups.
Europe, where New Mastersounds got its start about 20 years ago, spun out of the DJ club scene, is not exactly a hotbed for jam-filled, improvisational acts, Roberts lamented.
"A lot of the bands, they don't have that jam mentality," Roberts, who now makes his home in Denver, said of the musical climate across the Atlantic. "They play the same set every time. The same 45-minute set. The same exact set. (The audience), they don't expect anything different. I don't blame the audience for that. There's this belief that, once you've seen it, you've seen it."
That limiting and predictable scene wasn't for Roberts.
"We felt like we were banging our heads against a brick wall in the UK," Roberts said. "(The UK music scene) moved over to the indie bands and the DJ culture. It was becoming hard in the UK to keep doing what we were doing. I come from a jazz background, the main musical form that treats music in a spontaneous way."
The New Mastersounds got its eye-opening introduction to a jam-hungry U.S. audience in 2004 while the band was performing on a bill in Chicago at the House of Blues with Greyboy All-Stars, a funk band fronted by saxophonist Karl Denson, who has since toured with the Rolling Stones.
"All these people were going crazy," Roberts recalled. "We were like, 'Holy shit, we need to be here. This is where we need to be.' We saw the light."
During a recent phone interview with Roberts, Highway 81 Revisited asked what Roberts was most looking forward to seeing at Peach as an observing music fan.
"Definitely Chaka Khan singing with Lettuce," Roberts said after perusing the Peach lineup.
"I'm like, 'Whoa, that's pretty cool.' It's a great lineup."

Roberts said he also looks forward to catching up with the guys from Panic, whom he knows from touring with the band in years past. Panic lead guitarist Jimmy Herring actually sat in as an emergency fill-in for Roberts during a set with New Mastersounds in February at Panic En La Playa, Widespread Panic's Mexican destination festival, after Roberts was injured in a skiing accident that required surgery.
Roberts wasn't up for sharing many details about the accident. Suffice it to say, he was in pretty rough shape.
"I was literally under the knife," Roberts recalled. "I flew down there on Thursday after the surgery. Our keyboard player (Joe Tatton) has sat in with (Panic). (Panic keyboardist) Jojo (Hermann) is a big fan of our Joe."
The New Mastersounds were first introduced to Panic at the Fuji Rock Festival in Japan several years ago.
"It's not a genre I really grew up with," Roberts said of Panic. "I come from a jazz background. It's a very American sound. But, you know, they're great guys. Great players. Very loved by their following."
Roberts grew up on jazz. He began playing piano when he was 7 years old, he said, and took up guitar at the age of 10. Other than Black Sabbath and Jimi Hendrix, Robert didn't hear much popular music growing up.
"I never heard the Grateful Dead before 2004," Roberts said. "I never heard a single song. They weren't very big in the UK. We knew it was a 'scene,' but it wasn't something we were much exposed to."
Roberts said he took in his his first Dead-related show this summer with wife Ashley, a lawyer. In addition to being a big Allman Brothers fan, she's a big fan of the Grateful Dead.
"I really enjoyed it," Roberts said of the Dead and Company concert. "It took me a minute to get into it. I had open ears and tried not to have too many preconceived notions. There was an American spirit to it. I had a great time. I felt like I really got into it in the second set."
Roberts felt more familiar during that second set, when the band broke out "Help on the Way," a song the New Mastersounds were invited to record for a tribute to the Grateful Dead, leading into the Grateful Dead's 2015 Fare Thee Well 50th anniversary concerts.
Watch the New Mastersounds' cover of "Help on the Way" here: 
Roberts started his music career after leaving Leeds College of Music, where he was studying jazz. He left school after starting to work as a DJ and booking shows at a club in the late 1980s.
"I was going to clubs every weekend. A lot of my friends were deejays," Roberts recalled. "It was like a coalition of people putting on music. The whole band came out of that scene.
"It's all related. There was always a funky side of jazz I was into. So, it's all kind of related — club music, soul music. It's just all kind of dance hall friendly."