The National Reserve founder and frontman Sean Walsh abruptly interrupted fellow guitarist and bandmate Jon Ladeau during a revealing recent interview about the Brooklyn-based band's upcoming two-day appearance at the annual Briggs Farm Blues Festival July 5-8 in Nescopeck, Pennsylvania.
During a wide-ranging telephone conference call that touched on the band's history, its ever-changing cast, its long-standing, Friday-night residency at a Brooklyn club and its debut album, guitarist Walsh, the band's lead vocalist, learned something new about fellow guitarist Ladeau and felt compelled to chime in.
Walsh, 33, had just finished sharing a story of how he couldn't even read music in college back in 2004. A private music instructor of his suggested Sean drop out of school, start a band and avoid a mountain of student loan debt.
"It was the most honest thing I heard at that college," recalled Walsh, who grew up in northern New Jersey.
Around that same time, a friend of Walsh's handed him an advertisement about auditions for a musical showcase at The Bitter End, a legendary club located in New York City's Greenwich Village, where an eclectic collection of hundreds of famed musicians like Bo Diddley, Miles Davis, Bob Dylan, Stevie Wonder, Patti Smith and Lady Gaga have been performing since the club's 1961 opening.
Walsh landed himself a gig there Jan. 3, 2004, and invited his parents to attend. He broke the news to them after that show that he was dropping out of college.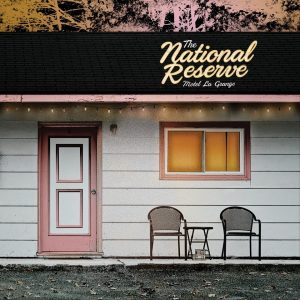 "They were super cool about it," Walsh said. "I never thought they would be supportive of it."
Two years later, while living in New York, Ladeau, who was born in the Philadelphia suburbs and grew up in the Pine Barrens of South Jersey, heard about the very same showcase at The Bitter End and decided to audition.
"I thought, 'You know, if I get a gig there, it'll be a sign,'" said Ladeau, who is in his mid-30s. "Same thing. I did the audition and got on the showcase for my first gig. I was 19 or 20 at the time. That place was kind of what made me."
That was news to Walsh, and he felt compelled to interject.
"I didn't know that about you, Jon," Walsh said. The pair clearly have more in common than they had previously realized.
"I still have a deep respect for that place," Walsh added. "It definitely has changed over the years. But that place made me realize I could write my own music. For a lot of musicians at that time — in the early 2000s in New York — it was a really good way to break in.
"A big part of it for me was going to hear other people's music. There was friendly competition. I thought, 'Man, I can't show up with some bullshit song.' It forced you to write a lot."
The National Reserve will showcase Walsh's writing and guitar and Ladeau's guitar solos with songs from their debut album — "Motel La Grange" — when they appear at Briggs.
The National Reserve, which also includes bassist Matt Stoulil, keyboardist Steve Okonski and drummer Brian Geltner, performs both Friday and Saturday at Briggs, where Samantha Fish and Amy Helm, daughter of the late legend Levon Helm, will headline Friday and Saturday, respectively.
"Amy Helm is a buddy of ours," Walsh said. "We played a recent festival in Delaware with them. That band is killing it. Amy is so talented and nice."
Despite having just released a debut album, "Motel La Grange," in May, The National Reserve is no startup.
Walsh formed the band about 12 years ago, and it's had a revolving-door of musicians coming and going since it stabilized with a regular lineup several years ago.
How many musicians have played in the band over those dozen years?
"About 30," Walsh said. "Before, it wasn't really a band. It was me, and I would hire friends to do roles I needed. And I was the musical director. It's felt like a true band the last six years.
"This is the first time I'm in a band where everybody speaks the same language — non-verbal. It's the first time in my life it's really flawless. It's really cool. It's the first time I've been able to communicate with musicians on another plane of consciousness."
Described by many as an Americana act, The National Reserve has evolved from a country band performing weekly at a Brooklyn club to a pure rock and roll outfit that has gradually begun booking national gigs, said Walsh, who mentioned Paul McCartney, Leon Russell and blues guitarist Freddie King as influences.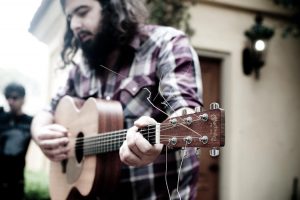 Walsh said a discussion about his band's frequent lineup changes with friends from another band after a show in the D.C. area years years ago inspired his band's name.
"They were asking me what I had going on," Walsh recalled. "I said, 'You know, I have this tour. I'm going to meet up with these guys in Virginia, and we're going to play.'
"They said, 'You've got a reserve of musicians all over the country.' The band was changing a lot. It was a nice little way to tie that in — an ever-changing thing. The most annoying part of being in a band is coming up with a name."
Despite growing up in the same state and having similar musical resumes, Walsh and Ladeau's paths didn't cross until several years ago.
"The first time we met in person was at the Bushwick Block Party in Brooklyn," Walsh recalled. "I was a little inebriated at the time, so I think I made quite an impression."
Prior to that, Walsh had first seen Ladeau perform at a club in New York's West Village.
"I was with my friend Johnny. We went to see the show," recalled Walsh. "I was amazed by Jon's playing. He was the first person I thought of when (guitarist) Luca Benedetti left the band."
Ladeau has been with the Reserve about four years, and he and Walsh say they've developed a trusting, give-and-take musical chemistry.
"Jon is definitely a better guitarist than me," Walsh admitted. "He's gracious enough to let me take some guitar solos."
"I get a lot of space to mess around while Sean is taking on the vocal duties," added Ladeau, who mentioned Led Zeppelin and Aerosmith as his musical heroes. "I get a lot of space to mess around while he's focused on that."
The Reserve has made a steady climb in the industry since the band was booked for a four-week residency at Skinny Dennis, a club in Brooklyn, about five years ago. The band, which considers Skinny Dennis its "laboratory," was signed to play every Friday.
And they've been playing virtually every Friday there ever since. The band has cut back on those Skinny Dennis appearances and been performing under alias band names there in recent months since they've been getting booked for more shows nationally, including a gig as the opening act for Tedeschi Trucks Band at the F.M. Kirby Center in Wilkes-Barre in February.
"Legally," Skinny Dennis fits about 60 people, Walsh said with laugh. He estimated as many as 200 squeeze into the place to see the band any given Friday.
"So much of what we do has come out of being crammed into that little corner for four hours every Friday," Ladeau said of Skinny Dennis. "We've been doing it a few years. That kind of got us listening to each other and playing together."
It was at Skinny Dennis, where Walsh and his bandmates met their eventual booking agent, Nathaniel Marro of Entourage Talent in New York City.
"He would come to see us play a Skinny a bunch," Walsh said of Marro. "We would always talk at the show, and I had no idea what he did. Finally, I said, 'What do you do?' He said, I'm a booking agent.'
"I asked if he could help us, and he was on board pretty quickly. Nathaniel got in our corner. He helped us find a label. It's been super exciting. I try not to think about it too much and just go with it."