Playing the blues to express joy might sound like a contradiction. And if you're superstitious, saying that about your unlucky 13th album is even stranger. But for long-time blues guitar standout Mike Zito, "Makes Blues Not War," released Nov. 18, is not an exercise in misery or a cursed occasion.
"I've been fortunate that I get to make records for a living," Zito says in a recent phone interview. "They continue to let me make records. And over the years, I've learned to become a smarter and better singer and more of a parts player and playing in a band, and really for the past six years I've been in a band; I was in Royal Southern Brotherhood, and in the middle of that I started my own 5-piece band, like a Texas-style Delbert McClinton Band.
"I said I wanted to go back to my guitar and do something fun. Something that's all about me," he says with a laugh. "I will be 46 years old the day after the record comes out, and I think everyone goes through their phases. I feel like I'm going to be a teenager again."
Since we spoke, the Royal Southern Brotherhood lineup of Zito, Devon Allman and Cyril Neville announced it would be reforming for a run of 2017 shows.
The RSB paid major dividends for Zito, who spoke of the group fondly in the past tense with a hopeful eye toward future work. But there will be time for that soon enough.
"Musically, I just wanted it to be really loose and energetic and live, and wanted someone to help me not second guess," Zito says of "Makes Blues Not War," which was helped along by producer Tom Hambridge at Sound Stage Studios in Nashville. "I had gotten so in my head."
Asked if the process yielded the intended results, the St. Louis-bred Zito answers enthusiastically: "I feel like it did. Tom said, 'When you go in with somebody, the job of the producer is to do something different.' To me, it sure seems different. It seems like such a big difference, especially from the last I record I put out last year ('Keep Coming Back').
"No sax and less piano. In the big picture, not that different. A lot more guitar playing. But we definitely captured it. I have an affinity for '80s Alligator Records recordings. I love all the Albert Collins records and Johnny Winter records, just those records when they're really live and really rocking blues. I grew up listening to a lot of those records, so I wanted to make something that was in that style."

Zito's son, Zach Zito, features on guitar on the appropriately titled "Chip Off The Old Block," which the elder musician wrote for his 21-year-old, the oldest of five children. All of the kids have guitars or other instruments, but since Zach was 10 and got his first guitar, he has not put it down, says his dad. Mike Zito said he never pushed Zach into music, "but he's a lot like me: he loves playing guitar."
"So fast-forward, and I told Tom we need to have my son play on the record. He's a senior in college at University of Missouri in Columbia; he's got a degree in music and communications and plays in bands and does all this stuff, and he's done shows with me, but he's never recorded. So we write the song, and it was fun.
"I said, 'Hey man, I want you to play on my record. I just bought your plane ticket to Nashville.' He came and knocked it out of the park. Now, the next talk is when he gets out of school — he graduates in May next year — he wants to come on tour and become the second guitar player in the band. So I'm thrilled, man. No one in my family payed music when I was growing up. I was the odd man out. It's pretty neat to see it. He's so talented."
A conversation with Zito is shot through with his appreciation for a second chance at life and at a career, following a bout with drug and alcohol abuse. Asked what advice he has for his son, it doesn't take long for him to bring up his own miscues.
"I don't mean it to sound as corny as maybe it sounds, but I think the biggest mistakes I made was drinking too much and doing drugs," he says. "I had a lot of these chances that I was very fortunate to get again. I had them earlier on when I was in my 20s, and the mistakes I made was too much of the partying. Of course, he has a much better opportunity than I did, because I can help him kind of get started or get into whatever the business is.
"The other thing I tell him is to trust your instincts and be yourself. It's another thing that sounds cheesy. When you keep kind of trying to fit the mold of what you think you should be or what people think you should be or might be popular, all of that is just really a load of crap. Especially in my world. I'm in the roots world. We're fortunate enough to make a living making music. I always tell my kid, if you're going to be in the blues, it's a job. You'll have to work for it, but you'll have a job. It's not like we're dealing with being famous or anything like that, but it's so much easier to trust yourself."
"You learn a lot of things from a lot of people, and not always from people older than you. I've learned a lot from Samantha Fish, who's a good friend of mine and of the family. I've helped her get started and watched her grow, but I also learned from her."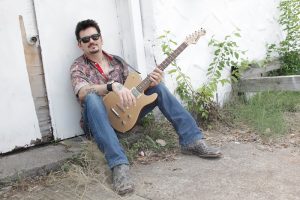 Zito said he and his wife call Fish, the rising blues guitarist and vocalist, "our oldest daughter." It's a relationship built from Zito's mentorship of Fish, whom Zito met when he would come through Kansas City.
"In walks her dad, Bill Fish, and Bill, he's just two years older than me," Zito recalls. "He worked at Knuckleheads in Kansas City; he loves music, and he was always there. He started bar backing on the weekends because he wanted to see the shows. He told me, 'My one daughter is really getting into playing guitar.' He brought her out, maybe she was a senior in high school. I had just met her, and she was just learning to play. And maybe two months later she came out again, and she had listened to the record, and he said, 'Can she get up and play with you?' It was OK. She was 18. … So her dad would bring her out, and every time she came out, she was getting better and better, and then she had her own band, which would open up, and she did her own CD. …
"She's the only person I've seen that has done everything right so far. Her career is soaring, and it's because she's done everything your supposed to do, and it's working."
Zito met Devon Allman, one of Gregg Allman's sons, when they worked together at a Guitar Center in St. Louis. Devon's stepdad was a pilot for TWA, which had a hub in St. Louis, and Devon still lives there, Zito says.
When they met, Zito was a much bigger Allman Brothers Band fan than his new friend who carried that famous last name.
"He grew up with a father who did not accept him until he was 16 or so, so there's this whole weird thing that I think kept him from enjoying the music, whereas I grew up around it. Of course, these days he knows everything there is to know about the Allman Brothers. He's done all his homework, and he knows what's going on. Did I turn him onto them? I don't know about that, but I just remember thinking that 'This is not an Allman Brother.'"
Since then, through the RSB, Zito's path has crossed with the Allman Brothers. He recalls meeting Allmans guitarist Warren Haynes at Jazz Fest in 2011 and getting him to sign his guitar. A month later at a blues festival, he met Haynes' fellow ABB guitarist Derek Trucks and wife Susan Tedeschi, and Trucks signed the guitar, too.
"So now I'm walking around with two of the guys' signatures, and the next thing you know, I get an Allmans' 40th anniversary backstage pass. And I brought the guitar to Gregg, and he said, 'I don't sign guitars.' And I understood. So we did a whole tour with him, and by the end of the tour I got to play with him. When we walked off stage, he said, 'Bring that guitar to the dressing room,' and he signed it. I said, 'You don't know what this means to me. I don't mean to be weird, but there was 10 years where I listened to you every single day.'
"Dreams come true. I got a guitar signed by those guys and played with them. I felt for a minute that I was in that movie 'Almost Famous.'"