The River Street Jazz Cafe in Plains, Pa., welcomed Connecticut-based group McLovins on a calm yet enjoyable Wednesday evening. I had the opportunity before the show to briefly catch up with the 4-piece consisting of Jason Ott (bass), Justin Berger (lead guitar), Atticus Kelly (keys) and Jake Huffman (drums).
They are currently on a 3-week tour, heading to Virginia next and down to the Carolinas promoting their new album. I was curious about their influences lately, which included bands like Wilco, The Meters and The Band. Huffman, drummer and vocalist, was super enthusiastic about this new collection of their songs, and I later learned why. Kelly and Berger went on to explain how wonderful it is working with Bill Sherman, who produced the album, and their manager, Michael Novick.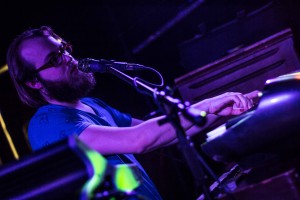 "We're really lucky to be working with such great people," said Berger. It seemed to me as if they were very focused on creating great music, doing it right, and connecting with their audience.
The guys will wrap up this run at the end of the month, only to start another one shortly after in May. Between their talent on stage, their friendly, clever and lighthearted personalities, and their clear dedication to absolutely killing it, it seems like they are on a path that can only lead to generating tons of support and creating atmospheres for people to enjoy themselves in wherever they are.
SETLIST
Greenhouse
Man In a Blue Coat
Regular
Thick Of It
Talk About It
Peach Pits
Samson
Step Sister
Buildin' It Up
Gold In The World
D.M.T > West L.A. Fadeaway
Catch The Ball
Ophelia