It was no secret that the final years of The Black Crowes' storied run were fraught with tension. Frontman Chris Robinson wanted to continue to push the music into an open-ended, Grateful Dead-inspired direction, while his brother and fellow founding member, guitarist Rich Robinson, wanted to reconnect with the song-based rock that initially inspired him.
Now that each brother is free to pursue their music outside of the constraints of that band — and all of the baggage that had built up over the years — Rich Robinson, playing around 200 different Crowes tunes with his new band, The Magpie Salute, is doing something he hadn't done in years.
"Have fun," he said bluntly in a recent phone interview. "There are these patterns that people get into really early on in a band. We were kids. I was 19 when we made 'Shake Your Money Maker,' and Chris was 21 or 22. We were just little kids, and those sort of familial patterns are sort of deeply ingrained and hard to get out of. We were heading down this path that really wasn't so cool. And it became really hard to be in that band. It was just a bunch of angry people."
With The Magpie Salute, which also features former Crowes guitarist Marc Ford, Robinson has built up a live repertoire of hits, fan favorites and lesser-known tracks from the band's back pages. The band, which will perform Saturday, Nov. 11, at the TLA in Philadelphia and Wednesday, Nov. 15, and Thursday, Nov. 16 at Irving Plaza in New York, also includes lead singer John Hogg, former Crowes bassist Sven Pipien, drummer Joe Magistro, guitarist Nico Bereciatura, keyboardist Nick Rosen and backing vocalists Charity White (also formerly with the Crowes), Adrien Reju and Katrine Ottosen.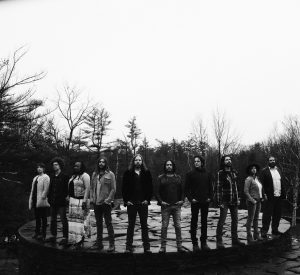 When Robinson scheduled The Magpie Salute's debut show last January at NYC's Gramercy Theatre, it sold out. He put up three more shows for sale there, and those promptly sold out as well.
"Once we started our rehearsals for the Gramercy, you could tell instantly it was there," says Robinson. "Obviously I wrote all that music, at least with the Crowes songs, so I know it, it's in my head. But what everyone else brought to it, you could just realize it was great. There were moments in the songs that just reached another level."
Robinson, who says "he's happy with how the shows are going," adds, "everyone sees the improvement within the band."
"We started out in a very ambitious way," he says. "We threw down 150 songs to learn, and we are constantly adding. We're over 200 now. So that being said, we change setlists every night, and we're writing new stuff for our first real record. When everyone is on the same page and working toward the same goal, then that's really what makes this great and what makes it fun and brings joy to me."
The seeds for the Salute were planted when Robinson played a series of special shows in Woodstock, N.Y., in support of his most recent solo album, "Flux." Singer Hogg, already a member of Robinson's solo project and the former frontman of their band Hookah Brown, was already on board, as was bassist Pipien and drummer Magistro. Robinson then reached out to a couple of fellow former Crowes to invite them to play, too.
"Last year I was looking back on the people I've had that relationship with, and Marc Ford was one of them. Regardless of whatever personal shit that went on back then, Marc and I would always go on stage and have this spirit, this intangible element the two of us had. The same thing with [keyboardist] Eddie Harsch."
"So I called Marc up. I hadn't spoken to him in a while, and he got back to me, and we had a great conversation. And the cool thing about this is it was the first time ever in Marc and my relationship that we were able to talk or go out without my brother in the room," Robinson says with a laugh.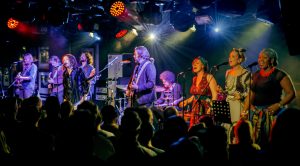 The relationships rekindled, Ford, who was fired from the Crowes in 1997, and Harsch, who was with them from 1991 to 2006, were on board for Woodstock.
"The shows were over three days over the weekend, and it was just like yesterday," Robinson recalls. "Marc and Ed came in, and it was seamless. Everyone jumped back to that place."
The once and future bandmates went their separate ways, but Robinson knew he'd revisit that combo. So when The Magpie Salute was first announced, it included four former core Crowes: Robinson, Ford, Pipien and Harsch. Unfortunately, Harsch died before the Gramercy debut.
In June, The Magpie Salute released a self-titled live album, recorded in Woodstock, besides one new song, "Omission." The band is working on its studio debut, which will be a 2-disc effort. Robinson said the band is not playing any of the forthcoming songs at its concerts, so fans instead hear the final, polished product, rather than works in progress posted online by fans.
But for now, all that matters is Robinson and company are back to what had taken a backseat for many years: the music.
"Chris doesn't want to play these songs anymore," he says of his brother, whose band, Chris Robinson Brotherhood, indeed eschews the Crowes' catalog. "He doesn't want to have anything to do with them, and I do, and we all do, and we play them well."