This year's Peach Festival is shaping up as a family reunion for Andy Thorn of Leftover Salmon.
When the Colorado bluegrass-based sextet makes its debut Peach appearance during the July 19-22 festival, banjo picker Thorn will welcome an entourage of as many as 15 relatives on Montage Mountain.
Thorn's wife Cecelia's father and his family are from the Scranton area.
"He's a little unsure of the festival scene," Thorn, laughing, said of his father-in-law. "He's seen it from afar. But they're going to come out."
Salmon's sound tech, Mario Casilio, also has Pennsylvania ties. Casilio grew up in Bethlehem. His family runs Casilio Concrete of the Lehigh Valley, Thorn said.
Thorn, 35, won't have the luxury of spending a whole lot of time with the in-laws though.
The morning after Salmon performs its Friday evening set, Thorn will board a 6 a.m. flight out west for a two-day stint at the Northwest String Summit in North Plains, Oregon.
Leftover Salmon plays a 2 p.m. slot at the Summit that Saturday afternoon.
"We do stuff like that all time," said Thorn, who lives in the foothills of Boulder, Colorado. "You just get on a flight the next morning, and, bam, you're there. When you're flying west, it's easier because of the hours. You gain time."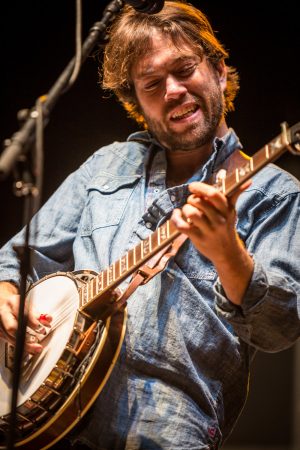 To hear Thorn discuss his travel adventures, nothing seems to come easy.
Thorn, whose addition to Salmon followed a band hiatus after founding band member and previous banjo player Mark Vann died of cancer in 2002, owns 10 banjos and usually travels with two when he flies.
By Thorn's count, the Gibson RB-75 acoustic banjo he won at the 2003 RockyGrass acoustic banjo competition in Lyons, Colorado, has broken six times after he's checked it in as baggage for flights.
Thorn has gotten his prized Gibson repaired after each mishap, and he continues playing it to this day. He's just more protective of it now.
"So, now I carry that on and check my electric (resonator) banjo," Thorn said. "It's the reality of traveling as a musician. Stuff happens. 'Well, what do you expect when you're checking instruments?'"
Thorn is a relative newcomer to Leftover Salmon, which originally formed nearly 30 years ago in Colorado.
He joined the lineup in 2011 after a stint in the Emmitt-Nershi Band, a side project collaboration between mandolin player Drew Emmitt, Thorn's eventual bandmate in Leftover Salmon, and guitarist-vocalist Bill Nershi of String Cheese Incident.
Thorn, a North Carolina native, was invited into Emmitt-Nershi in 2008 after banjo buddy Chris
Pandolfi of the Infamous Stringdusters departed Emmitt-Nershi to go full-time with the Dusters.
"(Pandolfi) recommended me and I got the job," Thorn recalled.
Thorn said replacing Vann in Salmon was less difficult after the band's hiatus in 2005.
"It wasn't that intimidating to me," Thorn revealed. "If I was the first replacement right after he passed that would be a tough position to be in. He was amazing. It was a growing period for the band (during its break). He had told them to keep this thing going. They tried for two years (after Vann's death), and decided they needed a break. By the time I came in, it had been an easier transition."
"Personality-wise, I fit in with them right away. They all like the outdoors and skiing," added Thorn, a serial hiker. "And I had been with Drew for two years before I joined. Me and him had a musical connection. (Salmon frontman) Vince (Herman) and I became friends through going to his house all the time. I was always jamming with him and his two sons.
"I miss having Vince around (in Colorado). He moved to Oregon. It's hard to be in Nederland (Colorado) when everyone knows you."
Thorn recalled seeing Vann and Larry Keel roaming a campground and picking during Smile Fest in Union Grove, North Carolina, when Thorn was 16 years old.
Thorn would later join one of Keel's musical projects for two years, beginning in 2005.
"Spending time with him on the road with him and his amazing family of musicians is incredible," Thorn said of Keel. "All the guys he plays with are some of the best. To learn from those guys … I was 21 and joined him on the road my senior year the last semester."
Leftover Salmon formed in 1989, a merger between Herman's Salmon Heads and Emmitt's Left Hand String Band, when members of Herman's band could not make a New Year's Eve gig in Crested Butte, Colorado.
Herman and Emmitt discovered they shared an immediate chemistry, and the rest is history. The band, which describes its style as a little bit of everything — rock, folk, bluegrass, Cajun, soul, zydeco, jazz and blues — released its 10th studio album, "Something Higher," in May.
"We're bluegrass at the core," Thorn said. "We've been described as polyethnic Cajun slamgrass. We're less Cajun now. We still do some calypso stuff. We're more jazz jamgrass now."