Words and Photos by Angelo Santoro
If you have been to Rockwood Music Hall Stage 2 in New York City, you know how small the pie-shaped stage is, so when seven musicians march out onto the stage sharing the space with a baby grand piano, drum set and amps — well, you think how is this going to work? Well King Radio did just that on May 6, and not only did they make it work, they rocked!
Somehow in that small space, Justin King, the multi-faceted singer-songwriter and former war photojournalist, was able to move from guitar to piano, always finding a spot to rest his wine glass.  King's soulful conviction in his music makes him an illustrious storyteller, putting the listener right in the middle of the song. Like when they played the powerful, post-war "The Valley," the lyrics and music placed everyone in the building, including those behind the bar and working the door, at a standstill, gripped by every word. This was also displayed when we he had the knack of mixing in the best of soulful country and rock, merging it together into "Lonesome Night"".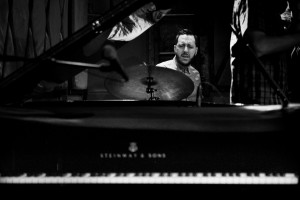 A.J. Jump on drums sits in the corner of the venue, seen best by peeking through the full stick opening of the Steinway's lid. Playing with a relaxed confidence, he is the type of talented drummer who can not only beat the drums but also chew gum and Instagram photos of Justin on the piano all at the same time.
Playing center stage and putting the music over the top was the three-piece horn section of John Liotta (sax), Ian Schaefer (trumpet) and Robert Donnelly (trombone). The horns shined brightly through "Alright," with the tight quarters not stopping Donnelly from extending his trombone five feet out, just about touching the enthusiastic crowd. Hidden in between the brass section, the drums and piano stood Mark Kiesinger, also making his definite mark.
In what was the highlight of the night, the heartrending, powerhouse "Ain't to Pray." Halfway through it, there was not a face in the crowd not reveling in the harmonizing and commanding performance, leaving many feeling like they had just experienced a moment of collective rising.
With a following clearly starting to grow, and many making the trip from Pennsylvania, we all hope that King Radio will begin to add more shows in the New York area. This show was not only a great endorsement of their debut album from this past year, but also a true indicator of what's to come from this gifted group, leaving their fans wanting more and eagerly awaiting their return.
Also on the bill were Everything Turned To Color and  Bob Oxblood.