By Michael Lester      
Australian Pink Floyd bassist/vocalist Colin Wilson was awestruck two years ago when he got a look at those gigantic illuminated blast furnaces from a bygone industrial era at the SteelStacks entertainment complex in Bethlehem, Pa.
Wilson, 52, immediately formulated a plan: He would love for his band to perform Pink Floyd's psychedelic classics during an outdoor gig at SteelStacks with the lit-up furnaces as their backdrop. Video cameras would capture it all for a future DVD.
"It was pretty amazing. I would like to record it as 'Live in Bethlehem," recalled Wilson.
Wilson got an up-close view of the blast furnaces while promoting the Pink Floyd tribute band's pending 2012 tour, its most recent in the U.S., at SteelStacks with bandmate Jason Sawford, the keyboardist.
Wilson and Aussie Floyd return to Bethlehem Sunday, Oct. 12. But they won't be fulfilling Wilson's vision just yet. An outdoor performance with a background reminiscent of Pink Floyd's "Animals" album cover — the one with the pig floating above the smoke stacks of a power station — will have to wait.
Aussie Floyd will instead play the event center inside the nearby Sands casino, one night after playing the Tower Theater near Philadelphia.
Having sold more than 3 million tickets to concerts in 35 countries, The Australian Pink Floyd Show, which began performing in 1988, is widely considered "the gold standard" among touring Floyd tribute acts, as The Times newspaper of London once pronounced.
And the Aussies count none other than Pink Floyd guitarist and vocalist David Gilmour among their fans.
Gilmour, now 68, commissioned Aussie Floyd to perform at his 50th birthday party back in 1996, less than two years after Pink Floyd's final tour promoting "Division Bell."
"What initially happened was Gilmour had been to see us at a venue in London," recalled Wilson, who joined Aussie Floyd in 1992. "He enjoyed our show and whatever. Some time after that, we got a message from his office that he wanted us to play at an end-of-tour party.
"We were like, 'Of course!' But there was some technicality with the local council. Because there were local houses near the venue. There was a noise restriction. So we couldn't do that show. Gilmour and his office were very apologetic.
"Then, sometime, after a couple of years, we got another message that he wanted us to play his birthday. It was all very secretive. They didn't want it leaking. He told us what songs he wanted us to play. We went along and we did it. It was kind of a surreal experience.
"We were in this town hall-like venue, and a large part of the audience is famous people. The whole thing gave our band a shot in the arm. At the time, we were really struggling. We were working hard but playing in small venues. It was hard to make a living and scrape along.
"People had been skeptical of us. Then, all of a sudden, it was, 'If it's good enough for David Gilmour, it's good enough for us.'"
To suggest Aussie Floyd's live shows have since evolved into extravagant is probably an understatement. The band's budget for stage props has grown to six figures with laser effects, a center stage video screen and inflatable Floyd-inspired characters, like the teacher from "The Wall," Wilson said.
The band's stage setup has become so elaborate, they've even rented the very same inflatable pigs used on Pink Floyd's "Division Bell" tour, Wilson said.
"They are absolutely massive. When you're on stage, they're pretty pig," Wilson marveled. "We had one (pig) on each side (of the stage for one tour)."
When Aussie Floyd looked into renting the pigs again for a subsequent tour, the band learned the rental company only had one of the pigs in stock.
"They don't know where the other one is," Wilson said with a chuckle. "Most of (the inflatables) we had remade so they're ours, mainly to fit our stages. (Pink Floyd) was playing stadiums with those (much larger) props."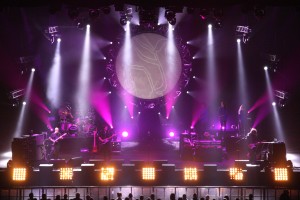 Aussie Floyd's inflatable stage props now include a pink kangaroo, which has become the band's chief marketing logo, a nod to their Australian roots.
Wilson, who studied graphic arts in college, designed the kangaroo logo and inflatable kangaroo.
"It was tongue-in-cheek humor," explained Wilson, who has a hand in the band's tour poster and advertising designs. "I also do merchandising, something different to tie in with each tour, T-shirts. The video stuff we project, two of us, myself and Dave (Domminney Fowler), the guitarist …
"He does a lot of the stuff that is actual video, whereas I'll get involved in the animation. If there's anything graphic or visual, I'm very much involved. I sort of dabble in a bit of everything. I've also done sculpting. One day, I'll retire and become an artist."
Wilson's wife Wendy also works as a merchandising photographer and production assistant for Aussie Floyd, which plays between 120 and 130 dates a year. Although, she won't join the band on the upcoming U.S. tour. The Wilsons do not have children. Unless you count their three cats, two of which are 13 and 14 years old.
Wilson spoke with a bit of lament while reporting he's only ever seen Pink Floyd once, during the 1994 "Division Bell" tour.
When asked if he had hoped Pink Floyd would return to the road, Wilson did not hesitate with his response. "Absolutely," he said.
"Actually, I think it would be good for our business," Wilson said. "When Roger announced he was going out with 'The Wall' tour, we got similar questions. Is that going to be harmful to us?
"Whenever Pink Floyd does anything, it raises people's attention. Suddenly, it's, 'Oh yeah, I'll get those Pink Floyd records out.' When Roger was doing 'The Wall' tour, it may have affected our ticket sales (negatively) somewhat. But, after that, people were looking for their next fix."
Wilson acknowledged that Waters hasn't embraced Aussie Floyd like Gilmour, although the Aussie Floyd guys have heard unconfirmed rumors that Waters has attended at last one of their concerts.
"I don't know whether to believe that story or not," Wilson said. "I tend not to believe it. Someone told us Syd Barrett was in our audience once. We haven't had a lot of feedback from Roger at all. I'm sure he keeps an eye on us from a distance."
Barrett, a founding member of Pink Floyd who was the band's chief vocalist, lead guitarist and principal songwriter in the beginning, died in 2006 at the age of 60 after a reclusive life blemished by mental illness.
Wilson was first introduced to Pink Floyd by a cassette tape that a junior high school friend of his played for him.
The band didn't fully resonate with him until he was about 14 years old "thumbing through" a music magazine with pull-out posters of Pink Floyd on one side and the band Tangerine Dream on the other.
"That had just as much affect on me as hearing them," he recalled. "I was very visually kind of affected by that era, dreaming about being in a band myself, being on the stage myself."
Wilson started to learn guitar on a "cheap Japanese" model at the age of 16, "on a whim from money I saved from mowing people's lawns. A friend from school taught me some chords. We just started to jam together."
He gradually gravitated toward bass, filling in where his garage bands needed him.
Asked about the challenge of replicating Waters' bass, Wilson said his biggest challenge was learning Waters' much different style than that of Guy Pratt, who took over as a sideman bass player in Pink Floyd following Waters' 1985 departure.
"If I got back and think about it, when I started rehearsing with the band, my knowledge of Pink Floyd and Roger Waters' playing style wasn't my strongest point," Wilson recalled. "I had been playing in rock bands and heavy metal bands.
"So, the first thing I remember thinking was that it was really difficult playing slow. If you play something fast, you can't really hear it as something's wrong. If you're playing slow, there's a lot of space between the notes. Really, I found that quite difficult.
"A song like, 'Careful with that Axe, Eugene,' the bass goes through the song with repetition. It's a very slow bass that's really setting the tempo and feel of the whole song. A song like that, with just two notes. It's very difficult to get it right. You've got the whole band resting on you.
"If you play it with the wrong feel, it ruins it. It took me a while to get the hang of that. Guy Pratt's bass-playing style is very different from Waters'. Without getting too technical, Waters tends to play behind the beat with a lazy style, which is by no means derogatory.
"It's actually not easy to do. Whereas, Guy Pratt's style is very on the beat. It's just very different styles. I had to try to get to learn both.  I think, having done it for 21 years, I'm not bad at it. But, in the early days, it was difficult."
Wilson looks forward to playing the Sands and doing some people watching after the show.
"I like it because when the gig's finished, the building you're in is still open. You can go and wander around and have a drink because everything's open," Wilson said, jokingly adding, "I'll leave my money behind."
Floyd classic "Money" would seem a logical bet for the Sands show. Especially considering the band has decided to pull its setlist material for its "Set the Controls" Tour from 1973's "Dark Side of the Moon," 1975's "Wish You Were Here" and 1994's "Division Bell," Wilson said.
"I can't imagine a show where we don't play "Wish You Were Here," or "Another Brick in the Wall" or "Comfortably Numb," Wilson acknowledged.