Jimmy Eat World has unveiled the cover art and tracklist for its upcoming album, "Integrity Blues," and frontman Jim Adkins has penned a letter to the band's fans in the lead-up to the Oct. 21 street date. The band has also added a slew of U.S. and European tour dates.
Integrity Blues is available for pre-order from iTunes, Amazon mp3 and jimmyeatworld.com. The pre-order includes two instant gratification tracks: "Sure and Certain" and "Get Right."  Both songs can be streamed now on Spotify or Apple Music, as well.
Writing about "Get Right," Consequence of Sound opined, "Sonically, it harkens back to the band's Futures-era sound, where guitars crunched loudly and frontman Jim Adkins had a bit more snarl in his voice."
Click below to see Adkins' letter and scroll down for lyric videos, track listing and tour dates.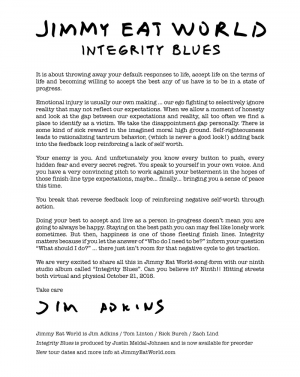 Track Listing:
1. You With Me
2. Sure and Certain
3. It Matters
4. Pretty Grids
5. Pass The Baby
6. Get Right
7. You Are Free
8. The End Is Beautiful
9. Through
10. Integrity Blues
11. Pol Roger
Jimmy Eat World 2016 Tour  (New Dates in Bold)
Sept 7 – Bush Hall – London, UK
Sept 8 – Islington Assembly Hall – London, UK
Sept 10 – Dcode Festival – Alcala De Henares, Spain
Sept 12 – Lido – Berlin, GER
Sept 13 – Ampere – Munich, GER
Sept 14 – Underground – Koln, GER
Sept 16 – Riot Fest – Chicago, IL
Sept 18 – Toronto Urban Roots Festival – Toronto, CAN
Sept 25 – Life is Beautiful Festival – Las Vegas, NV
Oct. 7 – Park City Live – Park City, UT
Oct. 9 – Gothic – Denver, CO
Oct. 10 – Sokol Auditorium – Omaha, NE
Oct. 11 – Barrymore – Madison, WI
Oct. 13 – Newport Music Hall – Columbus, OH
Oct. 14 – Mercury Ballroom – Louisville, KY
Oct. 15 – Bogarts – Cincinnati, OH
Oct. 16 – The Blue Note – Columbia, MO
Oct. 18 – Granada Theatre – Lawrence, KS
Oct. 19 – Black Sheep – Colorado Springs, CO
Oct. 22 – Fear Farm (93.3 Alt AZ Zombie Prom) – Phoenix, AZ
Oct. 23 – Roxy – Los Angeles, CA
Oct. 24 – The Freemont Theatre –  SLO, CA
Oct. 27 – Glasshouse – Pomona, CA
Oct. 28 – Arlington Theatre – Santa Barbara, CA
Oct. 29 – Troubadour – Los Angeles, CA
Nov. 4 – Guildhall – Southampton
Nov. 5 – Troxy –  London
Nov. 7 – Olympia –  Dublin
Nov. 8 – Limelight –  Belfast
Nov. 9 – Barrowland –  Glasgow
Nov. 10 – Academy –  Manchester
Nov. 12 – Wizemann –  Stuttgart
Nov. 13 – Schuur – Lucerne
Nov. 15 – Grosse Freiheit – Hamburg
Nov. 16 – Skater's Palace / Munster
Nov. 17 – Schlachthof – Wiesbaden
Nov. 19 – Academy – Bristol
Nov. 20 – Academy – Birmingham