You'd be hard pressed to find anyone who knows the music of the Grateful Dead and Phish, inside and out, better than Holly Bowling. And that includes the members of those iconic bands themselves.
The classically trained pianist, who first gained attention for her meticulously transcribed rendition of a nearly 40-minute live version of the Phish song "Tweezer" has gone on to release the albums "Distillation of a Dream: The Music of Phish Reimagined For Solo Piano" and "Better Left Unsung," her solo piano takes on Grateful Dead compositions released Dec. 9.
Only a few years into her career, Bowling has already gained notice not only from fans on the jam band scene but also some of its elder statesmen: She recently performed separately with the Dead's Phil Lesh and Bob Weir, shared stage time with Phish's Page McConnell and played at Warren Haynes' annual Christmas Jam in Asheville, North Carolina.
On Dec. 30 and 31, Bowling will play at The Cutting Room in Manhattan as part of the pre-show mayhem before Phish's two-night run at Madison Square Garden. Appropriately, she'll debut her version of Phish's 1996 studio album "Billy Breathes."
But before that, she'll do double duty in Wilkes-Barre, Pennsylvania, tonight, Friday, Dec. 23. First, she'll open Cabinet's annual holiday show at the F.M. Kirby Center, then she'll sit in with the Led Zeppelin tribute after-show at the nearby River Street Jazz Café in Plains.
In the wake of her new Dead-inspired album and the local performances, we recently chatted with Bowling about her studious process of transcribing and performing songs and jams and what she's learned about two of her favorite bands by doing it.
How did you go about creating the arrangements on "Better Left Unsung"? Some are based on certain live versions of Dead songs, but in general, what is your process?
That's a really good question. The process is really different depending on whether I'm trying to recreate a specific live performance or just trying to put my own spin on a song, so I'm glad you asked about that dichotomy there. If I've been working on a particular live version, I've been calling those "jam transcriptions," I will usually start with a pad of manuscript paper and a pencil and a pair of headphones rather than sitting at the piano, and I listen to a short section at a time and I'll basically write out what I hear. And from there, at a certain point I'll stop arranging in my head and on paper and take it to my instrument to kind of see what's working and what's not and go through another round of revisions. When I'm working on a song that's not a specific recreation of a performance from a certain date, sometimes I'll start at the piano, especially if it's a song that I know really well already in my head or I'm very familiar with. I'll set down at the piano and play around with different ideas and let it take different forms until it start to settle into something  that I'm happy with, even if it's just an idea for how I want the chorus to go or how I want the intro to be. Then I'll start hitting record or just sketching out notes on how I want it to sound in the end.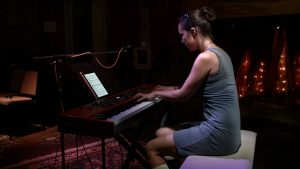 In the second example, when you are not transcribing a certain live version of a song, do you go back to a studio version or something you consider to be the definitive recording of the song as a reference point?
Not usually. Sometimes it's a studio version because there's something I want to hear clearly and it's hard to pick out on the live version. For "Terrapin," for example, I did that one off the studio version because there's not many versions where they did the whole suite, and also I grew up with the Dead's music, and oddly enough I grew up hearing a lot of studio Dead rather than live Dead when I was a kid, because that's what my parents had around the house. … With a lot of them I don't go specifically to one version; I like to listen to several good versions before I kind of dive into the arrangement, just to get a feel for where did they like to stretch out more or what are the elements that are important that should be there every time. Where is there room to play and where should you kind of have respect to the original? I'll listen to a few and kind of let that settle and then go at it from my own angle.
What did you learn about the Grateful Dead through the process of making this album?
I think the biggest change for me was I gained a new respect for Bob Weir's guitar work. I've been working on a jam transcription of the "Beautiful Jam" which was a piece from '71 between "Dark Star" and "Wharf Rat." Just some of the chromaticism and really unusual things that Bobby contributed there, I don't think I was quite aware of how much he was bringing to that piece of improvisation. That's just one example. When I started really studying it and breaking it apart and writing it, I was surprised that, wow, this is incredible. It's been cool to fall in love with music over and over again, on level after level. You can dig deeper and deeper and there's always something new to inspire you.
The album release show is at Phil Lesh's Terrapin Crossroads. You've played with him there once before. What was that like?
It was an incredible experience. It was very much a last-minute surprise, and obviously an opportunity that the minute it came my way I was really excited about. One thing that was really cool about it, I feel like there's always these differing views of improvisation. There's like the everyone takes their turn taking a solo kind of mindset, and then there's this groupmind improvisation. The two things can exist together, but sometimes things will fall on one side or the other, and I really prefer the second option. It was really, really cool to show up and play with the group of people, none of whom I played with before, and it just felt very natural. Everyone was on the same page as far as going with that style of improvisation.
Did you get a chance to speak much with Phil?
We spoke briefly afterwards. He was running off to a gig. It's really cool. Playing with a guy like that, he would have every right to walk in there with a musical ego, essentially — he's certainly earned it — but he didn't bring that kind of vibe to the table at all. I think everyone got to have a voice in the music.
Going back to "Distillation of a Dream," tell me about the 2013 Tahoe Tweezer and why it inspired you?
Ah, there were so many great things about that jam. I think thirty-seven minutes is always something of a dead giveaway that there might be something cool happening, but it's not just about the ground covered. For me it felt like four or five jams in one. You could take 10 minutes out of it and that in itself would be a great jam, but several different areas where you went through different keys and different themes that were really developed and moved onto another one and different moods. It felt to me like it had the same level of, what could I say here, the same amount of different themes and keys throughout that you could throw out in a really well-developed composition or different movements of a classical piece. To have all of that in one jam, that was created entirely in the moment, was just really cool to me. And the element of crowd participation, all those factors combined to make it a really special one.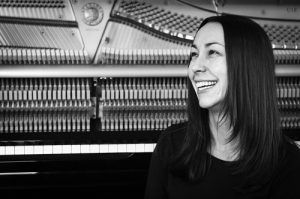 Did you go home that night and start transcribing?
No. So I went home that light and listened to it three times before I went to bed (laughs) which is not what I usually do after a show, but I was so taken with it right away, but I had no intention of transcribing it then. I was just kind of playing around with themes from it that were stuck in my head and then that was just kind of a hook that made me thing, Oh man, I think I really want to start connecting these pieces; what if I learn this thing on piano? So that somehow grew into the idea of let's write the whole thing down note for note. I started with the dominant melody line and figured I would just sort of comp the harmonies, and I worked on that for months and months, and when I sat down to play it, I realized I really wanted to treat it like a sonic production and put it under a magnifying glass and try to work in all these elements that are contributing to the piece of music. So I went through a whole second round of transcribing all of the other parts, learning to arrange and taking four musicians' work and putting it into one piano piece. It was really the first time I had done that. I don't know (laughs), it was kind of a hell of a first one to start with. Everything's easier after that (laughs).
How long was the process?
It took me about a year I think. …
Were you surprised by the response when you put it online?
I was totally surprised by the response. I didn't even have thoughts of putting it up online as something to share publicly or something to try to get publicity. I was working on it as a personal project. It was just something that I had started working on as a hobby, and it kept snowballing into something bigger and bigger. When I finished it and played it for my husband, he was like you really should record this and put it online, I think people would be into it, so we did, and I was pretty blown away by the response. It was not what I was expecting (laughs).

Have you gotten any reaction from any of the members of Phish or the Dead?
Let's see. I got to meet Page over the summer. I got to play a few songs while I was there, and his way off the stage he gave me a hug and said that was awesome. That's about as much feedback as I got, but that was pretty special.
As a fan of Phish, what did you discover about the band through your studies? And as someone who has dissected both band's music, what are some of the similarities and differences you discovered between the Dead and Phish?
Yeah, they're really different. I had that sense already, just having spent a lot of time listening to both of them. To look at similarities, both bass players are really melodic, which is something I am drawn to. They don't hit a groove and just stay there. I feel like I have a very hard time comparing them. The guitar work in Phish, I think Trey likes to build things to a peak, I think sometimes he'll repeat short phrases more to build that tension before release, and Jerry's playing I think is maybe a little more chromaticism and there tends to be these longer phrases maybe and less building of tension through repetition and more these sad notes that move between darkness and light rather than letting it loose.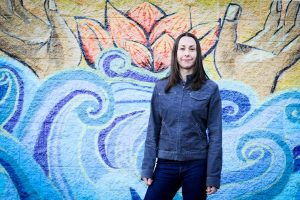 Are there any other artists you can see yourself giving this treatment to?
You know, I've really enjoyed the process of both of these albums and diving into both bands' catalogs and their different eras. The next project, I think I really want to turn my attention to original music. So I guess the third album will be Holly Bowling Does Holly Bowling (laughs).
How would you describe your live show?
It's an interesting hybrid between very tightly scripted composed stuff, you know the arrangements that I've put a time into getting just the way I want them, and then completely open-ended improvisation. To me, the contrast between the two and the different types of concentration and musical states that I find myself in when playing is a really cool polarity to kind of oscillate between.