Before George Floyd, Breonna Taylor and Jason Blake, socially conscious songwriters were sounding alarm bells about racial inequality in the United States. Case in point: Philadelphia's Greg Sover and his song "Wake Up," written well before the police shootings of the aforementioned triggered a nationwide reckoning.
"I think of situations and things as far as what goes on to people of color in this country. That's how that song came about," Sover says. "It's prior to what happened to George Floyd last year, but there's definitely a sad exclamation point. .. It's a bit discouraging because it's almost like a blind eye and deaf ears on that one."
A blues-adjacent guitarist and singer, Sover has seen his star rise with thoughtful writing and searing playing, performing headlining club shows while growing his audience at high-profile events like WXPN's XPoNential Music Festival. His latest release, October's EP "The Parade" — which includes "Wake Up" — was an opportunity for Sover to weave in sounds from the various styles of music he's been listening to all his life.
"But still be known that it's me and not some sort of gimmick," he adds. "I wasn't trying to do other styles of music just because I know how to."
He's joined on the recording by Garry Lee on bass guitar and backing vocals, drummer Tom Walling, guitarist Allen James, keyboardist Wally Smith and Gloria Galante, who performs harp on select tracks. One of the tunes they tackle is a cover, a searing take on Cream's "Politician."
"Well, Cream, it was pretty much that song was paying homage to who came before me, I always want to give that to who influenced me growing up," he says. "You'll continue to hear that from me on my projects come up. I'm a big Cream fan, always been a big Eric Clapton fan, and the song fits today. It kind of felt personal."
The EP follows on the band's debut album, "Renegade," and a second release, "Jubilee." In addition to hooking up with the influential WXPN, Sover found chart success on blues radio and landed opening slots for everyone from the roots rocking Marcus King Band to blues players like Walter Trout.
While Sover isn't a straight-ahead bluesman, he said blues audiences have welcomed the band.
"They've been a little more accepting than I thought they would be," he says. "We were at the IBC [International Blues Challenge] in Memphis, and we made it to the semifinals. So I guess I don't know why we didn't make it any further, but nobody came up to me and said, 'What you're doing is not blues.' "
Born to Haitian immigrants, Sover grew up in Brooklyn and Philly.
"I would say I did most of my growing up here," Sover says of Philly. "I moved here in 1990. I remember when I was young, I remember the Mike Tyson-Buster Douglas fight."
He started playing out around 2006, with his first gig at Lickety Split on South Street, and he credits open mic nights with helping him hone his live skills too.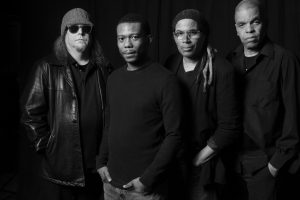 "It's always been a good reception," he says of Philadelphia crowds. "I always take them somewhere, which is a great feeling because that's what I want to do."
Another locale that has had an impact on Sover's musical sensibilities is Haiti. Asked to share what Americans might not know about Haitian music, he chooses to speak about an artist most Americans have actually heard of.
"When you think of artists like Wyclef Jean, Wyclef is a product of Haiti," Sover says. "His culture is Haitian, and for him to come over and do his hip-hop, you can hear his Haitian influence, and you can hear it in a lot of production he has done for other artists.
As for how he incorporates those roots into his own music, Sover says, "I think it naturally happens."
"Not that I'm trying. … Just because I'm actually Haitian, I think it just comes out sometimes," he says, laughing. "Things I try to do, are with hi-hats, where most play quarter notes, I would say do eighth notes. Maybe a certain bass line would work. It's all in the melting pot."
Like any artist releasing music during the pandemic, Sover has had to navigate a new way of creating. He's been working on new material, but he's itching to get back on stage.
"I want to try to set up a base and go to different cities more than once and definitely network and meet people," he says. "I just want to live in the music when this thing is somewhat normal."