Highway 81 Revisited caught up with the guys of Flux Capacitor before their first appearance at Susquehanna Breakdown at Montage Mountain, Scranton, Pa. Since 2007, the Tri State Indie Jam Band of the Year music award winning trio has taken its sound from the outskirts of Philly to the world. Flux Capacitor – made up of brothers Pete Specht (guitar, vocals), Jason Specht (drums, vocals) and Mike Specht (keyboards, vocals) – say they believe in "music, joy and consciousness."
Oh, and jamming. Get ready to dance.
Flux Capacitor will play on the Breakdown stage after the Friday line up from 12:45 a.m. until… well, that's up to you campers! The group is working on a new album due out later this year and H81R asked if we'll hear any of the new songs during their late-night set.
H81R: You guys have a few albums behind you and one in the works. Can fans expect to hear any of the new material for the weekend festival?
PS:  We actually wrote a ton of new songs just for our live shows that aren't on the record so there's going to be a lot of new songs at the Breakdown, but they're not necessarily going to be on the record. So, we're getting ready for this record (laughs) and at the same time we're doing all this (laughs), so we're gonna definitely bust out at the show.
H81R: Any expectations for your first Breakdown experience?
PS: Right now, I don't really have any questions or expectations other than we got the late-night set on Friday, so I'm really just focused on being up all night and just ragin' it. We hope everybody's hyped up. I wanna meet, you know, any expectations and for people to have a big finale on their first night, on the Friday night show. Just really bring it home and hopefully send everyone to their tents happy, is my main thing.
JS: We're definitely gonna keep the energy up the whole time and make people have a blast, so we're really pumped for it. And you never know, but there might be, you never know, we might have a special guest on stage with us. We're not really disclosing it yet. It's a surprise to look forward to there.
You guys seem very connected to each other, the music and your fans. Do you believe in any superstitions or do vibes affect your performances?
MS: Yeah, I mean, I feel like that. It's just, you know, the flow of things. If we feel a certain way, it might affect us, but then the process of playing a show can be transformative sometimes, so you don't know if you're going to come out the other end like you started.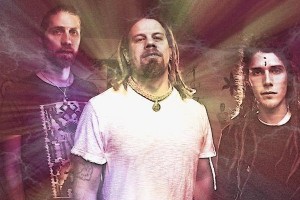 Do you have any pre-show rituals?
MS: I kind of like to relax and have it be a quieter thing before we start, personally. We all might feel like that too. I think a nice green room is a good…  Whenever there's a nice green room, I think a lot of musicians would say it feels good. I like to maybe eat some dinner. There's sort of a flow when we play a show. If we play two sets that night, we'll eat dinner, play the first set, maybe have a beer and play the second set.
So you're all chill, jamming while the fans are losing their minds?
MS: Yeah. I'm a little superstitious leaving my stuff on the stage when there are other people playing on the stage. I don't know, like, make sure my shit is exactly how I want it.
JS: We also, when we were on tour – I forget where we were… near Chicago on our first tour that we had ever gone on – we had been just playing shows everywhere and then when we played a show in Chicago, we had a day off the next day and then they wanted us to come back the next night and we were like, "totally," so we picked up a show the next night at the same spot and then this guy, who had worked at the place, I guess, he'd been in music a long time, he was like you guys gotta do this handshake with us… (laughs) like this spiral thing. Our logo has a spiral behind the words Flux Capacitor, just like an energy twist thing and he was like, yeah, you should do this thing. There was all these people we were with, so you like, put your fingertips together kind of and you all roll into one thing with your whole arm and it makes this giant spiral and you untwist it. Ever since then – and that was back in '09 or whatever – we just kind of do that before a show. It's just our cool, weird handshake thing we made up and along the way we've gotten like 20 people to do it all together and it's really awesome when you see it. We try to do that before every show. It's cool. It's our superstition.
Anything you'd like to add before you Breakdown debut?
PS: We just want to give a big shout to all the Flux family, like all the fans and friends of ours that have supported us all these years. We'd just like to say, "Hey, we love you forever and we thank you so much for sharing the music with us that we do and keeping us going and energized."
Check back for more with Flux Capacitor as they tell Highway 81 Revisited about their upcoming show at Bonnaroo, their connection to Nirvana and who wants to do what with John Lennon.
"Moth" by Flux Capacitor (2009)

"Moonbell" by Flux Capacitor (2012)