There are musical collectives that work well because they are made up of like-minded writers and players, people from similar backgrounds with similar tastes who can finish each other's musical sentences. And there are groups that work for the opposite reason: Contrasting ideas and different perspectives clash and meld, creating something that is greater than the proverbial sum of its parts.
Then there's Everything Turned To Color, which is both of those. Two of the jazz-inflected indie folk trio's members are brothers and longtime collaborators in an alternative rock band, individuals for sure, but two people with common DNA, musically speaking and in the most literal sense. And their bandmate? A woman classically trained and vocally reminiscent of the classic jazz chanteuses. The seemingly random combination is also a result of a suitably random event that brought them together: two of the members crossing paths in their shared Brooklyn apartment lobby.
Since 2015, Neha Jiwrajka (vocals, piano, ukulele) and the brothers Weber — Bryan and Kyle, both on vocals and Bryan on acoustic guitar and Kyle on electric — have been performing as Everything Turned To Color, and on June 23, they'll release their debut album, "Life Imagined," recorded at ECR Music Studios with producer Blake Morgan.
In advance of the June release date, the debut of single "When You Wish Me There," which you can hear above, and a pair of sold-out shows this Friday, March 31, at Rockwood Music Hall Stage 3 on Manhattan's Lower East Side, we recently sat down with the trio in a bustling Chelsea Market for an interview.
Bryan and Kyle might be familiar to some readers, having worked together for years in the Philadelphia-based band Zelazowa and also operating the website IndieOnTheMove. Neha, can you tell us about your musical background?
NJ: My mom was a classically trained Hindustani singer, so I grew up with a lot of old Indian classical music in the house. She had a harmonium that she used to play and tabla, so I grew up with a lot of that, and she loved jazz. She loved Ella Fitzgerald and Billie Holliday and The Beatles, actually, so my childhood was a mix of jazz and Indian music and The Beatles. My parents came over from India, so it was kind of a mix of whatever they grew up listening to, so I was exposed to that. And I studied classical piano since I was 5, but mainly started with my piano training and then did a little music theater in college, and then really started pursuing my interest in jazz after college when I started working at Google.   
Bryan, what made you want to collaborate with Neha?
BW: I've been giving a little bit of thought to a sort of similar question: How does this really work? Why does this work? I'm not really sure what the real answer is, but I would say, for me, as a songwriter, there's probably two things in the recent past that have really affected how I write and how I think about writing and composing, one of which I'm sure you've noticed on the first single and all of the other music is I'm a father now. That was life-changing. The second thing I think is meeting and knowing Neha. The more we get to know each other, whether she wants to do it or I want her to do it or not, she forces me to think in different capacities than I have, which I think pushes me in a slightly different direction than I would naturally go sometimes, which expands my palette. The more we work together, the more we strike that balance.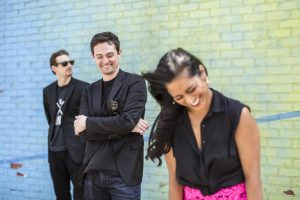 Kyle, after Bryan and Neha began working together, how did you get involved?
KW: Bryan and I were kind of working on some of these songs. So even though the official story is that these guys met in the lobby and I joined later, Bryan and I were kind of workshopping the same songs at the same time, so I had parts written for certain songs, and those parts ended up changing when Neha came in, for a multitude of reasons — do you transpose the songs, or she was more present with the vocals, so I needed to back off with the guitar. At the time for us, we had gone from playing so much that it was an outlet, something to do rather than doing computer work and taking care of our kids. Let's have a day where we just play guitar; remember when we used to do that and it was a lot of fun?
They had been randomly asked to play a show, it was that thing at 68 Jay [Street], and at that point I don't think I had even played with Neha yet. Bryan and I were working on the songs over here, and Bryan and Neha were working on the songs over there, we hadn't gotten together, and I don't know if we had even met at that point. That show popped up, so I said you guys go and play that show, I didn't play that show. They played another show in April [of 2015] that was just a duo show as well, at Jalopy [Theatre]. Then we kind of really dug into it.
What's it like working with Bryan in this setting as opposed to working with him in Zelazowa?
BW: He's still an asshole. That much has not changed.
KW: I don't really feel like it's that different. Neha is obviously a different person than [Zelazowa members] Terry and Ian are…
NJ: Just a little bit (laughs)…
KW: But you still have to go in and be mindful of the fact that it was never just me and Bryan. There were always other opinions that you had to keep in mind. So I don't necessarily feel that it was all of a sudden like, Holy crap, now I have to consider this other person, because there were always other people that I was considering. It's just she has a different role and a different personality than people I've worked with before. I feel like the transition for the most part was pretty easy. I didn't really feel like there was anything that kind of put me out of my place.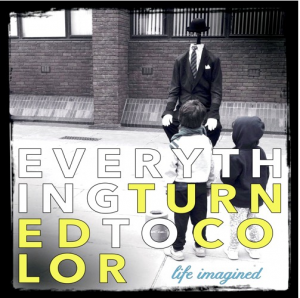 It's an exciting time for you guys, with the album about to be released. But I don't get the sense that you are feeling pressure that this has to be a success. Does your past experience make this a little easier?
BW: Yeah, I think so. We've been around the block a few times, so we sort of know a lot of the ins and outs now. I think we all believe that we made a really strong record here that we all believe in, and now we're just kind of working our asses off on all the tangential stuff you need to do to promote it, whether it's radio, touring, and we would be doing them regardless; that's just the way it goes, being a working musician.
Do you have anything else to add?
NJ: Just to add to what Bryan said, I think that as a musician the dream is to make a stable living doing this. And in terms for the long-term goals for this band and just for myself as a musician, that's the dream, to be able to maybe work my desk job a little bit less and be able to really keep on creating and have the opportunity to not only create but possibly earn some return off of that.