Erin McAndrew had a comfortable job in marketing, but as the New York-via-Northeastern Pa. singer-songwriter tells us, "life begins at the end of your comfort zone."
So McAndrew, who played in the band Tiny Giant during her college years, decided to leave the stability of a day job and pursue her musical dreams — never a sure thing. But with her debut album, "Skeleton of Life" and its album-release at Bar 13 in New York's West Village under her belt, she's not looking back.
We recently chatted with McAndrew following the June 3 release of the album about growing up in NEPA, the challenge of winning over listeners in the "huge pond" of the city and her risky career shift that's paying big dividends.
Tell us a little bit about your upbringing in Northeastern Pa. Were you involved in music in Northeastern Pa.?
I was born in Wilkes-Barre and spent most of my childhood in Mountain Top. It was a fun place to grow up because it's a small town and I am one of four siblings. When I was young, I was involved in dance and cheerleading. I started dancing when I was 3 and then cheerleading when I was 10. I knew from a very young age that I wanted to be a performer of some sort – I just didn't know at the time it was music. When I was 13, my Dad got a new job and we moved to a suburb outside Philadelphia. It was a very difficult transition going from a small town with a class total of 45 to a class total of 350. That's when I found my passion for music and singing. It was my escape and helped build my confidence through my high school years.
What type of music were you exposed to growing up? What in particular caught your ear and inspired you?
When I was growing up, I listened to a wide range of pop and a lot of alternative rock. I always loved Alanis Morissette and connected with her music. But I was also drawn to musicals and showtunes, and Ace of Base was my first cassette tape. Of course, I was definitely a fan of boy bands in the early 2000s! However, I always gravitated towards rock – Guns N' Roses, Joan Jett and anything '80s pop rock.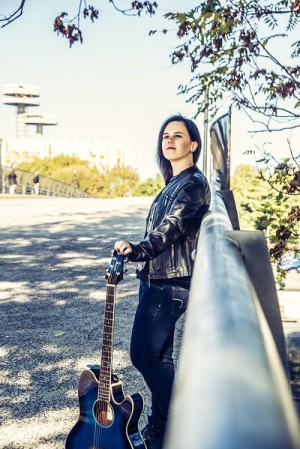 How would you describe Tiny Giant? How would you compare Tiny Giant's music to your solo work?
Tiny Giant was a fun college band I was in. We played at CBGBs a few months before it closed which was an amazing experience. It was so cool to be performing in a place with that much history. It was a clear indication that this is what I am called to do. Tiny Giant's music was a little more hard rock. My solo work is more on the indie and alternative rock side.
You say you made a 180-degree career change to focus on music. What career did you leave behind?
I went to college in New York, and I was determined to stay in New York. Coming out of college is a big transition, and I felt I needed to be "responsible" and get a job where I would be making enough money to pay all the bills and keep a roof over my head. I worked for a few different marketing firms out of college. It was your basic corporate 9-to-5. After being in that industry for about four years, I knew it wasn't for me, but I did learn a lot about marketing that has helped me in my music career.
What convinced you to pursue music as a career? Was it a difficult or scary decision to make?
When I was working in the corporate world, I worked for a few small companies. You wear many hats in small companies. I had an epiphany one day and woke up asking myself, "What am I doing? I know music is my calling." That night I had a talk with my husband about how things needed to change with my career. It was a difficult and scary decision to make. I was leaving a stable, comfortable job for something not as stable. Though life begins at the end of your comfort zone, right?
How do you feel about the decision now?
I feel so grateful that I took that leap of faith and made the decision. There have definitely been ebbs and flows the past few years finding who I truly am as an artist, but writing and recording this album and performing my songs live has convinced me that I am on the right path.
What was the writing process like for "Skeleton Of Life"?
"Skeleton of Life" is a novel of the past decade of my life. A few of the songs on the album I wrote in my early 20s, while some of the others I wrote earlier this year right before recording. That was the intention I wanted to get across when making this album. When I write a song, I always write the lyrics first because that's what comes natural to me. The melodies and chord progressions then follow that based on the tone I want to set for the lyrics.
What about the recording process? Where did you record, and who else played on the album? What about a producer/engineer?
The recording process was awesome. My friend and producer/fellow artist Dan Nelson and I have been working together for a long time. Our styles and personalities mesh so well, and he is someone who knows me and knows my sound. We took our time with each song, making sure it was exactly the way we wanted it to sound. Dan played a lot of the instruments on the record, and I played guitar. We also have Dan's drummer named Phil Deluxe who played the drums on "Skeleton of Life."
You recently had your release party at Bar 13. How did that go?
It was great! Definitely a surreal experience. It was a night I put a lot of effort into and to see a turnout of friends, family and fans from all my different walks of life was very humbling. I played most of the album's songs live for the first time.
How has New York treated you as a performer? Do you find it's harder to get noticed than in a smaller town? Is it harder to catch people's attention?
In New York, you are immediately a small fish in a huge pond. It's definitely harder to get noticed than in a small town because there are so many people in this city who have the same dreams that you do. You need to be a go-getter to get gigs in New York. You definitely cannot be shy in this business! Audiences have reacted really well to my music. Everyone has their opinion on which songs they like best and have compared my voice to Stevie Nicks from time to time.
It looks like you have a lot of winery gigs booked for this summer. What are those shows like? Are the audiences just looking to get drunk? Do you get free wine?
I love playing at wineries. It is a much chiller atmosphere than playing bars. Groups of people come in wanting to relax, drink wine, listen to music and maybe enjoy some cheese and crackers. Some of the wineries I've played have had audiences that have been on a wine tour, and they've drank so much they just want to dance by the time they get to the winery I'm playing at. It's so fun though, and most of the time I do get a few free glasses of wine!
What are the five best concerts you've ever seen?
AC/DC
Velvet Revolver
Billy Joel
Joan Jett & the Blackhearts
Iron Maiden
What are the five artists that have had the biggest influence on you?
Sara Bareilles
Alanis Morissette
Kelly Clarkson
70s/80s Rock – AC/DC, Guns N Roses, Billy Joel (I can't pick just one artist…all of it!)
Lifehouse
Are there any other projects you are working on?
At the moment, I'm working on promoting this album and booking gigs for the summer and fall so I can play these songs live.
Is there anything else I didn't ask about that you'd like to mention?
I'm a serious goal setter. I also love coaching people on their goals. There's a tried and true method, and it's helped me accomplish several of my goals throughout the years. I'm also a fitness fanatic and love traveling – both of which help keep me on stage!
Top photo and first inset photo by Brooke Ashley Photography. Second inset photo by Andris.
Like Erin McAndrew on Facebook at www.Facebook.com/erinmcmusic; follow Erin McAndrew on Twitter at @iamerinmcandrew; Follow Erin McAndrew on Instagram at @erinmcandrewofficial; Erin's official website: www.erinmcmusic.com