By Michael Lello
The artist's name Dustin Douglas might not ring a bell for you.  But the music on his album — "Black Skies and Starlight," the debut from the artist more widely known by his real name Dustin Drevitch – should do the trick just fine.
Already a veteran guitarist and singer at the age of 28, Douglas carved out a reputation in Northeastern Pa. and beyond as the frontman of Lemongelli and later as as  a guitarist with The Badlees, with whom he performed in arenas opening for Bob Seger until the group's recent dissolution. Now, with the new moniker and the new album, he's making another statement.
"Just from my previous work for many years I was the guitar guy. When people hear my name, they think guitar dude and solos, and [this album] was me kind of wanting to rather be known as a songwriter, to be honest with you," he says. "I think that comes across. That's one thing I hope people take away from it.
"It's not crazy guitar-heavy. It does have its moments, but there's lots of structure."
The musician makes his case to back up at that assertion throughout the entirety of "Black Skies and Starlight," including standout track "My Door," which makes its exclusive debut here today.
Douglas' musical roots are in classic rock, with Tom Petty and Led Zeppelin high on his list, but tastes of newer artists that have revived the blues' place in rock, like The Black Keys and Jack White, can be heard in the new album as well. Asked whom he'd like to tour with if given the opportunity, he notes that his band would be a good fit opening for groups like Gov't Mule and The Black Crowes.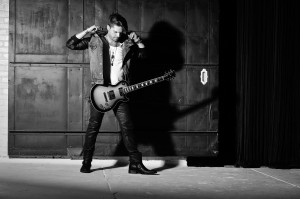 Douglas is independently releasing the album, which he recorded at Saturation Acres near Pittston, Pa., in sessions helmed by the studio's owner and operator Bret Alexander. Alexander is known as the principal songwriter for The Badlees, as well as for his production credits for various artists, most notably the massive-selling post-grunge act Breaking Benjamin.
Douglas and Alexander were, obviously, familiar with each other from Douglas' tenure in The Badlees, which found Douglas recording for that band's swan song, "Epiphones and Empty Rooms." They had also worked together on other prior projects; Alexander, for example, produced a Lemongelli album.
"It was easy, man," Douglas says of working with Alexander on the new record. "It was just the most therapeutic and fun thing. Just the vibe, I feel comfortable there."
Joining Douglas on the recording were Paul Young on bass and Tommy Smallcomb on drums. His live band for an album-release show on Saturday, Oct. 4 at the River Street Jazz Café will instead feature guitarist Justin Mazer, drummer Josh Karis and bassist Matt Gabriel. He's calling his band the Electric Gentlemen.
Playing professionally as a youth might have given Douglas a leg up compared to other musicians now his age, but he makes an interesting point about his head start.
"Unfortunately I think the earlier you start the earlier you can get burnt out," he says. "I think that's a thing that could happen. I think any musician, you reach a crossroads where you ask yourself if you're a musician or a hobbyist. Music is my life."
As for the new name, the singer/guitarist/songwriter explained that he saw his last name Drevitch butchered so many times, he figured he'd go with his middle name Douglas, taken from his late uncle. It's also a chance to use a new name for a brand new project. But now, he jokingly shares, he's seen the new name screwed up by people as well.
"The bottom line is I don't give a shit. Call me whatever you want," he says.
In addition to the Jazz Café show, Douglas has been working on pushing the music to radio ("Another Day" is the first single) and the other media outlets, and while a teaser video was released, a full music video for the single will also be recorded soon.
"We're definitely going to hit the ground running and play as much as possible," he said of himself and the Electric Gentlemen. "You know, my goal is to get in a van and take it to as many people as possible. I'm still a guy who loves to play live."