Ten years and six albums into its career, Dawes has done a remarkable job of building upon the foundations of California folk rock of the 1970s without becoming a tribute act. For example, "Passwords," the band's latest album, is an examination of modern times, not past glories.
While Dawes' music stands on its own, comparisons to and associations with other artists have helped the group reach a larger audience hungry for literate, Americana music with soul. Opening stints for Bob Dylan and Kings of Leon, as well as serving as the backing band for The Band's Robbie Robertson, earned the quartet immediate street cred. The band — brothers Taylor Goldsmith (guitar, vocals) and Griffin Goldsmith (drums), Wylie Gelber (bass) and Lee Pardini (keyboards) — just celebrated the 10th anniversary of its debut album, "North Hills," with a guest-laden performance at the venerable Newport Folk Festival, with the likes of Jason Isbell, Jonathan Wilson and Yola. Now the band is back on its "An Evening with Dawes" tour, which resumes at the FM Kirby Center in Wilkes-Barre, Pa., on Tuesday, July 30.
We recently chatted with Griffin Goldsmith about the band's concert format, balancing the classic with the current and the group's upcoming album.
Why did Dawes decide to start playing a two-set show with no opening act?
I think it just made sense considering how much material we had out. We wanted to represent every album. Just two songs from every record doesn't even include like the deeper cuts, the fan favorites and maybe the others. We're extending jams in certain sections and the fans have really been favorable to it. It's kind of organic and seems to really work. I do miss being able to give other artists the opportunity to play in front of an audience that maybe never heard their music.
Has the format given you more freedom with setlists?
Yeah, definitely. Usually, over the course of an entire album cycle, we try to play every song in our catalog at least once. So there are certain points in the setlist that are kind of mainstays and then certain spots in each set that are liable to change.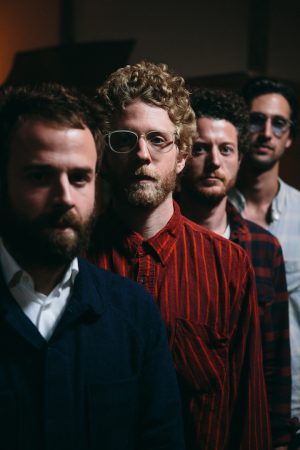 How do you feel about the album "Passwords"? What development in the band's songwriting or recording process does it represent?
Tough question. I don't know. I guess we were returning to our first producer, Jonathan Wilson, he made our first and second record. That was kind of an interesting aspect to me. We had grown so much since the second album and he had grown so much as an artist and a producer, so he came back around to see what that leads to. I don't think we went in with any intention to define it anyway. I think it came out naturally. To me, it seems like a synthesis of the two that preceded it. "All Your Favorite Bands" is a very live record for us. We did all 16 tracks live for the most part. The record after that ["We're All Gonna Die"] was very much a studio record and we used the studio in a way that maybe would be harder to translate live with less of a focus on how we're going to play this live. I feel like with "Passwords" it was kind of definitely a studio record but then again playing all that stuff live, the basic tracking anyway. It's the middle one between those two journeys and kind of came back around, I think.
What impact did growing up in California have on your sound?
I think it has a huge effect, and I feel like that would go for any musician anywhere. I think LA happens to be one of the most wildly eclectic music scenes in the world, but I think if you grew up in Milwaukee it would influence you just as much.
It's funny, when we made our first record we started getting these comparisons to Crosby Stills & Nash, Jackson Browne and Joni Mitchell. At that point we had never listened to those records until people started comparing us to them. Since then we've [listened to] them all. I think that speaks to it, but we were just making music. For Angelenos, there's just something in the water.
Because of your kind of classic sound do you have a chunk of fans that are quite older than you are?
Definitely. I think that's always been something that's been a part of Dawes, and I think it's great. The last few years it's become much younger. Maybe the average age is in their 30s but there are certainly a lot of older fans that have been listening to us. Honestly, we never set out with this intention to sound like these bands, it's just what we ended up sounding like.
Did you get to meet Dylan when you toured with him?
We did not. My brother met him briefly. He's on his own trip, and it didn't seem like something that he wanted to do.
Was it inspiring for a relatively young band to be on that tour and watch him perform?
Absolutely. He's just growing into this version of Bob Dylan, and he's been a different version, many different versions, along the way. A lot of people I know see him and say he doesn't sing like he used to, and that's what I love about him. I watched the set every night. He's not trying to be the Dylan of the '80s, '90s or '70s.
How have the relationships within the band changed over the years as you've grown older, with some of you getting married and so on?
Well, certainly this past record and this new one we're working on finishing currently are very much driven by my brother's recent marriage and the newfound happiness that he has because of it. [Note: Taylor Goldsmith married singer and actress Mandy Moore last year.] I think even on "Passwords" to me he seems like a completely different songwriter. Less of like a troubled, wandering soul and just more grounded in that relationship and the happiness it's brought him.
When will the new album be out?
We're pretty much finished. We don't have a working title or anything like that, we're shoring all of that up. Literally today I'm getting texts right now about final mixes. I would think 2020, but I'm not totally sure.