WILKES-BARRE, Pa. — Those fortunate enough to score tickets to the sold-out David Byrne show at the F.M. Kirby Center Sunday night undoubtedly knew exactly what they were getting into in that they had no idea what they were actually getting themselves into.
When you think of David Byrne or the Talking Heads, you generally expect to witness something amazingly weird or weirdly amazing.
Byrne delivered on both counts while performing Talking Heads hits that included "This Must Be the Place (Naive Melody)," "Once in a Lifetime" and "Burning Down the House," in addition to taking political jabs — some subtle, some blatant — with some of his more recent compositions on "American Utopia," his first solo album in 14 years.
While the music was both artfully and uniquely performed, Talking Heads' classics took a back seat to the silver-maned Byrne's theatrics during a 21-song, Broadway-meets-CBGBs set that lasted slightly less than two hours.
Those in attendance will be hard-pressed to match the spectacle Byrne and his band delivered for quite some time. Unless, of course, they decide to take in a Broadway musical.
The rambunctious, nearly non-stop performance by Byrne and 11 other barefooted performers — all dressed in matching gray dress suits — was combination tribal village ritual, 1980s Madonna choreography, parade band marching, Michael Flatley dance step and postmodern performance art during a tightly arranged show on a spacious no-frills stage void of stationary instrument rigs, amplifiers, microphone stands or monitors.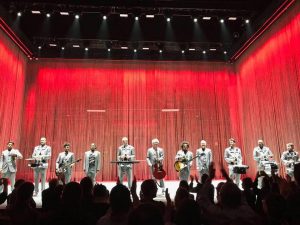 Prior to an unlikely, somber encore, the 65-year-old Byrne reemerged to the stage after removing his suit jacket to reveal a sweat-drenched shirt.
Bouncing, stomping and gyrating, the age-defying Byrne was flanked throughout the night by a band of musical moving parts who carried their instruments through the entire performance: a six-man percussion corps, a keyboardist, a bassist, a guitarist and two backing vocalists who frequently mimicked Byrne's trademark robotic dance moves.
While he appears to retain the stamina of a performer half his age, Byrne is not ashamed to poke fun at himself, acknowledging the awkwardness of his dance moves in "I Dance Like This," one of the "Utopia" tracks he performed at the Kirby.
"I dance like this / Because it feels so damn good / If I could dance better / Well you know that I would."
"I Dance Like This" began with Byrne and 10 members of his ensemble lying flat on the Kirby stage while the keyboard player stood playing an introduction to the song. One by one, members of the group rose to their feet to join in.
Byrne promptly launched Sunday's show minutes after its scheduled 7:30 p.m. start time alone on stage, seated at a classroom desk with a spotlight shining over him and a model of a human brain positioned before him.
Surrounded by a backdrop of slinky reflective silver hanging ropes, Byrne opened with a lesson in neuroscience with "Here," a song about how the brain processes the world.
It was one of several tracks from "American Utopia" Byrne introduced Sunday, the second night of an ambitious 2018 touring schedule that extends well into August.
As "Here" progressed, Byrne, wearing a wireless mic, rose from the desk, grasping the brain and holding it aloft like a championship trophy.
"Here too many sounds for your brain to comprehend / Here the sound gets organized into things that make some sense / Here is something we call elucidation / Is it the truth? Or merely a description."
From there on, the show stopped making much sense — at least from a visual standpoint, which was exactly what you'd expect from Byrne.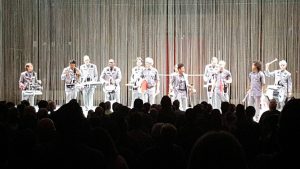 Despite its stripped-down appearance, Byrne has described the production of this tour as "the most ambitious show I've done since the shows that were filmed for 'Stop Making Sense,'" the acclaimed 1984 concert film.
Byrne's backing band gradually emerged on stage for the night's second number, "Lazy," a 2002 song by English duo X-Press 2 for which Byrne added vocals.
Byrne walked to the side of the stage, where he was fittingly fed a white Stratocaster from a crew member hidden behind the drape of glimmering ropes.
Byrne, standing stage left, stood facing his large ensemble as it was positioned stage right, directing it like a drum major for "I Should Watch TV," a Byrne-and-St. Vincent collaboration.
While introducing "Everybody's Coming to My House," also from "American Utopia," Byrne lamented today's polarizing political climate and announced his tour crew had set up a voter registration booth in the Kirby Center lobby.
"I've been reading things lately that people turn out for presidential elections," Byrne said, suggesting this year's midterm elections are equally as important.
Byrne later weaved a story whose subject matter included an unusual cast of characters: former Filipino First Lady Imelda Marcos, orange-hued actor George Hamilton and Paul Manafort, the indicted campaign aide of Donald Trump who once lobbied on behalf of Marcos' husband — corrupt dictator Ferdinand Marcos.
Byrne recalled seeing Imelda Marcos partying with Hamilton inside New York City's famed disco club, Studio 54, during the 1970s.
Back in 2010, Byrne collaborated with Fatboy Slim in the production of "Here Lies Love," a concept album based on Byrne's study of Imelda Marcos' life that was adapted as a rock musical.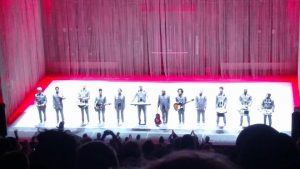 While some of Byrne's anecdote was difficult to audibly follow, he seemed to be comparing the lavish and corrupt Marcos regime to the Trump administration.
"This Must Be The Place" was the first Talking Heads hit Byrne broke out Sunday, and that was immediately followed by "Once in a Lifetime," during which most of the Kirby crowd stood, singing along.
Byrne was later handed an acoustic guitar for "Burning Down the House," which culminated with as thunderous an eruption of applause as you'll witness at the 1,800-seat Kirby.
That riveting crescendo midway through the set contrasted sharply with the night's sobering, anti-climatic encore.
Accompanied by a steady drumbeat, Byrne and members of his band took turns passionately shouting out names of African Americans killed during encounters with law enforcement or racial violence during a cover of Janell Monáe's 2015 protest song, "Hell You Talmbout."
Editor's note: Byrne did not grant photo passes to the press, but we included some fan-shot images.