Photos by Jim Gavenus
This is the story of a few dudes, a banjo and the man in the yellow hat. Sort of.
Christopher Kearney (the man in the hat) and some buddies that attended the same high school took a jam session and turned it into gold, but instead of the gold rush of '49, this one started in 2009.
Four musicians around one old-timey microphone – Kearney (guitar, vocals), Jason Zarnowski (bass, vocals), Matthew Hiller (mandolin, vocals) and Ian O'Hara (banjo, vocals) – are riding the wave of last year's album, "How it Used to Be," into this summer's festival lineup. Veterans of Susquehanna Breakdown, CTR was on the bill back when it was called Old Farmer's Ball, but the excitement of playing for the fourth year in a row hasn't been lost on Kearney.
Highway 81 Revisited caught up with the boss of bluegrass and had a quick chat about the upcoming two-day Festival.
You guys have been flagship members of Susquehanna Breakdown since it was called Old Farmer's Ball in 2013. How did you get rolled up with that?
[The Breakdown] got insanely popular the last couple years.
We're friends with those guys [festival hosts Cabinet] and we play similar music. … They like what we do and we like what they do. … It's crazy to see your friends getting that. It's wild to watch. It's inspiring and amazing. …they're our buddies and we have a good time.
It's a two-day jam session with your friends, then?
That's one way of looking at it, yeah…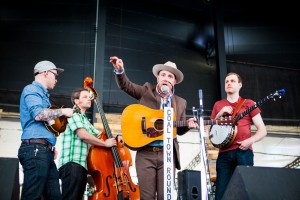 You mentioned how popular the Breakdown has gotten. Can you talk more about your experiences as the Breakdown went from Ball to baller?
It's insane. It's like, the first one was the Ball and we got to play on that stage and it was a magical – it was like winning a contest and that was the prize. (laughs) We got to go and it was just amazing vibes and everyone was like so – I'm not trying to sound like a hippie – but everyone was so nice and amazing. It was such a good vibe. Then the next year, it was even bigger and the next year was even bigger and this year they have [The Infamous] Stringdusters and Railroad Earth, too. It's crazy! Cabinet is on par with those bands easily, and just to have other bands of that magnitude, this thing is just gonna keep growing until, I don't know, it's on par with the Peach Fest. It's on its way. This is the right time for that kind of music and that kind of festival. Good people are behind it, and that shows. It's an organic thing that has grown, and it's made with love.
This year, the festival is an official two nights, right?
Friday and Saturday. Our set is on Friday night.
It was only one day in its infancy, wasn't it?
The last two years was two days, but Friday night was like the secret. Cabinet sat with whoever was around. I think they did a set with Mike Quinn two years ago on a Friday night. So, it was – I think they were kind of testing the waters to see what it was like to have a two-day festival. I think this year is the first bigger – like, the Friday is an actual day. Not like, "hey, if you're around – if you're camping, we'll entertain ya," but this is another way the festival has grown. [You're] getting more out of the weekend.
Two years ago, CTR performed on the Breakdown stage. Great crowd, but you also had a visitor…
Yeah! Yeah! The naked guy. I hope that guy's OK, but that was amazing. I mean, not only was that like, there was this naked dude that came out, but that was one of the biggest crowds I ever played in front of was on that smaller stage! People seemed to come over to that stage when we were there. It was awesome. But the naked guy really – was he all the way naked? I can't remember.
I don't think he was all the way naked…
He was definitely shirtless…
He was definitely shirtless and there might have been some shorty-shorts or something.
I'm pretty sure he didn't know where he was.
No. He was most likely out of his mind.
After 2015's album, do you have anything else in the works?
C.K.: Nothing really. … I have a couple news ones that we'll kind of work into the set list, but nothing planned to record just yet. Honestly, we want to do another one, but we don't have anything on the books yet.
It seems, not to make comparisons, but in a way, Coal Town Rounders are like Phish or the Grateful Dead in that the live performance comes first and the studio album is kind of an afterthought.
(laughs) Yeah, yeah, it's like – I don't know how to explain it – but we are more of a live band. It's the energy and the interaction with people and connecting with people that, personally, I like.
So then do you pull your albums from the energy of those live shows?
Yeah! And we're recording everything live. … We're just standing next to each other in one room with a microphone just ready-set-go. There's a couple slips in there, but that's part of the deal.
What drew you to this style of music?
I don't know. It's like, why is pizza good? It just is. It appeals to me because I kind of got into this music – it was always around when I was a kid. My father is a huge Doc Watson fan. He loves John Prine and all that kind of stuff was kind of the back way to the kind of stuff I like. It's kind of whittled down to this – I don't know – bluegrass and country it just seems like such a more distilled version of rock and roll … You just take away all the other elements, and it's just a guy singing real high. (laughs)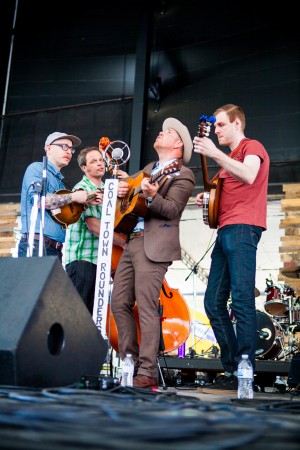 It's stripped down. Just four guys around a microphone. Broken down to its bones.
Yeah. You can't hide in the music we play. (laughs) Sometimes it works against us, but it's fun. It's coming together to be this one thing. It's funny to see a picture of us when we played on that stage the first year. That huge Montage Mountain stage, and we're taking up a four-by-four area. (laughs) All this space and we're just right on top of each other. I can smell everybody's breath and you can feel the wind when someone moves out of the way. It's awesome.
Anything else you'd like to say to folks?
I'm grateful to do what we do. I love music and I love playing and I love singing and I love everything about it, and the fact that I get to do it as often as I can and go to different festivals and get to just be around it is just amazing to me. I'm a very lucky guy to be able to do that. Every time we play it's just another fun time I get to have with my friends, and I'm grateful that people come and listen. I'm grateful to be invited to these festivals and they ask us back, it's amazing.
Coal Town Rounders will perform on the Breakdown stage at 7 p.m. on Friday night, but Saturday has a special treat in store, too. Kearney will appear on the VIP stage at 2:45 p.m. with a set of John Prine.