The ClamStompers release their debut album, "Dwayne," today, and to kick off the festivities the Northeastern Pa. duo (and sometimes trio) are debuting a video for album track "Dwayne (Every Time My Baby Lies, I Lose a Tooth)" here at Highway 81 Revisited, which you can watch above.
To coincide with the album and video release, we spoke with Katie Kelly, whom you might know from various other regional projects like The Charming Beards and formerly Ashes For Trees, about the new record and how the ClamStompers – Kelly and Aaron McCurdy, who are sometimes joined by drummer Mark DiMirco – came to be.
First of all, how did The ClamStompers get started. And are you still doing The Charming Beards?
I've been very busy with two projects, Umbriel, and The ClamStompers, however
The Charming Beards have slowed down but still are performing. We played the Kirby Center last summer and then recently had a show at The Keys. That's always been an avenue for me to take my own songs and let my bandmates have free reign to take them to different places.
Aaron McCurdy is the bassist for that band.
Aaron McCurdy and I met by chance through a mutual friend about six or seven years ago. He came to jam and brought his banjo. He has such an amazing ear and can do vocal harmonies on the spot. I was drawn to him and liked him a lot as a person.
We played in two or three other projects together (The Charming Beards being the last one) and definitely have chemistry. Last year we started gigging together, playing cover tunes, and our individual originals occasionally. We spent the entire summer gigging constantly, including every Friday night on Cris Nics patio totally unplugged. It was tough, but we felt it strengthened us – like going to band camp.
Towards the end of the summer, we decided to start writing together. We had a good idea of what kind of sound we wanted – acoustic, old-fashioned, and influenced heavily by music of 1960s and prior. Aaron plays ukulele, banjo and mandolin, so we had a lot of variety. He's teaching me those instruments too.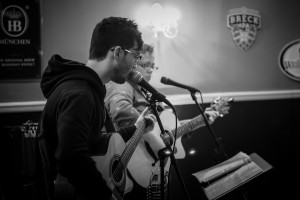 We just went by our first names until our friend, James (who has been a tremendous support and inspiration for years), suggested we change it since we were venturing into original music.
The ClamStompers definitely paints a picture of our sound. A Clam Stomper is a very antiquated term for someone who fishes for clams with their hand and feet in the bay. I had the chance to do that with my cousin and had a great time. I was bummed out, and that was a good mark in time for when things turned around and life was good again.
Tell us about the album.
The album "Dwayne," which will be available on Bandcamp and iTunes, is our first release. We recorded with Mark Wohl of Wide Eyed Studios who suggested we play live to analog tape and overdub stuff later. We kept the production simple and kept it as organic as possible. We're really happy with the sound and have already begun writing a full-length album.
The video is certainly unique. How did that come together?
This video began with a lyric that popped into my head while falling asleep: "Every time my baby lies, I lose a tooth." It was so honky. When I brought it to Aaron, we wanted to craft a country tune with a bit of narrative to it. Aaron threw in a really interesting ragtime breakdown in it. It was an easy choice to turn it into a video. I've always wanted to do a music video with Ella Fine. She is a local drag queen that has such originality and also depth of character. They call her "The Joe Dirt of Drag!"
The video definitely could not have happened without the help of so many other local artists. Eric Perluke and James Wood directed, edited and produced it. Brittany Boote came to take still photography. Maria Bernardo, special effects artist on The Barre, turned me into Dwayne – painstakingly attaching each beard hair to my face. Ella not only was the star but transformed Aaron into Bambi Dearest. My mom was a good sport and played a ratchet bartender. Mark and Laurie Jones joined in.  Almost everything was improvised. All we suggested was that Dwayne was a womanizer, and Ella, his wife, catches him. She loses a tooth in the video.
Do you have anything else to add about the album, the video or the band in general?
We are only able to keep doing music because of the talented artists and venue owners in this area that are willing to work with us. This video is a culmination of a wide variety of local talent. Our fellow artists support us; Keith Perks of 1120 Creative, who does all our graphic design, has been so encouraging throughout the years. I'm not sure he realizes that sometimes when I make a tune – I can't wait for him to hear it. He keeps us going. I send Rennin Davidson every single lyric and song. I am so grateful. Our fellow musicians and artists are so wonderful and we are so grateful for them. There would be no album without these wonderful folks.
Check out TheClamStompers on Facebook and Bandcamp.
Upcoming shows: May 7, Nucleus Restaurant, Luzerne; May 14, Claire's Hazle Street, Wilkes-Barre; June 3, Gober's Deco Lounge, Exeter