Photos by Sam Watson/Recap by Michael Lester
STROUDSBURG, Pa. — It seemed like at just about every turn during its psychedelic song-ending jams Thursday night at the Sherman Theater in Stroudsburg, Chris Robinson Brotherhood was heading toward a Grateful Dead cover.
During the first set alone, lead guitarist Neal Casal, a musician intimately familiar with the Dead catalog, appeared to be steering the band into "Truckin'" and, later, "Bird Song."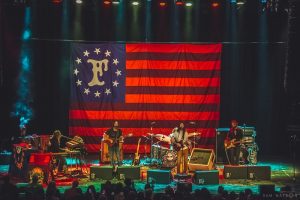 But those covers never materialized as the band stuck mostly to CRB originals from its four studio albums dating to 2012 during a 17-song performance — five of them from the band's latest album, 2016's "Anyway You Love, We Know How You Feel."
And anyone anticipating a few Black Crowes songs mixed in should have known better. Robinson has distanced himself from music created by the band he co-founded back in the 1980s with brother Rich Robinson since their last performance in December 2013.  
(Coincidentally, in a story published this week by Rolling Stone, Rich Robinson says, "Chris is done with (the Black Crowes), and we're done with him, in a weird way.")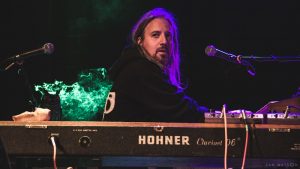 The Brotherhood did play a pair of Bob Dylan covers — "It's All Over Now, Baby Blue," later encoring the show with the more obscure, "To Ramona."
During the second set, CRB followed "One Hundred Days of Rain" — an original from the band's debut 2012 album "Big Moon Ritual" — with "Down Home Girl," a 1960s blues number recorded by the Rolling Stones in 1965, and more recently by Old Crow Medicine Show.
The Brotherhood opened  Thursday night's show with "Forever as the Moon," from the new album, a song with a Rolling Stones flavor to it, reminiscent of the Stones' "Heartbreaker."