A love for local history, storytelling and a simpatico approach to production is the catalyst for a pair of new songs by Cedar Sparks, the duo of Tim Carbone (Railroad Earth) and Lou Rogai (Lewis & Clarke).
Intrigued by a story of love and crime from the late 1800s in Easton, Pa. — not far from the musicians' homes in the Poconos — the band crafted "Maggie" (released two weeks ago) and "Blood in the River," which will be out this week. The songs are written from the perspective of Charles Getter, a man whose love for his wife took a sinister turn.
Carbone, who lives in Shawnee on Delaware, Pa.,  says he became enamored of a book by historian Frank Dale, where he found the Getter saga.
"There were probably half a dozen songs' worth of stories, but this one always stuck out to me," says Carbone on a Zoom call with Rogai and Highway 81 Revisited. "This guy here, once we got together, we were like, 'Yeah, this is going to be great.'"
Carbone says he and Rogai "took some liberties" with the source material. "We added that little occult edge to it," he says, adding that they changed Getter's wife's name, Margaret "Rebecca" Lawall, to "Maggie." The musicians later learned that people did call the woman Maggie.
The two new songs are a stand-alone set and will not be part of Cedar Sparks' debut album.
"It's its own thing for sure," says Rogai, of Delaware Water Gap. "These two songs don't fit with the songs we've been making." They say there are 14 songs in the works for the album.
Carbone describes the album material as "kind of in the indie-rock real but it's definitely melodic, not shoegazer. But it has the elements of Americana too."
"There are elements of where we both come from, gothic folk, Americana, psychedelia," Rogai adds. "But we're not trying to pigeonhole ourselves into our own camps."
"Maggie," "Blood on the River" and the eventual full-length debut will follow Cedar Sparks' contribution to a 2017 James Joyce project and the Christmas single "Gathering Song" from 2018.
The collaboration is an unlikely one from a genre perspective. Carbone and Rogai have spent their careers in different camps, with Carbone a founding member of Railroad Earth, a bluegrass/jam band that, like most bands on the circuit, is known for its live shows and improvisation. Rogai, whose primary musical output is under the Lewis & Clarke flag, is a recording artist whose "long-form art-folk," as he describes L&C on his website, would not be likely to end up on a jam band festival bill.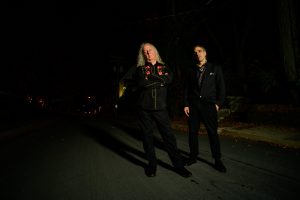 Carbone said he first became aware of Rogai's music when he heard a Lewis & Clarke record at Main Street Music in Stroudsburg. Later, a mutual friend, Rick Chamberlin, "hipped me that they were looking for creatives, specifically musicians, to take over the third floor of the studio place here [the Castle Inn], where we are right now. In that world is where I met Lou."
As a songwriter and composer, it would be fair to call Rogai an individualist. Asked to recall the last time he worked in a collaborative situation like the one with Carbone, he says, "I can't tell you. It's been decades."
"It's incredible when I find people I would like to yield to," he continues. "I've always been the big brother. I've always been the one with the license or the ID. I've always been the one driving the bus, so to speak. … For the first time in my life, I was able to let go and go with the flow with someone I really admire a lot."
Carbone, though, says, "I live to collaborate, so it's totally different than Lou."
"I've been producing records for decades now, and that's part and parcel of being a collaborator but also being the guy that is kind of leading the charge in a way," Carbone explains. "Most of the records I produce, I've somehow painted myself into an interesting corner, in that I work with younger bands who maybe put out one or two records, so I found myself being a mentor and part psychedelic camp counselor and largely being an engineer."
Carbone has been playing socially distanced live shows with Railroad Earth, who have a new album that was supposed to be out in October, "but it's been pushed forward to 'question mark-forever'" due to the pandemic, he says. Rogai, meanwhile, was "firming up mixes for the fourth Lewis & Clarke LP," its first full-length since 2014's "Triumvirate."
While RRE and L&C will continue to be each musician's primary responsibility, Cedar Sparks is a partnership that is developing a valued space in their lives.
"It just seems when you and I write together, it has a voice that is its own," Carbone says to Rogai. "You can tell it's Cedar Sparks, no matter what the song is. You have a recognizable voice, you and I sing well together and our producing styles mesh very well."
"That's where this came from," Rogai says. "We get along so well. We finish each other's punch lines and jokes, and lyrics come that way when we write together. So when we come together, there's this laser focus."
Lead photo by Dan Papa