Emerson, Lake & Palmer always did things a bit differently as a classically inspired rock trio. ELP is doing the unexpected again, mounting a US tour despite the fact that only one member, drummer Carl Palmer, is still alive.
Billed as "Welcome Back My Friends: The Return of Emerson Lake & Palmer," the drummer will perform live on stage along with archival footage of Keith Emerson and Greg Lake on giant screens.
After the keyboardist Emerson and the vocalist/bassist Lake both died in 2016, Palmer began investigating ways to use technology to "reunite" ELP, including watching concerts that had used holograms to bring back deceased performers to the stage. He said he found that a bit "spooky" and decided to use the 1992 concert footage instead.
"The reaction has really been incredibly positive, and it's both of the families, the Emersons and Lakes, both wanted to do it," Lake said in a recent interview from his home in the UK. "I was very keen to do it. … I didn't involve the families in all the research because it would be stressful for them.
"It seemed to me the most noble way, and they both loved technology and would have agreed with me that this was the best way to do it."
The 10-date tour begins Friday, Nov. 18 at 2300 Arena in Philadelphia and includes nights at Penn's Peak in Jim Thorpe, Pa., on Sunday, Nov. 20, and Town Hall in New York City on Friday, Nov. 25. Palmer will play six tracks along with the footage of his late bandmates in addition to performing some songs with his touring band.
"It's six beautiful tracks. I can play in situ live with 12-by-10 screens on each side and one downstage. We'll all be together playing one more time. This was them at their very best. This is them live, not some hologram. It's Greg Lake and it's Keith Emerson. The Lake family and the Emerson family have been all for this, they're right behind it. For me, it's just the last thing that I can really do to pay my respects."
The footage was filmed over two nights at the Royal Albert Hall in London.
"It was a five- camera shoot, and everyone was recorded individually so all the stems can be dealt with, all of the channels," Lake explained. "It's not actually IMAX standard because it's from way back in the day, but it's a very high standard."
ELP formed in 1970, one of rock's early supergroups, built from members from already-successful bands: Emerson from The Nice, Lake from King Crimson and Palmer from Atomic Rooster and The Crazy World of Arthur Brown.
Asked about the state of ELP in the early-'90s when the concert footage was captured, Palmer said: "ELP was the same as any other band that wasn't playing grunge at the time. We kept looking forward, and that was our reformation. That was the second reformation, '91-'92 and it went through '97. Obviously, it wasn't as successful as the first seven or eight years we had together."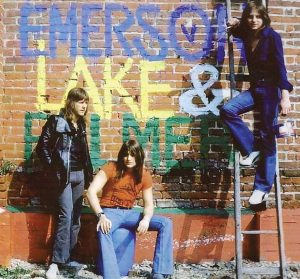 ELP, like most progressive rock bands formed in the '60s and '70s, was known for conceptual albums, such as "Brain Salad Surgery" and "Tarkus," and multi-part song suites. But Palmer pointed out the commercial appeal of some ELP tracks, like "Lucky Man" and "Still … You Turn Me On." In August, ELP released a 12-disc vinyl singles set that includes those hits as well as "C'est La Vie," "Jerusalem" and "Fanfare for the Common Man" and recreations of the artwork from the original records.
"The singles idea was my idea because people need to understand the birth of ELP," said the drummer, also a founding member of the '80s supergroup Asia, which will tour next year. "ELP got on the radio because we played commercial songs. As far as I'm concerned, you know, that was one way of showing people how we got across on a global level."
As for why ELP, a British band to its core, is starting its new tour in America, Palmer explained it plainly.
"The US has always been the best market for ELP, the market that managed to sustain our careers. It's best for us to start there. If people accept us, then we'll tour it globally. There already are offers, but we want to come to America, play these 10 days and see how it's received."
But why was America so good to ELP?
"I have no idea. You tell me," Palmer said. "We had a guy who sang like a choir boy. We weren't driven by guitars. It wasn't really an out and out rock band. People called it a prog band but we did three-chord ballads. You tell me why. America just took to it. England did as well, and so did Germany, and so did Italy, and other places in Europe, but America were the first to give it its blessing."
Visit ELP's official site to buy tickets for the tour.