Over the years, the Briggs Farm Blues Festival has hosted Grammy winners, blues legends and roots rock favorites. But when you're welcoming thousands of people to spend the weekend on your grounds, making sure it's a seamless, comfortable experience is as important as the quality of the music.
"We want to really have a situation where people can relax and forget about their day-to-day problems and communicate with other music lovers," says festival founder Richard Briggs. "Overall, that's a basic thing to shoot for, and everything stems from that. All the people here really love what they do, and they're really friendly. Hopefully, you find that. That's what we're known for, and that's, I think, why we've lasted for 22 years. People come here as much for that as they do the music."
The festival this year will run from Thursday, July 11, through Sunday, July 14 in Nescopeck, Pa. Main stage headliners include rising star Christone "Kingfish" Ingram and  Americana vets Donna The Buffalo, both of whom will make their Briggs Farm debuts. They'll be joined by returning favorites like Cedric Burnside, Vanessa Collier, Alexis P. Suter and Lonnie Shields. Eight-thousand fans are expected at the 250-year-old family farm.
Briggs balances the lineup by booking stars of the blues circuit and previous festival favorites as well as artists that might be a bit lesser known but have bright futures.
"You have to sort of stay ahead of it and see who's touring," he says. "We try to go out and find some new artists. Vanessa, this is her third time here, and she's really going in the same direction that Kingfish is going."
Another example would be Samantha Fish, who made her Briggs Farm debut five years ago and has gone on to tour with Buddy Guy and Kenny Wayne and rack up a slew of rave reviews and awards. (She's not on this year's Briggs Farm bill.)
Longtime Briggs Farm fan favorite Alexis P. Suter will perform with her Ministers of Sound on Sunday as part of the Gospel Blues Show. Her 1 p.m. set will follow a performance by Slam Allen at 11 a.m.
"Well, she's all about love," Briggs says about powerhouse singer Suter. "She's all about openness and friendship and love, and she tells people that and they feel it. They form that connection that she's really portraying. She has a great, unusual voice. People love her.
"She is doing a gospel show on Sunday along with Slam Allen. Both grew up in the church singing in the choir. Alexis comes from a musical family in Brooklyn. That's going to be a perfect Sunday gospel day. She does have people who love to see her here. I hear that and try to make sure that Alexis comes back every year."
Suter released a live album recorded at Briggs Farm in 2016.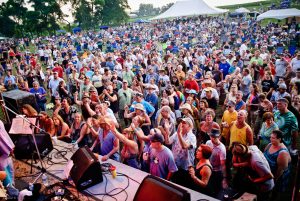 New to the festival's Back Porch Stage this year is Briggstock, a celebration of the 50th anniversary of Woodstock featuring Bret Alexander and Friends. Alexander, a regular at the festival, will be joined by vocalist Ellie Rose, violinist Nyke Van Wyk, drummer AJ Jump, guitarists Rob and Tim Husty and keyboardist Cliff Starkey. They'll perform from 7 to 11 p.m. Thursday.
"The past few years we've had different bands from the '60s and '70s, and this year since it's the 50th anniversary of Woodstock, we're doing a celebration of the bands that were at Woodstock 5 years ago, doing songs from Santana, Canned Heat, Grateful Dead, Creedence, Janis Joplin, Jimi Hendrix. …
"I was 15 in 1969 and a lot of the bands that played Woodstock and those guys are directly based in the blues, if not copying the blues and playing old blues songs in a rock and roll way, like the Rolling Stones and all those guys," Briggs says. "So that's what I grew up with, and that stays with you for the rest of your life. That's really what brought me back."