By Brittany Boote/ Photos by Jason Riedmiller
Port Chester, New York in the late winter is as cold as it sounds. After a relaxing and scenic two-hour drive, I arrived in this small town about 40 miles outside of New York City accompanied by my friend and colleague, Jason who would soon be photographing some breathtaking moments of the evening to come. After some brief exploring we found ourselves outside the venue, where we were headed to catch American Babies and Anders Osborne. So, it was out of the cold, crisp and windy street and into the inviting, warm and notably breathtaking atmosphere of The Capitol Theater.
The theater felt good. The theater felt authentic, with high ceilings, big red drapes, detailed arches that embraced the entire room. I floated around, looking up at the ceiling, and admired the classic balcony seats that always seem to exhibit some kind of greatness or royalty in the design of the room. I walked to the very front and placed myself directly in the center of the room to view the stage. There's something really intoxicating about looking at an unoccupied stage that is completely set up and ready to go, instruments resting and waiting to be chosen and played. Everything is in its place.
[Check out Highway 81 Revisited's interviews with Anders Osborne here, and American Babies' Justin Mazer here.]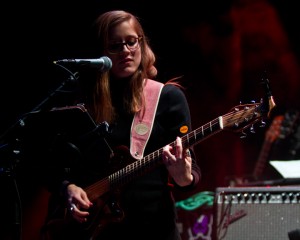 American Babies began to walk toward their designated places, and without hesitation they graced us with their opening song, "What Does It Mean to Be."  It's a great song, and Tom Hamilton's vocals are on point. In the verses, of he has this mild Bowie-like sound that is really cool and calming. The chorus hits us a bit heavier with some vocal help of acoustic guitar player and singer Raina Mullen. I was familiar with American Babies' sound and it being especially dynamic. The set they performed certainly proved that. The can be adventurous, fun and intense, while also being subtle, charming and mysterious in their approach, especially when it came time to jam.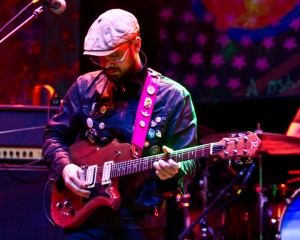 Justin Mazer's guitar playing is precise and very elaborate, however he seemingly makes it appear so effortless. Al Smith has this a certain kind of grace on the drums that makes him really fun to watch, because there is this wildness to him despite his elegance and caution in his movements. Mark Sosnoskie, on the bass, connects everything in a way that appears to be vital and paramount when it comes to the feel of American Babies' sound collectively. There was a lot of talent on that stage, and you could tell. They ended with the song "Winter War Games," which was a good call, and the crowd seemed to agree. Once their set had ended, I found my way into Garcia's, a cool little bar annex to the theater. I had given up bourbon for Lent, so I ordered a whiskey instead and waited for the next round of rock n' roll.
Anxious to learn more about Anders Osborne, I headed back to the front of the venue and chilled toward the end of the stage where I impatiently rested my arms on the barrier with a pen I lifted and a notepad to scribble in. The first thing I noticed about these guys was that they were there to have fun. They were on stage to enjoy themselves. There was something really genuine about how they interacted with each other throughout their performance. There was a sincerity that was so present and contributed to the energy of the room and the performance. It was America, in 2016, and this was Rock And Roll, this was music. Anders has this authentic and sensitive presence that you kind of fall in love with immediately. Even in the tunes that were emotional, there was this sense of positivity that emanated from him and his band, that includes Carl Dufrene (bass), Brady Blade (drums) Eric McFadden (guitar) and Danny Eisenberg (keys).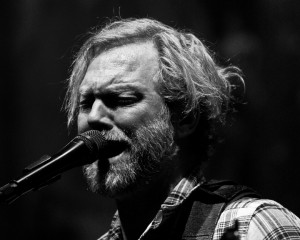 Anders had this romantic way of inviting you into these simple dreamy little jams, and then take you on this uninhibited, super entertaining musical quest that lifted you up, spun you around, dipped you, and like a true gentleman, he'd bring you right back to your feet smiling and absorbing that lightness and sense of positivity that he filled the atmosphere with for you. One of the highlights of his set was when they broke into "Bertha" by the Grateful Dead. Tom Hamilton joins in, and the elusive Al Smith, who was just zipping around in the audience chatting, and stopping to say hello, is somehow up on stage seconds later joining in on the drums. This was one of the best shows I had seen in quite a while; it was so refreshing to see good old-fashioned rock n' roll alive and well in this cold corner of the state of New York.