Amy Helm's new album, "What the Flood Leaves Behind," is a celebration of resilience and the result of the collaborative spirt that has been a hallmark of the Woodstock singer, songwriter and multi-instrumentalist's career.
Helm made the album, her third solo effort, during the January before COVID-19 shut down the industry, and while it's her name on the sleeve, several talented friends lent a helpful hand. Josh Kaufman, who produced Bob Weir's critically lauded "Blue Mountain" in 2016, worked with The Hold Steady and played on Taylor Swift's "Folklore," produced the new album.
"He brought so much," said Helm, who will perform at the new City Winery in New York Thursday night. "I met Josh when my manager, Drew Frankel, introduced us. I did a song for a Leonard Cohen tribute, and that's when I met Josh and his wife Annie, who's a fabulous bass player, and we just had instant chemistry. Just arranging that song and finding it and having just a five-minute rehearsal to get it ready for the show, just that small interaction, it was instant."
They crossed paths again for a Richie Havens tribute Kaufman was producing, and when it came time to make the new album at The Barn, he was an obvious choice to produce it.
"He makes things very easy. He's easy to work with, it's easy to talk to him, and we were kind of finishing each other's sentences, and the music became very clear very quickly in those conversations," she said. "So this is something I've been sharing with friends, and especially a lot of younger friends who are starting to try to find people to collaborate with: When the chemistry is that quick, and that instant, music just has that much more space to find itself, and I certainly felt that way with Josh. He's a very patient and kind and smart, connected player."
She also cowrote with her friends Zach Djanikian of Philadelphia band The Brakes and Elizabeth Ziman, who performs as Elizabeth & The Catapult.
"I went into it without a theme, just chose some people who were generous enough to cowrite with me, and a few [songs] I was working on a long and let the melodies direct me toward the song," Helm said. "Melodies come to me first, and then, like with Elizabeth Ziman, I would send her sketches of melodies on a voice recording, and she would have some lyrical ideas, and she would come down for a few days and we would hunt down the song."
Similarly, Erin Rae helped out on the track "Carry It Alone," while M.C. Taylor (Hiss Golden Messenger) wrote album opener "Verse 23," a lyric that gave Helm the album title.
Helm's collaborative bent plays to her strengths, as she noted, "As a singer, my ear naturally bent to harmony, and I got good at it quickly. I enjoyed it, and I still love singing harmony. That's where I find a lot of my strength."
Not coincidentally, her father Levon Helm's legendary group was The Band, known for its ragged but right country harmonies.
"He saw himself like a union man," Helm says of her dad, who died in 2012 and has a similar team-player approach. She plays in a band called The Capital Sun Rays, which features Luther Dickinson, the son of important blues figure Jim Dickinson, and Grahame Lesh, who plays in the band Midnight North and is a son of the Grateful Dead's Phil Lesh.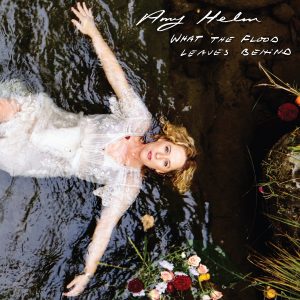 Asked if she feels a special kinship with fellow offspring of music royalty, Helm thought for a beat before answering in the affirmative.
"Yeah, sure. It's interesting. Grahame and I met through our dads, because Phil came to play the Rambles many times and played with my dad and was friends with my dad," she said of the popular musical gatherings at The Barn. "When he came to play the Ramble with his sons, he was really inspired, I think, by watching my dad, who built this concert at home where he didn't have to travel and he got to make music with his daughter, which was nice. Now that I'm a mom, you can kind of see who that's a nice place to land. So it was always a really warm feeling I had…We all sang together, and it was special. It was special to stand on stage at the Ramble and sing with Phil and Grahame and to have my dad there and to have all of us part of a family feeling.
"When I see Grahame doing this, it's a reminder that having music passed down to you from your parents is so deeply important, and to have the opportunity to carry it on a little bit and share it with other people and collaborate with other people, it's a beautiful thing. I'm always inspired by Grahame and Phil and how they do that. I do connect with Grahame on that stuff. Growing up with anybody who has a mom or a dad who has done something big in their community, there an echo there, and there's a lot of gifts in that echo, and there's a lot of projection you have to walk through in that echo."
The Barn, where she will perform July 2 for a Ramble, as well as Aug. 1 for a Jerry Garcia birthday tribute and Oct. 8 and 9 to commemorate Levon Helm's 80th birthday, is the headquarters for that family spirit.
"That room is special, and musicians need to play that room, and music fans need to be in that room, it calls it to itself," Helm said. "It elicits that. It brings music up and out. Even making the record there, it was a humbling experience because I had forgotten how very mystical the place is. It's like a tuning fork. Being in the Barn and singing in the Barn or watching a show in the Barn or recording in the Barn is kind of like sitting in the hollow body of a beautiful guitar or cello. It's kind of like the inside of an instrument, with all of the wood around you.
"There's a lot of emotion and memory that's held in the rafters of that place, so it truly is like a temple of music, and it's very cool to see it hold itself now in the place that it needs to be in."
Lead photo by Ebru Yildiz