Back on Dec. 7, around noon, Cedric Burnside, a drummer who descends from Mississippi Hill Country blues royalty, received a troubling phone call from his girlfriend and publicist, Mona Ables.
"Oh man, it was crazy. It scared me. She was crying," Burnside, 37, recalled recently by phone, the afternoon after his Cedric Burnside Project performed at a club in Orange Beach, Ala.
That frighteningly tearful call quickly turned euphorically memorable.
"'Oh my God, Cedric, you've been nominated to win a Grammy,'" a laughing Burnside recalled Ables telling him. "It was beautiful. She scared the shit out of me. It was a beautiful thing. I was shocked, you know? But I was happy."
It was announced that day that Burnside, grandson of late Mississippi blues guitarist R.L. Burnside, and Trenton Ayers, Cedric's guitar-playing partner in the Cedric Burnside Project duo, had been nominated for a Grammy for best blues album for "Descendants of Hill Country."
(Listen to the album at http://cedricburnside.net/music/descendants-of-hill-country)
By the time Burnside and Ayers arrive in Bloomsburg, Pa., to perform Feb. 20, they could be performing as Grammy-winning artists. Winners will be announced five days earlier.
Cedric Burnside Project will take the stage at the intimate Caldwell Consistory auditorium in downtown Bloomsburg at 5 p.m. Saturday, Feb. 20, as part of what has become an annual three-day, two-county Destination Blues festival at venues scattered throughout Columbia and Montour counties.
Burnside has scheduled an ambitious 2016 tour that will take Pennsylvania by storm over the next several months. The night before their Bloomsburg date, Burnside and Ayers are scheduled to perform Feb. 19 at Rusty Rail Brewing Company in Mifflinburg. They will also appear at the annual three-day Briggs Farm Blues Festival outside Nescopeck, Pa., the weekend of July 8-10, in addition to dates June 11 in Bethlehem and June 18 at the Lycoming County Fair in Hughesville. Their summer tour also includes dates in New York and New Jersey.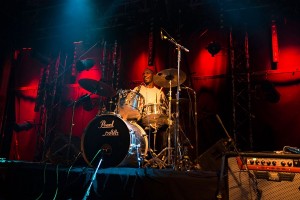 Burnside plays a mix of acoustic and electric guitar in addition to drums, his primary instrument, and also teams up on vocals with Ayers, who plays both guitar and bass. There's a hip-hop bent to some of their blues, but their music also stays true to their extended musical family's raw blend of Hill Country, including covers of R.L. Burnside staples.
Cedric Burnside and Ayers included a pair of R.L. covers on "Descendants of Hill Country" — "Skinny Woman" and "Going Away Baby." Fittingly, the album begins with the track, "Born With It," an obvious reference to their musical lineage.
"There's still people trying to get it," Burnside sings, "But Hill Country Blues … We were born with it." 
"Nobody in my family ever been nominated" for a Grammy, Burnside said with a tinge of disbelief. "Not even my Big Daddy or Junior Kimbrough."
Burnside's "Big Daddy," whom he also reverently refers to as "Mr. R.L.," was his grandfather, the late great R.L. Burnside, a sharecropper and finger-picking blues guitarist with a distinctive smoky smooth voice. R.L.'s late-arriving popularity, touring with the likes of the Jon Spencer Blues Explosion while in his late 60s, helped put North Mississippi, which for decades was teeming with otherwise obscure musical talent, on more mainstream footing in the industry.
R.L., the father of 13 and grandfather of more than 30, helped pave the way in the industry for artists like Cedric and the Dickinson brothers — Luther and Cody Dickinson of North Mississippi All Stars — who were practically Burnside neighbors growing up. (You can read Highway 81 Revisited's 2014 interview with Luther Dickinson here.)
Cedric's late father Calvin Jackson, who died a year ago, was also a drummer. But Cedric grew up on R.L.s homestead and credits his grandfather with raising him like a father in addition to passing on his musical genes.
That musical influence dates literally to the day of Cedric's birth in August 1978 while his mother, Linda Burnside, was on tour with R.L.'s band.
"They were driving back to Mississippi, and her water broke. They had to go to the nearest hospital. I was born in Memphis," Cedric explained. "My mom was on the road, but she never performed."
Cedric grew up watching R.L.'s jam sessions on R.L.'s porch during collaborations with his musician buddies. By the age of 13, Cedric started sitting in on drums with his grandfather's band at Junior's Place, a Mississippi juke joint owned by late blues guitarist Junior Kimbrough, the father of Trenton Ayers.
"Luther and Cody used to come to the juke joint. We grew up about 20 minutes away from each other," Cedric said, explaining the genesis of their long and tight friendship. "They was able to come to the juke joint every weekend."
Cedric also had the fortune, he recalled, of spending time in the recording studio of the late Jim Dickinson, Luther and Cody's father. Jim Dickinson was a record producer who played keyboards on Rolling Stones and Bob Dylan albums.
"I was maybe 15 years old when Luther went on the road with us," Cedric recalled. "Luther was just turning 21. We had to ask Mr. Jim if Luther could go on the road with us. I didn't have a (driver's) license. We finally got Mr. Jim to allow Luther to go with us. It was the mid-1990s, 1997.
"Luther was the driver. He made us a little nervous."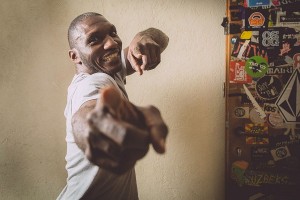 Cedric went on to play hundreds of shows touring with R.L. before eventually forming Cedric Burnside Project with his younger brother Cody Burnside and uncle Gary Burnside in 2011.
Cody, who brought a talent for rap to the family's musical mix, died unexpectedly in 2012 at the age of 29. Cedric said his younger brother died of a heart attack.
"Well, yeah, you know, that hit me harder than anything that ever hit me other than when my big daddy died," Cedric said. "He was my only brother. I have one sister. We was really good brothers. We loved each other. We argued. We fought. That's what brothers do."
Cody Burnside figured prominently into R.L.'s final public appearance at 2004's Bonnaroo music festival, where the Burnside family joined forces on stage with North Mississippi Allstars.
A video of their collaboration of "Snake Drive" has attracted more than 23,000 views on YouTube and shows Cody Burnside taking the mic for an impromptu rap while Luther Dickinson surfs the crowd with guitar in hand.
"Mr. R.L. Burnside, I'd like to thank you very personally for everything you've done for us," Luther Dickinson tells a seated R.L. before Luther launches into the crowd and Cody Burnside assumes the mic.
Cedric did not make it to Bonnaroo that year because he was touring overseas with close friend and bassist Lightnin Malcolm, who is part of the bassist rotation in North Mississippi Allstars. Cedric said he has no regrets about missing his big daddy's final performance.
"I heard so much about it," Cedric said of the Bonnaroo show. "My brother was there. My uncles. All of them was there. There's no regrets. We all got it in our blood. I'm pretty sure (R.L.) was proud to see us prosper and take it around the world.
"I love to play music for people. I think big daddy, that's all he wanted was for us to grow up and be talented musicians. I have no regrets."
R.L. died a little over one year after the Bonnaroo appearance, in September 2005, at the age of 78.
Cedric remains baffled as to why it took until the 1990s for his grandfather's career to truly take off.
"You know, my big daddy always used to say, 'You have to pay your dues,'" Cedric, the father of four daughters, recalled of R.L.'s late-blossoming career. "That's really hard to explain. I know it was a long time waiting. I remember him, as a kid, leaving and going out of town for months to try to make enough money to raise a family. He just started really getting recognition around the late '90s, when he started getting ill.
"He didn't get a chance to take it a lot of places. I'm here to do that. I'ma do it until I leave this world."
For tickets to February's Destination Blues, visit www.destinationblues.org.
Photos by Ronen Goldman