Warner Brothers announced Sunday that Prince's Warner Bros. catalog will be available to stream on all major services by the time the Grammys begin at 9 p.m. EST.
Prince signed with arner Bros. 40 years ago, releasing albums including "Prince," "Dirty Mind," "Controversy," "1999," "Purple Rain," "Around the World in a Day," "Parade," "Sign O' The Times," "Batman" and "Diamonds and Pearls."
Warner Bros. also announced that it will release a remastered version of "Purple Rain" and two albums of previously unreleased music and two concert films from the Paisley Park vault on June 9.
Prince died April 21, 2016.
DAN HICKS GREATEST HITS ALBUM ANNOUNCED
"Greatest Licks – I Feel Like Singin'," will be released Feb. 24, a few weeks after the 10th anniversary of Dan Hicks' death.
Starting Feb. 10, fans placing pre-orders were to receive a never-before-released version of "Strike It While It's Hot!"  In addition, the album also includes a never-before-released version of "I Don't Want Love." All tracks on "Greatest Licks" were re-mastered for vinyl from the original analog tapes.
The compilation was produced by Dave Darling (Brian Setzer, Glen Campbell) and Dave Kaplan, owner/CEO of Surfdog Records and a lifelong fan of Dan's. "Some of my favorite and fun times were making music with Dan," said Kaplan.  "I am really proud to have worked with him over the past 17 years, and to call him a friend."
Hicks' fans include Tom Waits, Willie Nelson, Steven Tyler, Jimmy Buffett, Rickie Lee Jones, Brian Setzer and Bette Midler.
At the time of his death, Hicks was working on finishing his memoir, but author Kristine McKenna picked up where he left off, and his life story, "I Scare Myself," will be published April 18.
Track Listing for Greatest Licks – I Feel Like Singin':
1. Strike It While It's Hot!
2. Where's The Money?
3. That Ain't Right
4. I Scare Myself
5. I Don't Want Love
6. Tangled Tales
7. How Can I Miss You When You Won't Go Away?
8. The Piano Has Been Drinkin'
9. That's Where I Am
10. Hey Bartender
11. I Feel Like Singin'
12. The Blues My Naughty Baby Gave To Me  *CD & DIGITAL – ONLY BONUS TRACK
SPIRAL STAIRS TO RELEASE "DORIS AND THE DAGGERS"
Spiral Stairs of Pavement (Scott Kannberg) has announced the March 24 release of his second album under the Spiral Stairs name, "Doris and the Daggers." This week he shared the second single from the album, "Dundee Man" which you can listen to at Stereogum. You can watch the first video from the album, "Dance (Cry Wolf)," which stars Jason Lytle of Grandaddy, who plays the part of Spiral Stairs.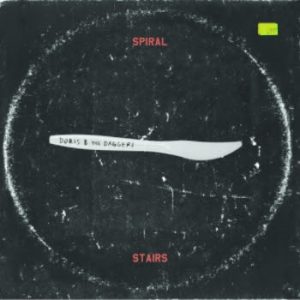 Guests on the album include Matt Berninger of The National, Broken Social Scene's Kevin Drew and Justin Peroff, Kelley Stoltz and Shudder To Think's Adam Wade.
Spiral Stairs has also launched a Pledge Music campaign where fans will have the option of buying archival Pavement and Preston School of Industry merch and memorabilia (or a DJ set, private show, trip to IKEA or a round of golf with Scott) along with their pre-order of "Doris and the Daggers."
After Pavement's reunion tour, Kannberg and his wife moved to Brisbane, Australia, but after they had a child, they moved to Los Angeles.
"I had the perfect set-up there, so I started work. The way I write songs is, I put on my electric guitar and walk around the house and play it and look at myself in the mirror and just make up stuff," he said in a press release. "But because the kid was off at school for three hours a day, I only really had an hour or so to do that. So it took a little time. It was my intention to have done at least a couple more records by now, things just got in the way."
LIVE DATES:
03/14 Austin, TX @ Force Field PR Official SXSW Showcase at Cheer Up Charlie's
03/15 Austin, TX @ Nine Mile Records and Touring Showcase at Maggie Mae's Upstairs
03/18 Austin, TX @ Nick Tangborn's 6th Annual Secret Handshake Party
04/19 San Diego, CA @ Soda Bar
04/20 Los Angeles, CA @ Resident
04/21 San Francisco, CA @ Swedish American Hall
04/22 Sacramento, CA @ Old Ironsides
04/23 Chico, CA @ Duffy's
04/24 Portland, OR @ Mississippi Studios
04/25 Seattle, WA @ Sunset Tavern