Monday and Tuesday: errands and Mid-west bound
Nothing too terribly exciting to kick the week off. We all reconvened on Monday to relocate to Denver for the day until we departed to Columbia, MO on Tuesday afternoon. Tuesday was going to be another all day drive, so we kept Monday pretty mellow (I was also a tad sore from the hike on Sunday). I spend most of the day working on tunes in the hotel room for upcoming shows and scored some awesome Vietnamese food down the street from the hotel. For this tour, we basically hit a certain region of the country for 3-5 shows in a row, then have 2-3 days off. This format is actually kind of nice because it kind of assimilates a "work week" for us…and I always have stuff to do that can't necessarily get done on a normal work day.
On Tuesday, we grabbed breakfast and budgeted some time to grab an oil change before we hit the road. Little did we know, the oil change would take a tad longer than expected (2.5) hours which bumped our departure time to the late afternoon (4pm). In Jiffy Lube's defense, they did find a dead bird lodged somewhere in our engine and had to surgically remove it. The drive to Columbia was a 700 mile trek through Kansas, and Tommy opted to bang it out in one shot so we could have Wednesday to sleep in before our show. We kept stopping to a minimum and got to our hotel around 5am.  I managed to sleep most of the evening portion of the drive ( I impress myself with how well I can sleep in the van)  but was still pretty wiped out by the time we got to Columbia.
Wednesday: Columbia, MO. Rose Music Hall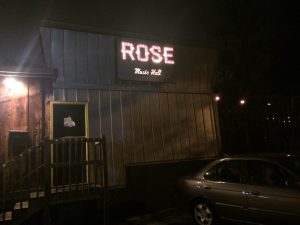 I (sort of) slept in today. My body was a tad confused after having to re-fall asleep in a comfy hotel bed after sleeping in a van for 5 hours. I don't think it really worked out in my favor as I woke up feeling pretty exhausted. I spent the morning trying to relax a bit in the hotel room before we headed out for breakfast and load in around 3pm. The Rose Music Hall (formerly "Mojo's") is a super cool spot which I have never been to before. They also had an outdoor patio with a stage which they used for shows in the summer. Today was also a rare occurrence where were actually able to return to the hotel for a few hours after soundcheck before showtime. Not that a dimly lit green room with pita chips, Nutella and a case of beer wasn't appealing, being able to kick back for a few hours before in the comfort of your hotel room is as ideal as it gets. Some of the towns we are hitting on this leg of the tour are markets the band has never played before, so you never really know what to expect at some of them. With this in mind, the crowd happened to be slightly lighter the usual, but that didn't change our approach nonetheless. Sometimes, the shows with the lighter crowds end up being the most fun/memorable.  After a cool 90 minute set, we were packed up and back to our hotel at a (somewhat) reasonable hour of 1am.
Thursday: Iowa City, Iowa Yacht Club
Pretty standard show day. I woke up on the earlier side to squeeze in a quick workout. We grabbed some breakfast in Columbia at a spot someone recommended to us on Wednesday night called "Cafe Berlin" which hit the spot. It was about a four hour drive from Columbia to Iowa City. The drive was scenic and mostly non-highway which was a nice change of pace. This is my second time performing in Iowa City. Earlier this we year, we played at a different venue down the street. Iowa City is a pretty standard college town with packs of girls walking around with no jacket on even though it is 40 degrees out. I never understood that. This was our first taste of colder weather in the last week or so. It made me immediately begin dreading my return to the northeast as my Facebook wall has reported snow on more than one occasion in more than one place. After a pretty standard load in and soundcheck, we grabbed dinner nearby before hitting the stage around 11:15. We played what I thought was a super solid 90 minute set. On tour, you don't always get lots of opportunities to be playing your instrument besides on stage, so I try to always have an instrument in hand when we get small pockets of time between load in and sound check. I switched it up from my usual playing style and opted to not use a guitar pick for the entire duration of the set. Sometimes its good to do that to that to challenge yourself and keep your mind fresh and alert, especially when playing the same body of songs every night. After the gig, we drove about 60 miles north to Rock Island, IL. I fell asleep almost immediately upon getting in the van. We made it to the hotel somewhere between 3 and 3:30am.
Friday: Daytrotter Session and Cancelled gig.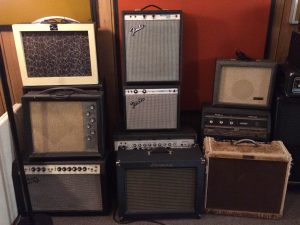 Earlier this week, we got word that our Friday show was cancelled due to some sort of complication with the promoter/venue. While this is the first and only time this has happened to me in years, these things do happen. There are a lot of people, action items, and moving pieces that go into making a tour (and band) possible. Managers, booking agents, venue promoters, sound engineers and many others all play a pivotal role in making a tour or even a single show as successful as it could be. Luckily, to replace the show, our team scored us a last minute opening that popped up to record a Daytrotter session. For those of you who do not know Daytrotter, it is a studio in Rock Island, IL (about 2 hours from chicago) that hosts mini 3-5 song sessions of bands that are touring through town kind of in the style of "itunes session" or "spotify sessions". Daytrotter has even been responsible for introducing me to a lot of new music over the years. The studio is furnished with a plethora of all sorts of gear and amps, both new and vintage. This allows bands to be able to pop in ,"plug in and play", and get back on the road quickly if they are just passing through town. I have done a Daytrotter session a few years back with a band I used to play with called Leroy Justice and I recall it being a really good time. I was particularly excited to do another session in place of the cancelled gig. We had a pretty early load in (11:00am), which meant we had to be up and moving by 9-9:30 to make it there in time. This was not the easiest task as I mentioned we didn't even arrive to our hotel until 3:30am the previous night. Even if I am totally exhausted, It takes me (and everyone) a second to wind down and fall asleep once we arrive to the hotel. I usually have to watch some TV for a little bit to wind down before I'm ready to call it a night. At this point in the tour, I've surrendered to accepting my sleep deprivation.
After spending the early afternoon recording and hanging at Daytrotter, we headed back to a local hotel in Rock Island. We opted to stay locally as opposed to head right to Chicago to avoid World Series traffic. Once we returned to our hotel around 4pm, I spent a few hours fine tuning some material for gigs I have coming up. We kept the night pretty mellow and turned in pretty early to make sure we were well rested for the marathon weekend ahead.
Saturday-Tonic Room, Chicago (Masquerade show #2)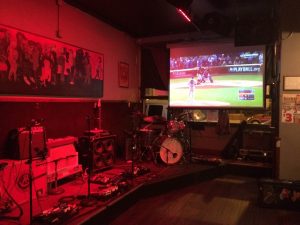 We departed from Rock Island for Chicago in the early afternoon. Chicago traffic is no joke…arguably the worst in the country. We gave ourselves nearly double the amount of time our GPS told us, and it was a good thing we did. We managed to get to the tonic room right on time for load in. The Tonic Room is a very small intimate club. To me, its very reminiscent of The Bog in Scranton (one of my favorite bars ). The show was nearly sold out days in advance, so we knew it was going to be a good night. This was our second "musical masquerade" themed show which featured us paying tribute to The Beatles.  A quick reminder that we are playing in Chicago during the World Series…which happens to also be occurring in Chicago. After chatting with the promoter, we decided that it would be best to wait for the game to be over before we started playing. Luckily for us(not so much the Cubs), the game was short, and we started right on time.
By the time we hit our first note, the place was so packed to the point where I could barely navigate from the back of the bar to the stage. This was certainly not a bad problem to have for us. Our first set seemed to fly by. The crowd was energetic and receptive, and we played our asses off as a result of it. After a very short set break, we took the stage for our Beatles set. Tom's older brother Jim( an original member of American Babies) joined us on guitar and harmonies for the Beatles set.  We kicked off the set with a bunch of earlier rock n' roll-esque  Beatles material before kicking into some of the post-Revolver era psychedelic jams. I even made a rare lead vocal cameo on "Taxman". My favorite aspect about prepping the material for these masquerade shows is that I have an actual excuse tap into the playing of my some of my guitar heroes (Jonny Greenwood, George Harrison).
Sunday-Travel day from hell, NEPA Wedding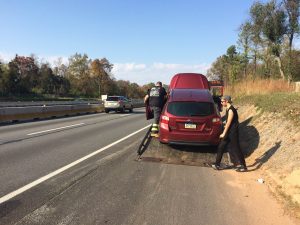 It was about 2:30-3am by the time we were packed up and ready to depart from the Tonic Room. Al and I need to be at the airport for 5am to catch a 6am flight back to PA to play a wedding on Sunday evening. We took an uber back to Jim's hotel near the airport to "rest our eyes" for about 30 minutes before the airport 4:30amshuttle arrived at the hotel. We land in Philadelphia around 9am. After getting a ride back to Al's car, he realizes he left his car keys in the band van in Chicago. Luckily, one of his friends was nice enough to loan us car for the day. Neither of us has slept yet, and at this point I am battling one of the worst hangovers of my life(completely my own fault). After grabbing a quick shower and loading the car, we are off to Taylor, PA around 11am. Hard to believe I was in Chicago a few hours ago. I manage to doze off in the car for a little bit.
Once we are on 476, Al pulls over to rest his eyes for a few minutes. After taking a cool 15 minute break, we go to start the car and realize we left the radio on. Dead Battery.  We contacted AAA, and after nearly two hours, we are back on the road. At this point, we have absolutely no room for error to get to this wedding on time. We arrive at the Via Appia in Taylor about 15 minutes before things kick off.  Luckily, the wedding was running slightly behind and we (the band) had a chance to go over the first dance songs. Against all odds, we made it happen. I have about 36 hours at this point until I need to be back in Philadelphia to resume the American Babies tour. Until then, I will be spending all of halloween sleeping. Talk to you all on Tuesday.