When Tony Halchak began putting together his new EP, "Harvest Songs," he had a theme in mind: a family displaced from its longtime hometown, maybe living in the Rust Belt, maybe a casualty of of the fracking business. But as the Americana singer-songwriter and guitarist continued to craft the tunes, he realized they were more personal than that.
Halchak, who recently moved from Northeastern Pennsylvania to Grand Rapids, Mich., released "Harvest Songs" digitally on Aug. 29, and the physical release will be at several shows in the NEPA area: Thursday, Sept. 7 at Turkey Hill Brewing in Bloomsburg; Friday, Sept. 8 at Filet 18 in Bloomsburg; Saturday, Sept. 9 at Weyerbacher Brewing in Easton; and Friday, Sept. 15 at Backyard Ale House in Scranton.
We chatted with Halchak about the autobiographical connections in "Harvest Songs," how his band members help drive his songwriting process and what to expect if you're heading to any of his upcoming shows.
How would you describe your writing process for "Harvest Songs"?
I started writing like a story about a family that lived in the Rust Belt and maybe had a farm, and they were living there forever and making ends meet and finally couldn't do it anymore after generations of their family living there. And I kind of had the feeling of a fracking company maybe coming in. And through more and more of the process, I was kind of discovering that I was actually using that as an analogy in my mind to come to terms with the fact that I was going to leave the area.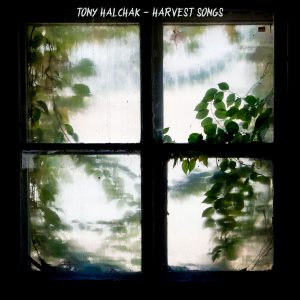 Why did you leave NEPA?
My wife and I have two daughters now. She grew up in the [Grand Rapids] area; she has family here. My family lives all across the country. We wanted our daughters to grow up around family. It's not a secret that Wilkes-Barre and Northeastern PA is kind of getting to be a hard area to live in, especially with kids.
How would you describe the sound on "Harvest Songs"?
[Previous release] "Even Giants Despair" had kind of a traditional Americana feel, and I feel this one is a little bit…it just incorporates James [Naylor's] groove; James is a very feel drummer, so it has a lot of that feeling. And Tim [Huh] is a very experimental-style violin player, and you can hear that in some of the songs. I wrote songs that could showcase what they did.
Check out the video for "This Years Crop," from "Harvest Songs."
You worked with Bret Alexander again, who co-produced the EP at Saturation Acres, where you recorded it. Why did you decide to work with him again, and how would you describe your working relationship?
I think at this point in time I've worked with Bret, I'm going to say 15 years, on records. He understands what I do, and I understand what he does, so when we get in the studio to work on songs we already know exactly what to do; even if it's time to be experimental we know exactly what to do.
You'll be releasing another album around Christmas. What's that one going to be like?
Some of it's like jazz folk, and some of it is sort of a style of Americana. I sort of wanted to write a record for all the people who are my age and having kids or have kids, and I know a lot of the stuff that they like, indie folk and Americana and even some indie pop, I kind of wanted to write a record that my friends would want to play for their kids. There are throwbacks, like one of the songs I wrote was like my little ode to Ray Stevens' "Everything Is Beautiful" from back in the day, which was kind of a nice kids song.
What type of music do you listen to?
I guess I grew up listening to oldies, and my mom listened to old-school country like Johnny Cash. As a teenager and into my college years I got into Radiohead and stuff like that. Then I kind of went back into a classic, oldies period and really got into Bruce Springsteen and Dire Straits. And later I got into bands like The National and Modest Mouse.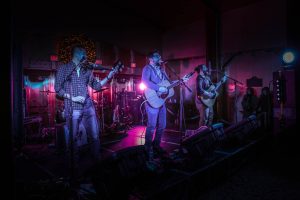 How would you describe your live show?
Kind of what we do with the band setting is we do the originals from my records, and then we take a lot of covers and throw that little jammy Americana vibe to it, where a lot of times we'll intro a song and jam for a couple minutes, go into one song that kind of goes into another song that goes into a third song that people know, which is kind of an experimental structure, but we kind of know where we want to be at every point but we have no idea how we're going to get there. We don't ever sit there and say this is how we're going to do it.
James and Tim and Jeremy [Burke] and myself all sort of like experimenting and being in the moment and not knowing how we're going to get there. We let the music and the vibe of the crowd guides us.