Photos by Pati Bobeck
SCRANTON, Pa.  — At the conclusion of its Saturday afternoon acoustic set at their fourth annual Susquehanna Breakdown on Montage Mountain, members of Cabinet welcomed about 50 of their closest family members and friends on stage and offered the crowd a taste of what the extended family does around the campfire when it gathers for family reunions. 
"The craziest a cappella I've ever heard," Rich Mayo, 37, of Vermont, said of the annual gatherings in Pleasant Mount, north of Scranton, which draw as many as 150.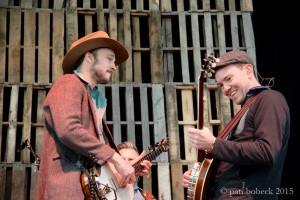 Mayo, who dates Cabinet banjo player-vocalist Pappy Biondo's sister, said Pappy and cousin J.P. Biondo, the band's mandolin-vocalist, warned relatives sometime Friday about a possible "very impromptu" family meet-up on stage to perform, this time, for thousands of fans. One by one, the four generations of relatives slowly emerged from both sides of the stage as J.P. and Pappy launched into Crosby Stills Nash and Young's "Our House." With family beginning to surround them, J.P. and Pappy stopped strumming, and the family harmonized the remainder of the song a cappella with a rustic stage backdrop of 35 hanging, connected wooden pallets.
"Ladies and gentleman, I'd like to introduce to you Cabinet's friends and family," J.P. said above the roar of the crowd, his voice seemingly cracking with emotion. 
J.P. then brought his "Uncle Mike" to the front of the stage, handing him an acoustic guitar for the family's next number — CSN's "Suite: Judy Blue Eyes." Jim Biondo, J.P.'s father, provided accompaniment by shaking a maraca while standing next to his son.
Cabinet and Family's Saturday afternoon set, courtesy of Keith Litzenberger:
Later on, on the midway of Montage Mountain's vending area, Jim, an engineer who's also a church cantor who sings at both weddings and funerals, revealed the large family collaboration was particularly special for him and wife Debbie because he happened to be celebrating his 64th birthday Saturday at the festival. Ducking under a vendor's tent to get out from under a steady drizzle, Jim could barely seem to contain his excitement after what had just happened on stage, bursting like a street performer into the Beatles' "When I'm 64."
Jim explained that J.P. descends from a long line of musicians. J.P.'s late grandfather — Jim's father Phil Biondo — sang in the Vienna Boys Choir, Jim said.
"Today, being up on stage with the family was such a blessing," the beaming Jim said. "Our family strives to give pleasure to people with music. They gave it back to us today. (Cabinet's) success doesn't surprise us. We're very proud of Pappy and J.P."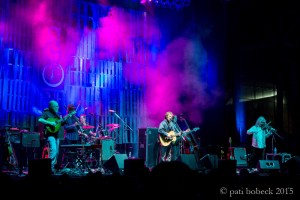 The Breakdown, a smallish festival that drew 2,500 — many of whom camped on the sloping lawn of the Montage Mountain amphitheater, was clearly a family affair that kept Cabinet members busy.
On Saturday, members of the band took a second stage with some of their side projects, including fiddler Todd Kopec, whose cover band Kopec included 14-year-old son Otis Kopec on drums and daughter Jillian Kopec on trumpet and vocals. 
They followed a solo acoustic brunch set by Pappy Biondo with a cover of Nirvana's "Come As You Are," with Jillian trumpeting the song's vocals.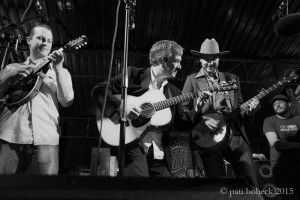 Cabinet also shared the side Breakdown Stage for a set Friday night with guitarist Larry Keel after Keel and bassist-wife Jenny performed, unexpectedly, without banjoist Will Lee, who suffered a heart attack days before the Breakdown.
"He's doing all better and he's at home now," Keel told the crowd during a set that included a cover of the Grateful Dead's "Brown-eyed Women."
Saturday night, Cabinet warmed up the crowd with a one-and-a-half hour set on the main stage for the night's headline act, Railroad Earth, which debuted a pair of new songs — "Banjo Tune #1" and "Leave the Light On" — during a 14-song set that closed with fan favorite "Like a Buddha" and an encore of "Elko."
Vermont quartet Twiddle closed out the festival with a late-night trance-y set of jamming that extended until 2 a.m.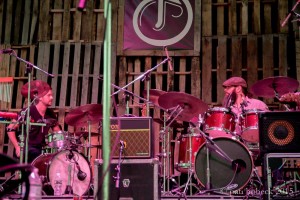 Cornmeal, a 5-piece band from Chicago, shared some heavy jams Saturday that included a cover of David Bowie's "Let's Dance," during which Phillip Roach's fiddle mimicked the song's horns.
Scranton-based singer-songwriter Tom Graham later followed that up with a Bowie tribute of his own, covering "Space Oddity," during a performance on the Breakdown stage. 
The Grammy-nominated Infamous Stringdusters included a cover of Tom Petty's "American Girl" during their Saturday afternoon performance.