I'm standing outside the Sellersville Theater in Sellersville, Pa., back on December 5, 2012, moments before Steve Kimock and his band were to take the stage.
 A man purporting to be homeless is pacing the street outside the theater, working the crowd, claiming to be in need of $10. For something — who knows what? My sympathy — guilt perhaps — got the best of me, I caved and decided to contribute — at least a little — and handed him a $5 bill.  
 Just then, as I fulfilled half of the man's request, I hear another man, whom I didn't realize was standing next to me, interject himself into this awkward and unwelcome conversation. Totally unsolicited.
 "Here's the other $5," the man offered. He proceeded to pull a $5 bill from his wallet and hand it to the panhandler.
 I turned to the man standing next to me who offered the $5, and did a double-take. It was Steve Kimock.
Improvisational guitar virtuoso Steve Kimock is in the "fourth quarter" of his life, as he calls it, having just turned 60 in October.
Reflecting on a fascinating career, Kimock minces no words in describing himself as a once troubled "juvenile delinquent," expelled from Liberty High School in Bethlehem, Pa., after his freshman year, sent to what nowadays is referred to as an "alternative school" for kids with discipline problems.
"They couldn't figure out what to do with me," Kimock recalled with a laugh this week during a phone interview with Highway 81 Revisited from his home near San Francisco. "They threw me out. I got booted. I went to Lehigh Centennial School for the socially and emotionally disturbed."
Kimock says playing guitar as a teen "calmed me down" — kept him occupied and out of trouble before he set out for the San Francisco Bay Area in the mid-'70s with musician buddies, the Goodman Brothers.
He credits his late aunt Dorothy Siftar, "a real dyed-in-the-wool, 100 percent folk singer who played with Pete Seeger," and a guitarist cousin of his for turning him onto music and inspiring him to buy a $10 acoustic guitar that would consume his life for 12 hours a day, every day.
In the more than four decades since, Kimock has become a model of musical discipline, an accomplished composer and musician with a distinct melodic sound whom Jerry Garcia once referred to as his "favorite unknown guitarist."
"We were good friends on a guitar junkie level. We'd get into the nerd aspects of it," Kimock said of the late Grateful Dead frontman. The pair first performed together in the 1980s at Golden Gate Park during a "Soviet-American Walk for Peace."
"He was one of those guys who, when he got into something, he really got into it. He really got into music. He was more of a guitar junkie than a substance abuse junkie. He was super sweet and remarkably intelligent."
Kimock played in a short-lived group, Heart of Gold Band, with one-time Grateful Dead members Keith and Donna Jean Godchaux in 1979. Interestingly, though, it was an occasional Grateful Dead sound mixer, Howard Danchik, who was Kimock's first connection to the Dead family when the two met in 1976.
And the two remain close. Kimock and Danchik, who also worked the soundboard for Jefferson Airplane and Hot Tuna, reunited musically earlier this month for Wavy Gravy's 80th birthday party at Sweetwater Music Hall, a San Francisco Bay Area club partially owned by the Grateful Dead's Bob Weir.
Through the years, Kimock has played guitar with a  jaw-dropping list of A–listers: The Allan Brothers, Bonnie Raitt, Derek Trucks, George Porter Jr., Grace Potter, Grace Slick, Jorma Kaukonen, Peter Frampton, Steve Winwood, Todd Rundgren and Warren Haynes.
Kimock, whose parents Joseph and Mildred — both retired teachers — still live in the Lehigh Valley, is also the father of four sons, including drummer and bandmate John Morgan Kimock, 27. Kimock and son will perform at this weekend's Live from the Lot music festival at the Ardmore Music Hall, joining acts that include Snarky Puppy, Soulive, Greyboy Allstars and the Revivalists.
Kimock will appear at Ardmore with John and vocalist Leslie Mendelson, forming three-fourths of Kimock's latest lineup — K I M O C K. The K I M O C K quartet also includes bassist Bobby Vega, a 30-year musical partner of Kimock's dating to their days with '80s jazz-rock-blues West Coast fusion band Zero. Bassist Anders Alfelt, rather than Vega, will complete the foursome at Ardmore's "indoor Dead brunch" set Sunday at 11 a.m.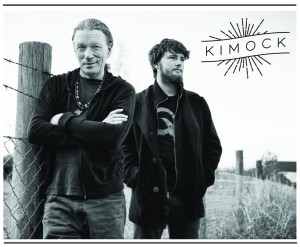 Later that night, Kimock will head an hour north to his hometown of Bethlehem for an 8 p.m. show with Everyone Orchestra at the Musikfest Cafe at the Steel Stacks complex on the site of the former Bethlehem Steel.
"Just that it's there at all is a miracle," Kimock said of the Steel Stacks complex, a familiar site to him but one much different from the one he remembers as a boy. "Bethlehem Steel was belching poison into the Lehigh River. I'd hear railroad cars uncoupling. It was mind-boggling — a steel company that stretched for seven miles, and you couldn't see any end to it. Everybody worked there. I wanted to play rock and roll and be a freak.
"Where there used to be these giant flames and molten metal, now there's music. That's great."
K I M O C K will hit the road June 2 for an 8-date tour, beginning in Denver.
Of the lineup, Kimock has said he discovered instant musical chemistry with Mendelson while meeting her in recent years during live performances at TRI Studios in San Rafael, Calif., a "musical playpen" established by Weir, a long-time friend and collaborator of Kimock's.
Kimock, who has performed in various incarnations of Weir's Ratdog, is also both thrilled and proud to be performing regularly with his son, who launched his drumming career on pots and pans in the family kitchen by the time John was able to walk.
Back then, Steve didn't exactly envision himself one day sharing a stage with John in the same band.
"I think it's safe to say I would not have been planning that because that would have involved directing Johnny in ways I didn't feel were appropriate," Kimock said. "I wanted him to do what he wanted to do. If he wanted to play drums, I'd make sure there were drum sticks there and do my best to facilitate that. Some kids will go to their first concert when they're teenagers. Johnny was playing on stage when he was 2."
During one such "performance," at the Fillmore West, Todd Rundgren, another Pennsylvania-born guitarist, destroyed John's drum kit on stage.
"I don't think (John) understood what was going on," Steve laughingly recalled of the Rundgren incident. "Mercifully, he was not scarred by the experience at all. I'm a huge Todd Rundgren fan. Todd can come by my house and smash anything I own."
In recent years, Kimock has had the pleasure of relaxing in a theater seat as a fan to watch John drumming for Phish bassist Mike Gordon's solo band.
The elder Kimock admits he's no Phish fan, though.
"If I'm looking for music, I'm listening to Vietnamese funk guitar, Afghani music, anything without an English title," Kimock said. "I'm looking for music that's new to me. I've heard plenty of Phish. It's not what I would consider music that's — in its elements and style — new to my style."
Kimock instead prefers listening to music that doesn't necessarily fit "our cultural preconditions," as he puts it — music from obscure artists like 1970s Brazilian musicians and the late Nusrat Fateh Ali Khan, a Pakistani vocalist and composer, who produced "burning … soulful, top-to-bottom killing music, great dance mixes."
During the upcoming K I M O C K tour, the band will be promoting its recently released studio album, "Last Danger of Frost." Kimock describes the album as something of an anthology of compositions created during at-home cathartic acoustic guitar noodling during his breaks from the road.
The 11-track album, which includes a recording of a Kimock instrumental staple from his Zero days — "Tongue N' Groove," — was partly inspired by snowy East Coast winters growing up in the Lehigh Valley, Kimock acknowledged.
He recorded it last winter in the century-old barn on his property near his hometown between Easton and Nazareth. (Kimock is now based near San Francisco where he rents a home with his wife of 14 years, Jennifer, and their two sons, — ages 8 and 12.)
"On some level, there's a whole lot of Pennsylvania in there," Kimock said of "Last Danger of Frost." "That's where I was. I tend to play and interpret the harmony of my surroundings. I really like to always have an instrument with me. It's a very spontaneous kind of documentary of my naive approach with finding my sound. It's like Haiku.
"There's a little bit of acoustic. Some extreme cutting up. Electronica. The difference was I just decided to push 'play' and 'record' while I was doing it. It's a very personal process. Everybody's got different reasons, different rationalizations for doing it. I kind of just like to do it. I'm relaxed enough about it that I don't feel any kind of dog confrontation."
When meeting or speaking to Kimock, you can't help but be struck by his refreshing lack of rock-star pretentiousness, his introspective nature, his passion for music and his blunt honesty. He seems to be a man very much at peace with himself, his career and his family life in the "fourth quarter" of his life, relishing his musical wherewithal to make a living without the hassle of being trampled by autograph-seeking fans or pressured by demanding music executives.
Reminded of that night back in December 2012 in Sellersville, when he handed the street beggar $5, Kimock didn't acknowledge remembering his donation.
While he doesn't go out of his way to interact with fans on the road, he embraces the loyal camaraderie he always seems to find at shows.
"Most of the time — the vast majority of the time — they're really sweet people. I don't have to go out of my way to interact with them," said Kimock. "Most of them are all there for the right reasons. If somebody's too high, I say, 'I gotta go.' I think I have a really good audience for the most part. Bob Weir, for example … he regrets that he can't just go out for breakfast. Proportionately, if you've got thousands of people, you've got one nut. With Bob Weir, if you've got hundreds of thousands of people, you've got a lot more nuts."