In October of 1980, Bruce Springsteen released his album "The River." A few months later, The Clash came out with the sprawling "Sandanista!" and Elvis Costello was blending New Wave with R&B on "Get Happy!"
Somewhere in between, a working-class bunch of Joe Sixpacks from the Rust Belt calling themselves the Iron City Houserockers were putting the finishing touches on their sophomore album, "Have a Good Time (But Get Out Alive)". Cleveland International Records founder Steve Popovich Sr., who signed the Houserockers and got them their deal with MCA, brought in Springsteen consigliere Steven Van Zandt and Brits Mick Ronson (known guitarist for David Bowie and Bob Dylan) and Mott The Hoople frontman Ian Hunter to help polish up the bar-rocking sextet.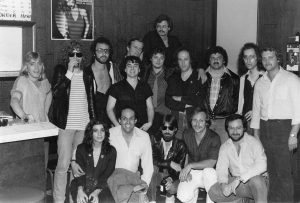 "The mindset was we knew we were getting a shot at making a legit record," says Iron City Houserockers frontman Joe Grushecky, calling to talk about the 40th-anniversary deluxe edition re-release of "Have a Good Time (But Get Out Alive)." "The first one ['Love's So Tough'], I don't want to say it was haphazard, but when we did the basic tracks we never spent more than one day at a time in the studio."
The Houserockers met Hunter when they opened some shows for him. That included a "cursory introduction" to Ronson, says Grushecky, when Ronson was gigging with Hunter. He had only met Van Zandt in passing once.
"First of all, they were all studio pros," Grushecky says. "We had eight songs to our credit recorded at that time, and these guys had major-league albums — 'Darkness on the Edge of Town,' all the Mott stuff, Mick's stuff with Bowie. We were sort of isolated in Pittsburgh. There was no one you could go to and say, 'Hey, can we make this song better?' and 'What do we need?' All three of them brought tremendous skills. They were really good musicians and all fun to work with."
The results were energetic but tight, sleek but not slick. The opening trio of the title track, "Don't Let Them Push You Around"  and "Pumping Iron" bristle with boozy swagger, and the companion tracks "Old Man Bar" and "Junior's Bar" juxtapose the depressed resignation of bellying up with the optimism of hitting the town on a weekend — both at the same bar. The former is a ballad with delicate mandolin, and the latter is an in-your-face, hook-heavy rocker.
"What we did was, Steven Van Zandt and Mick Ronson were both working on songs during the same day sometimes," says Grushecky. "Steven would come in and work with us and Mick would come in. Steven would go down to work on 'The River' a couple blocks downtown in New York City.
"We had gotten to about the end of our project and we had run out of songs that were appealing to people," he says with a laugh. "So we were actually going back to the hotel and writing songs at night and presenting them the next day. The idea of the old man bar, which was like the corner taverns in Pittsburgh that are on every street, the old guys that go in and have a certain look or a certain smell. Back in the '80s, there will still a lot of World War II and Korea vets going out. Mick Ronson liked that idea and guided that one. I think later on that day, Steven Van Zandt came in and said, 'Well, we can rock this,' and he came up with the guitar lick and that key change, so we had a rock version of it.
"So I reworked some of the words from a different point of view. It was never intended for it to be a double shot. It was going to be one or the other, but Steve Popovich thought it would be a good idea to put both of them in, and he was sort of serving as the executive producer, he was sort of guiding and would come up with ideas."
Critical acclaim, if not chart-busting sales, followed, with Greil Marcus of Rolling Stone calling it "one of the least polished first albums I've heard in the past year and one of the best" and venerable New York Times writer Robert Palmer also took notice.
With hindsight, one can see a through line from "Old Man Bar" to The Replacements' "Here Comes a Regular," released five years later, and the Houserockers' heartland-meets-New Wave aesthetic favored by The Hold Steady, with that band's Craig Finn even sounding a bit like Grushecky vocally.
The "Have a Good Time…" sessions also led to a friendship between Grushecky and Springsteen that's still going. Springsteen featured on the Houserockers' song "That's What Makes Us Great" in 2017, and last September he sat in with the Houserockers at a benefit show in The Boss' hometown of Freehold, N.J. This January, Springsteen sat in with the Houserockers again in Asbury Park.
"I can remember Steven [Van Zandt] telling us he was talking to Bruce about the record ['Have a Good Time…'] and how much Bruce would like it," Grushecky says. "After the initial sessions we came back to New York with Mick and Ian to work, and Ian was also working with Meat Loaf at the Power Station. I walked in one day, and there was Steven and Bruce, and he introduced me to Bruce and we talked a couple of minutes. We had a couple phone calls. He's been very kind to us. He had said we were one of his favorite bands. When we finally did get to hang out, we hit it off."
Cleveland International Records — which launched Meat Loaf from obscurity to "Bat out of Hell" stardom — was restarted last year by the late Popovich's son, Steven Jr. Its deluxe edition of the remastered "Have a Good Time (But Get Out Alive"), released digitally May 22 and out on CD and vinyl June 19, features 16 additional, previously unreleased tracks — demos, rarities, alternate takes and songs that didn't make the cut for the original album. Grushecky, who found a trove of forgotten material when digging through the old reel-to-reel tapes and cassettes, worked with his son Johnny (a guitarist in the current Houserockers) and engineer Brian Coleman to put together the second disc.
While live gigs to promote the deluxe edition have been iced due to the coronavirus pandemic, Grushecky has been livestreaming shows from home every Wednesday night in a series he calls "Live from Joe's House." He's done 12 episodes so far.
"The format is an hour of songs," he says. "One night my son and I played the whole 'Get Out Alive' album together. Sometimes the requests pile up. Basically it's just playing whatever songs that come to mind. I have like 13 or 14 records out now, even more than that, so I have a wealth of material to choose from."
He's also working on new songs for a solo record, he says.