A newly purchased 1955 Martin 008 acoustic guitar, a stuffed animal and a global pandemic are all it took for Scott Metzger to finally make a solo album.
Metzger, known for his work in Joe Russo's Almost Dead and WOLF!, began tinkering on his new guitar during the downtime afforded to touring musicians during the COVID-19 lockdown.
"I just started writing music that I never intended or thought that anyone would hear," says the New Jersey native who is based in Brooklyn. "I was just trying to write some music to cheer myself up here at home during such crazy times, and the little tunes just kept coming out."
Metzger says he came up with about 40 ideas in just a few weeks before he booked studio time at Restoration Sound in Brooklyn — "again, with no intention of putting them out, just for something to do and keep a little bit of skin in the game creatively." He eventually sent a few of the tracks to Kevin Calabro at Royal Potato Family Records, asking, "Do you think we can put this out?" Calabro liked what he heard and asked for more, with the final product being "Too Close To Reason," released March 4.
While the songs are instrumental, there are some themes that led to their titles, and vice versa, like "Waltz for Beverly."
"That was one of the last tunes that was written for the record," he says. "We have a little stuffed bat that lives here in our apartment, like a stuffed animal. Beverly has kind of become the house mascot, and bats have gotten such a bad rap in the past two years. I thought I'd write a little tune, a nice little ditty for all the bats out there. I love that one, because I'm a huge fan of traditional Irish music, like Irish reels and the whole genre of Celtic music, and to me, that's my roots — I don't know, but to me that melody is a direct tie to that sound."
Another song with a fun backstory is the opening track, "Appropriate Wattage."
"That comes from a conversation I had with Nels Cline, the guitarist for Wilco," he says. "We were getting together, and we touched base about a week before the gig, and he said, 'What kind of amp are you bringing, because I want to make sure I bring the appropriate wattage.' And as soon as he said it, I was like, that's going to be something. I sort of worked backwards. I loved the title, and I was thinking about Nels as we were doing it, and that's sort of the most experimental, which I think is what a lot of people associate Nels with, experimental guitar, and that's the one track on the album that would fall into that category."
Metzger used an Ebow on an acoustic guitar for "Appropriate Wattage," something he says he hadn't heard anyone do before.
The influences on the album run the gamut from Richard Thompson — "I'm always like one step away from wearing a beret, I'm such a Richard Thompson fan," Metzger says — Bill Frisell, Jim Hall and John Fahey. Metzger says a particular album he listened to frequently during the making of his record was "Marc Ribot Plays Solo Guitar Works of Frantz Casseus."
The guitarist is marking the release of "Too Close to Reason" with a handful of shows, including a Thursday, March 31, sold-out performance at the City Winery Loft in New York City. He'll also play this weekend at the City Wineries in Washington, D.C., (Friday, April 1) and Philadelphia (Saturday, April 2). Selling out the Manhattan show "is so meaningful," Metzger says.
"New York has been a crew of fans for 20 years now that are just so, so supportive, consistently, the entire time, and it always means the world that people continue to show up for all the different types of projects, because I can be pretty unpredictable musically, and the support across the board, it always is such a blessing," he says.
Metzger's wife, Katie Jacoby — the touring violinist for The Who and the only guest player on "Too Close to Reason" — will open the shows, before he'll play some tunes from the release with the help of guitarist Simon Kafka. Then "I'm just gonna sing a bunch of my favorite songs just by myself," he says.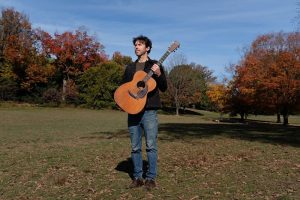 While Metzger has been recording and touring professionally for decades, "Too Close to Reason" is his first solo album.
"I think I knew it was something I was kind of avoiding over the years that I knew was inevitable," he says, "because it seemed like such a monumental task, and I've also been very fortunate to have a very full schedule for over a decade now, or sort of one-off projects that I'm a part of. I said it before: I hate to be the guy who said the pandemic was the best thing that ever happened to me, and I certainly wouldn't go that far, but it did afford me, for the first time in probably two years, to just be home and not worry about learning a bunch of music, not worry about all the headaches that come with traveling and touring, and just sit and decide what I wanted my first solo record to sound like.
"I think it's whet my appetite to do more, but it the same breath I would say I will never be a guy that would shy away from playing in bands or being a sideman. I really get a lot out of that as a musician, but this has been a very good experience so far, being my first foray. There are going to be more shows. The solo gigs are going to continue. I'm really getting antsy to get the first one done, kind of like opening-night jitters setting in. I'm expecting everything to go great, and I'm committed to this new phase and doing more Scott Metzger shows."
Photos by Andy Hess