By Michael Lester
It's probably a safe bet "Father of Newgrass" Sam Bush will be relatively distraction-free once he and his band take the stage Oct. 31 at Bucknell University's Weis Performing Arts Center.
By then, even if his St. Louis Cardinals had reached the World Series (they did not), the Series has concluded with an exciting Game 7 win by the San Francisco Giants Wednesday night.
The rabid, life-long Cards fan, who grew up on a farm in Bowling Green, Ky., recalled performing the National Anthem with country legend Emmylou Harris before an Atlanta Braves playoff game back in 1990. While he would have loved to have stuck around for the game, Bush, now 62 and a Grammy Award-winning artist, had a gig that same night, he recently lamented by phone, hours before boarding his tour bus for his fall tour.
Two days after the concert with Harris that night in Atlanta, Bush ran into Col. Bruce Hampton, Atlanta-based founder of rock band Aquarium Rescue Unit, who had seen Bush's show two nights earlier.
"You were watching the game on TV during the show, weren't you?" Hampton devilishly asked Bush.
"Hell yes, I was watching the game," Bush admitted. Bush acknowledged he had a TV set up at the side of the stage to keep tabs on the score.
The story of the side-stage TV serves as a microcosm of Bush's unorthodox path to a career that's become just as legendary as Emmylou's or Bush's Cardinal baseball heroes — Bob Gibson, Stan Musial and Curt Flood. Bush's non-traditional brand of bluegrass has inspired generations of bands, including String Cheese Incident and Yonder Mountain String Band.
Bush, an affable, down-to-earth man to talk to, was not afraid to break with tradition and bend bluegrass's so-called "rules" as a young musician.
He also had no objections to doing an interview with Highway 81 Revisited on the night we reached him, despite his grogginess after being awoken during a pre-tour nap on the same day his sister was undergoing open-heart surgery.
Bush was introduced at an early age to the mandolin because his father Charlie played the instrument. Bush first started noodling on the tiny melodic guitar when he was 11 and grew up listening to his father spinning country — Hank Williams, Roy Acuff, Patsy Cline — on the record player.
"He loved that fiddle music for sure," Bush said of his father, who died in 2008.
That same year, 2008, the Kentucky Senate recognized Bush as "an ambassador of bluegrass music, Newgrass music and of the Bluegrass State."
"Whoever thought you'd be on the Senate floor? I think it was the only unanimous vote that year," Bush marveled with a laugh. "I got to meet the governor of Kentucky," Steve Beshear.
Bush started learning the fiddle when he was 13. And he won fiddle contests in the state of Kentucky.
"It's interesting," recalled Bush, whose late mother, Henrietta, played rhythm guitar. "If I did what my parents wanted me to do, I'd be the staff fiddler for the Grand Ole Opry."
Instead, he went a much different route after his eye-opening discovery of bands like the The Doors, The Rolling Stones and The Byrds on "The Ed Sullivan Show" in the 1960s.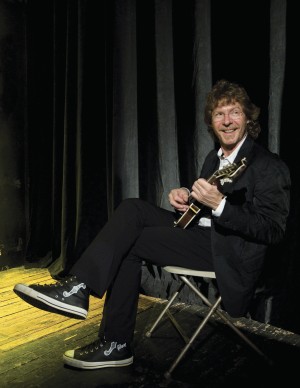 "The whole world of music was open to me," Bush recalled of his introduction to rock and blues. "I played the upright bass in high school and drums in the marching band. I thought I was going to be a bass player for a long time. I dug the bass in high school."
Bush instead decided to blend blues, rock and jazz with traditional bluegrass to create what is now known as Newgrass. He stuck with the mandolin, fiddle and acoustic guitar.
Bush is universally credited with founding the spin-off bluegrass genre, for better or worse. Bush's formation of New Grass Revival in the early 1970s with collaborators that included world-renowned banjo player Béla Fleck was considered anti-establishment at the time among suit-and-tie wearing mainstream bluegrass traditionalists. These New Grass guys wore long hair and jeans and covered Bob Marley and Beatles songs.
"That is interesting to me," Bush said, looking back on the controversy his band stirred. "There already was a new bluegrass. The Osborne Brothers. They had already made a new kind of bluegrass in the mid-'60s. We were influenced by all these guys. They were playing new music with old instruments. We felt like we were doing that too."
What did his parents think?
"I never asked them," Bush said matter-of-factly, no trace of regret. "Because if you're really doing your thing, you don't care what your parents think."
Our conversation with Bush returned to his other passion, baseball.
"I love the game so much," Bush said. "You know what I love? That Vin Scully (the legendary Los Angeles Dodgers announcer) gets to call the game one more year. He's the best announcer who's ever lived."
Interestingly, it's the Dodgers who his Cardinals met in this year's Major League Baseball playoffs.
Bush, married 30 years to wife Lynn — they have a daughter, Jessica, 34 — named his late German shepherd-Lab mix "Ozzie" after St. Louis Cardinals Hall of Fame shortstop Ozzie Smith.   Ozzie the dog lived to be 15 years old. Bush used to play catch with Ozzie, tossing him a ball in his yard.
"Golly, Ozzie is the best shortstop I could ever imagine," Bush said, referring to the St. Louis shortstop.
Bush said he would mimic legendary broadcasters Harry Caray — who called Cardinal games before becoming the beloved Chicago Cubs broadcaster — and Jack Buck as he played catch with Ozzie the dog in his yard.
Before ending his interview, Bush launched into his own Harry Caray impression over the phone before boarding his tour bus. And he turned emotional thinking of his late dog Ozzie.
"He was so damn ugly he was pretty," said Bush. "He was a great ball catcher."
For tickets to Sam Bush Band at Bucknell University's Weis Center for Performing Arts, visit: http://bit.ly/1sdXVQf.