Updated: 7:56 a.m., 6/25/20
With most of us cooped up due to restrictions across the country due to the coronavirus pandemic, our concert calendars have become suddenly blank. However, you can still get your virtual fix of live music thanks to DIY livestreams and free releases of previously recorded concerts. Here are a some of our favorites:
Larkin Poe will perform a full-band live concert from Brooklyn Bowl Nashville on Saturday, June 27, at 4 p.m. Eastern. It will be free to watch at FANS.com, but there will be a suggested donation, with donations going to Larkin Poe and a portion of proceeds going to charity.
Anti-Flag have announced its "Quarantine Sucks, Let's Party" digital tour. Fans who purchase a VIP package will get access to a bonus concert stream and other goodies.
Fans can re-live classic sets alongside the band, as the members will be chatting live during the streams every day at 6pm ET (3pm PT/11pm BST/12am CEST) from this Friday, June 26 until Tuesday, June 30 at 

veeps.com

.
Dave Matthews and Grace Potter will top the bill of Hug Your Farmer, "a benefit livestream to help raise money for providing nourishing meals for those in need." You can watch via CashorTrade Streams at 9 p.m. this Thursday, June 25  (and anytime thereafter).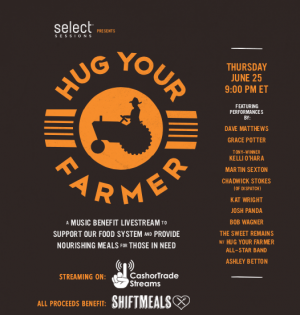 The Rolling Stones "Extra Licks" series continues Sunday with "sweet summer sun performances" on the band's YouTube page. It airs May 24 at 3 p.m. eastern.
Pink Floyd, which already aired several archival concerts, has started a revolving playlist.
Beginning today Syd, Roger, Richard, Nick and David is a new and evolving playlist from Pink Floyd. During this period…

Posted by Pink Floyd on Friday, May 22, 2020
DelFest has been streaming archival performances all weekend. Check them out on Facebook.
My Morning Jacket will be streaming archival concert videos "over the coming months," starting with its 2016 performance at the Shaky Knees Festival. It will air Friday at 7:30 p.m. on the band's Facebook and YouTube pages and at Nugs.net.
The Smithsonian's National Air & Space Museum's "Space Songs: Through The Distance," will feature Sting, Ben Gibbard, Lukas Nelson and more, according to JamBase. It will air at 8 p.m. Thursday at the museum's YouTube channel.
Sister duo Larkin Poe recently launched its "Home Sweet Home" livestream series, which continues Saturday, May 2, at 4 p.m. with "The Hills." Upcoming concerts include "Blues Classics" (May 16), "Happy Hour Shows" for Europe and North America (May 30) and a "Requests Show" (June 6). Single-show and "tour passes" are available at Veeps.com. A portion of proceeds will benefit United Way Nashville "o assist the community with the double effects of the recent tornado and current pandemic," according to a press release.
Americana artist Michael McDermott goes live every Saturday at 4 p.m. via Stageit, a platform that allows artists to host ticketed shows and accept tips. While McDermott has been allowing fans to vote for one song from each of his 11 albums to play, this week he chose himself for a show he is calling "House Arrest — The Jail House Snitch Show."
Leslie Mendelson will perform a virtual album release show from her bedroom at 9 p.m. Eastern Friday for her new record, "If You Can't Say Anything Nice…" Watch at her Facebook page.
Genesis, who recently announced a UK reunion tour, will launch "The Genesis Film Album" on Saturday, April 18 at 2 p.m. Eastern with an airing of "Three Sides Live" from the band's 1981 tour. Watch via the band's YouTube channel. Upcoming shows are listed below.
Radiohead has been sharing full-concert videos, most recently posting its Lollapalooza Berlin set from 2016.
Pink Floyd on Friday started its four-week YouTube "Pink Floyd Film Festival" with an airing of "Pulse," taken from the band's "Division Bell" tour. Next up on Friday, April 24 will be "Live at Pompeii." More info at the band's Facebook page.
Low Cut Connie have announced that they will continue their "Live From South Philly" livestream series this Thursday, April 7 and Saturday, April 11 at 6 p.m. Eastern via the band's Facebook. On Saturday, April 4, Adam Weiner paid tribute to Bill Withers during his seventh livestream show, performing "Ain't No Sunshine" on guitar and "Lean On Me" on piano. Watch the tribute here.
The Grateful Dead will launch "Shakedown Stream" this Friday, April 10, with a free screening of "Truckin' Up to Buffalo" (7/4/89) at 8 p.m. Eastern, beginning with a live Q&A with Dead archivist David Lemieux and historian Gary Lambert before the concert. The series will continue each Friday. Watch at the Dead's YouTube channel.
Samantha Fish will perform each Friday at 1 p.m. Eastern for "Samantha Fish Fridays." Watch via her Facebook.
Portland, Oregon-area festival Pickathon has announced "A Concert A Day," starting Wednesday, April 8 with Drive-by Truckers. According to a press release: "Pickathon is opening the vaults to premiere one full concert a day for 60 days, streaming for free on Facebook, Amazon Music's Twitch channel, and on YouTube. All donations received will go to MusiCares COVID-19 Relief Fund." Other confirmed artists this week include Tyler Childers and Charles Bradley.
Bob Weir will launch "Weir Wednesday," a weekly series of free Bob Weir and Wolf Bros. shows, April 8 at 8 p.m. Eastern with the band's Nov. 10, 2018, show at The Capitol Theatre. Watch at Weir's Facebook page or nugs.tv.
The National has started an archival concert series, "An Exciting Communal Event," at 5 p.m. Eastern on Mondays. Watch at the band's YouTube page.
Ike Reilly & the Holy Family House Band will perform at 9 p.m. Eastern from Reilly's home. Says Reilly: "I'm recruiting my sons and son-in-law to sing, strum guitars, beat on drums, tell stories, and share their love and dysfunction with me and with anybody in need of a diversion of warmth." Watch at Reilly's Facebook page.
Archival/reissue label and distribution company Light in the Attic will be presenting a free charity concert Friday, April 3, streaming live on its Twitch and YouTube channels beginning at 1 p.m. Eastern. All donations will go toward MusiCares' COVID-19 Relief Fund, assisting those in the music community affected by the coronavirus pandemic. Performers will include Fred Armisen, Jarvis Cocker, Devandra Banhart, Jim James, Gruff Rhys and Ben Gibbard.
Better Than Ezra frontman Kevin Griffin will continue his Alone Together Acoustic show on Facebook Live at 9 p.m. Eastern Friday, April 3.
The Adam Ezra Group is performing every night at 7 p.m. Eastern as part of its Gathering Series. Watch on the band's Facebook page.
Hot Tuna and Jefferson Airplane legend Jorma Kaukonen will perform a "Live from the Fur Peace Ranch" concert Saturday, April 4 at 8 p.m. Eastern. It will be the first in a series of performances. Watch here.
Americana artist Lynne Hanson will perform a set of requests from her living room in Ottawa, Canada, on Sunday, April 5 at 2 p.m. Eastern via her Facebook page.
Rockwood Music Hall is hosting livestreams at 8 p.m. and sometimes 10 p.m. every night. Upcoming highlights include Ben Thornewil of Jukebox The Ghost on Monday, March 30 and Elizabeth and the Catapult on Thursday, April 2.
Lisa Loeb will perform from home at 2 p.m. EST on Sunday, March 29. Watch at her Facebook page.
Rhett Miller will perform every Sunday at 3 p.m. EST for "Overseas Sunday." Watch here.
Anthony Hamilton will perform "Soulful Sundays" at 5 p.m. EST via his Instagram Live to support the MusiCares Covid-19 Relief Fund (h/t Variety).
Bill Frisell, Chick Corea, Christian McBride and other jazz heavyweights will perform form April 1 to April 7 in a charity festival called Live From Our Living Room. The event will also feature master classes and child-friendly shows, according to Rolling Stone.
The venerable Montreaux Jazz Festival has digitally released 50+ concerts for streaming, including Johnny Cash, Nina Simone and Wu-Tang Clan.
Nine Inch Nails have released two albums, "Ghosts V: Together" and "Ghosts VI: Locusts." You can download both from NIN's website or listen to them on major streaming services. (h/t Brooklyn Vegan)
Joe Russo's Almost Dead have launched a Tuesday night concert livestream called "RAD Night in America." You can watch at Nugs at 5 p.m. Eastern each Tuesday. The first show will be from Brooklyn Bowl, and will benefit employees at the band's hometown venue.
Steve Hackett has been playing short acoustic snippets from his living room, most recently sharing the classic Genesis track "Horizons." Follow him on Facebook to watch.

Death Cab For Cutie

singer Ben Gibbard performs at 4 p.m. EST every day, for the time being, with donations solicited for a different charitable organization each day.

Neil Young is performing 

Fireside Sessions

from his home, with his wife, Daryl Hannah, filming. 

Tedeschi Trucks Band will be streaming "Swamp Family TV," a different pro-shot concert, for free each Thursday at 8 p.m. Each show will also include a link to donate to a charity. Watch at  Facebook.com/DerekAndSusan, YouTube.com/TTBFromTheRoad or nugs.tv.
Dead and Company tonight have launched "One More Saturday Night," a free stream of a Deadco concert hosted on the band's Facebook page and nugs.tv starting at 8 p.m. Eastern. Kicking off things was Dec. 2, 2017, at the Frank Erwin Center in Austin.
String Cheese Incident launched "Friday Night Cheese" with a broadcast of Dec. 12, 2018, in Broomfield, Colo. The band will air a show via its Facebook page each Friday at 8 p.m. Eastern.
Metallica launched "Metallica Mondays" this week with a free stream of its June 8, 2019, show at Slane Castle in Meath, Ireland. The band will air a different show each Monday at 8 p.m. Eastern on the band's YouTube channel and Facebook page.
Phish has announced "Dinner and a Movie," a Tuesday night free archival concert stream taking its name from the Phish song of the same name. The band will also be including a recipe for those inclined to cook and make it a true dinner and a movie. The shows, starting at 8:30 p.m. Eastern, kick off this week with Aug. 31, 2012, at Dick's Sporting Goods Park in Commerce City, Colo. Donations will be sought for charity but the stream is free. Watch at https://webcast.livephish.com/ or the band's Facebook page.
Erykah Badu launched her "Quarantine Concert Series" on Monday, an interactive performance from her bedroom in which fans choose her setlist and even her outfit.
According to a press release: "At a time when musicians, engineers, and technicians have been spiked out of work, Badu gives them a safe place to land, all while exercising social distancing. An advocate for artists, as exemplified by her company Control Freq Records, Badu has transformed the role creatives play in managing their own careers. For many, her music releases are more than just albums; they reinforce a lifestyle and a movement, which she recently celebrated with the launch of her new online brand, BaduWorldMarket.com." Follow Badu's social media channels (@fatbellybella ) for more details.
Karl Hall, the all-ages venue in Wilkes-Barre, Pa., is sharing videos from performers that have played there or were scheduled to do so before the cancellations hit. Follow Karl Hall on Facebook to catch the livestreams and other artist videos.
"Austin City Limits" is making more than 35 episodes available for free streaming, including its recently broadcast 35th season, which features Billie Eilish, Gary Clark Jr. and Black Pumas, among others. Watch here.
Bruce Springsteen & The E Street Band have made

"London Calling,"

a concert film from their 2009 show at the Hard Rock Calling festival in London, available on YouTube and Apple Music for the first time.

Wilco says: In December, amid Wilco's Winterlude residency in Chicago, the band played a surprise show – followed by a Q+A with Jeff moderated by TJ Jagodowski – from the CAA's vintage basketball court. During these strange times, we hope this is a welcome distraction." You can watch it here.
Bruce Hornsby has made three of his 2019 concerts, all in Colorado, available for free download. More info below.
Phish's Trey Anastasio has been releasing newly written songs from home — three so far — via his social media pages.
Cabinet's Pappy is releasing a song a day via Facebook leading up to the April 15 release of his debut album as King Zeek.
JamBase's Couch Tour Alert is a great way to keep track of new livestreams as they're announced.
So is Pitchfork's Isolation Check-In.
Photo: Tedeschi Trucks Band by Gregg Greenwood