The road is why Pigeons Playing Ping Pong have risen from a regional jam band to playing everywhere from Red Rocks to Madison Square Garden and a slew of festivals in between. So when COVID-19 put live music as we know it on ice, it stung particularly hard. However, the group, which formed at the University of Maryland about 10 years ago, is making the best of the situation and actually touring — in a pandemic-adjusted way.
Pigeons have mounted the "Time to Drive-In" fall tour, a take on the socially distanced drive-in concerts that have been cropping up around the country as the next best thing to the crowded venues that are no-nos thanks to coronavirus restrictions. The tour will stop at the Circle Drive-In near Scranton on Friday, Oct. 16.
PPPP guitarist and singer Greg Ormont recently chatted with us about the adjustment to playing drive-ins, his memories of Peach Festival and why he tries to make friends with any band he shares a bill with.
How have the drive-in shows been going so far?
Well, more than anything, we're just thrilled to be playing. Five months off for us was by far the longest break we've had. I wouldn't say they're exactly like a regular indoor show, a packed concert.
Your band is known for being very interactive with the audience. How has that aspect of the show changed?
We try to give them the usual, high-octane energy we're used to, and that they're used to. While they may be a little farther away, I can still look out and connect with them. It took a little adjusting.
How many shows did you lose to the pandemic?
We lost the whole summer, all the festivals that we look forward to, as well as the winter and the fall, so that was a real bummer. And with the festivals, you're in front of much larger crowds, and we just love that outdoor vibe and we get to see all our friends. I have not checked to see how many shows we lost because that would just be a deep rabbit hole of depression. We're really excited to get back to Scranton because of Peach Fest, we obviously weren't able to get to that this year.
When did you first play at Peach?
I would say maybe four or five years ago. But we started on the Grove Stage, which is the small kind of third or fourth stage at the entrance, and made our way to the water park stage, which was just a wild time having fans in the water while we're playing, and we kind of leaned into that and played stuff like "Under the Sea." Then the main stage, I think we played late night last year. It's been cool to see every part of the festival over the years.
Moving to larger stages every year at Peach is a pretty good parallel for the band's overall growth over the years. What are some of the milestones that made you realize things were going in the right direction?
When we started touring we were playing to small crowds, but we said, "Let's play this show like it's Madison Square Garden, give it our best and connect with these people," and when we returned, more people came, and we started selling out the smaller venues. It's funny, every show feels like a milestone because there's more people than last time and the band seems to connect to people, which is great because we absolutely love doing this.
I think the first time I saw a Pigeons Playing Ping Pong tattoo is when I noticed (laughs). That's a long-term commitment to a band.
When you started playing shows in Baltimore how did the established bands in the scene treat you?
You know, I was just thinking about this. When we started playing Baltimore, where we're from, it's a tough market. It's hard to get a following, but we really hustled. The big breakthrough was when we opened for Papadosio at our local watering hole, The 8×10. It might be the first time we played a fully sold-out show, and that energy was outrageous, and people came out early to support us. What I remember is how well we got along with Papadosio. They felt like our older brothers. We had opened for other bands and had not felt that connection really.
Sometimes we're in the position of headlining and have support from local acts, and we try to treat them like friends and make connections. You're going to be seeing these people. Why not be their friends?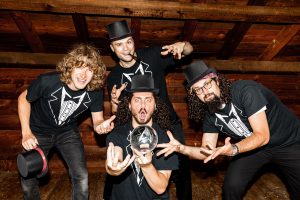 Pigeons Playing Ping Pong was part of the recent Democracy Comes Alive event and you've also worked with Headcount. Why do you think the jam scene has been such fertile ground for activism around elections and similar initiatives?
I think the jam band scene is very open-minded. I think the fans have a good dialogue between each other and I think the scene is very accepting. Some scenes might be more competitive — I like this band and you like this band, and we don't get along. I think [jam band fans] have such eclectic taste in music, and I think that trickles down to everyone's opinions. So I think the jam scene is really kind of like that grassroots, open-minded, formerly hippie movement, willing to hear each other out, freedom to jam and improvise in the same way.
Has the band been working on new material during the lockdown?
Constantly. We're constantly working on new material. … What's cool about today's landscape is we can work at home and put song ideas on our computers and send them to each other. And once the quarantine passed we ended up with so many ideas to work with and we fleshed out the material. We've already debuted some of the songs. And we have a lot more coming because we actually had the downtime. One of the challenging things with touring is not having the time to record.