Photos by Pati Bobeck
MOOSIC, Pa. — Fourteen-year-old Brandon "Taz" Niederauer was spotted backstage at last weekend's Peach Festival by one observer just being a care-free kid — chasing and popping bubbles hovering in the Montage Mountain air.
Hours later, the diminutive teen with the distinctive Jimi Hendrix-like afro and big-sounding guitar had graduated to the main stage with the big boys, standing alongside the imposing Jimmy Herring while jamming with weekend headliners Widespread Panic during the Athens, Ga.-based band's only Northeast appearance of a light-touring 2017.
Niederauer, a New Yorker who starred as Zack Mooneyham in Broadway's "School of Rock the Musical," emerged toward the end of Panic's Peach debut set Saturday night to trade notes with a wide-grinning Herring during "Surprise Valley."
Performing in such company is nothing new to Niederauer.
During his "career," he has already appeared on stages with the likes of Buddy Guy, Stevie Nicks, Lady Gaga, George Clinton, the late Gregg Allman, Warren Haynes, Gary Clark Jr. and the late Col. Bruce Hampton.
And as Niederauer shredded his guitar with the intensity of someone twice his age, a realization surfaced: Elder statesmen of the southern band founded on the campus of the University of Georgia back in 1986 are nearly four times his age — theoretically old enough to be grandfathers to Niederauer.
Herring and rhythm guitarist/vocalist John Bell — both 55 years old — nonetheless quickly ceded the stage to Niederauer for a guitar solo a few minutes into "Surprise Valley."
Niederauer's solo drew arguably the main stage's loudest crowd roar from Saturday's lineup of music, which included an all-star tribute to the late Allman, Butch Trucks and Hampton.
Panic, which would return to close out the four-day festival Sunday night, invited another next-generation blues guitarist — 21-year-old Marcus King — on stage after Niederauer for a pair of songs following "Surprise Valley" — covers of 1930s bluesman Robert Johnson's "Me and the Devil Blues" and the Talking Heads' "Life During Wartime."
King's band had performed earlier Saturday on the Mushroom stage, one of three hosting acts on the mountain throughout the weekend.
Panic capped Saturday night's two-hour, 14-song performance with an encore cover of Warren Zevon's "Lawyers, Guns and Money."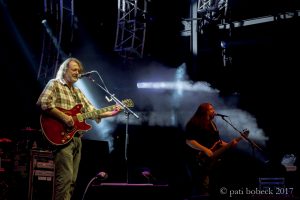 Neither of Panic's setlists from Saturday or Sunday night were extraordinary in terms of song choice. They neither busted out any debuts, nor — surprisingly — any Allman Brothers covers during the Allmans-themed festival.
But there was no shortage of Allman Brothers music throughout the weekend.
Bell and Herring set a high bar for their band Saturday night before Panic's road crew even rolled gear on stage. The pair walked on stage together at the close of Warren Haynes and Govt Mule's set featuring guitarist John Scofield for a powerful encore cover of Neil Young's "Cortez the Killer." Haynes and Bell vocally traded verses during "Cortez," hands-down the Peach stage's collaborative highlight from Saturday.
Saturday afternoon's tribute to Allman, Trucks, Hampton and Jimmy Nalls — a guitarist who helped form an Allman Brothers spin-off, Sea Level, after the Alllmans' split in the late 1970s — was a massive family affair of Allmans alumni and rotating musicians directed by keyboardist Chuck Leavell, perhaps best known for his work with the Rolling Stones. Leavell first broke into the industry as a 20-year-old with the Allman Brothers in the 1970s and later co-founded Sea Level with Nalls.
Guitarist Devon Allman, son of Gregg Allman, provided vocals for "One Way Out" and "Dreams," during a 13-song set of ABB classics. Guitarist Duane Betts, son of ABB founder Dickey Betts and a member of Dawes' touring band, sat in on "Jessica." Widespread Panic drummer Duane Trucks, son of Butch Trucks, manned a drum kit.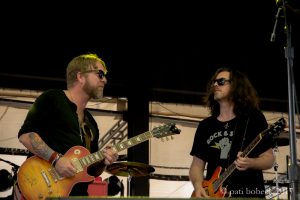 The tribute also included appearances by Herring, Panic bassist Dave Schools, Marcus King and Allmans alumnus and bassist Oteil Burbridge, who has most recently toured with Dead & Company.
Many of those same Allman all-stars returned to the stage Sunday afternoon for a performance by Les Brers, a band Butch Trucks formed with ABB alums Jaimoe, Marc Quinones and Burbridge.
Lamar Williams Jr., son of late ABB bassist Lamar Williams also returned, pulling double duty as vocalist during Sunday's set, which included more obscure ABB material in addition to band staples "In Memory of Elizabeth Reed" and "Whipping Post."