Photos by Jim Gavenus
MOOSIC, Pa. — After approaching a guitar tech and trading out his acoustic guitar for an electric one Sunday night, Neil Young tore up the script.
Literally.
Young grabbed sheets of paper from the Montage Mountain stage — presumably the night's printed setlist — and proceeded to shred it by hand, depositing confetti-like remnants to the stage floor.
How fitting.
This was, after all, the Outlaw Festival — Young co-headlining with his 83-year-old buddy Willie Nelson.
Young,  in the twilight of his life and due to turn 70 in November, also dressed the part, wearing black from head to toe, including a black T-shirt with the word "PROTECT," and a black cowboy hat, in addition to a red wristband on his right strumming arm.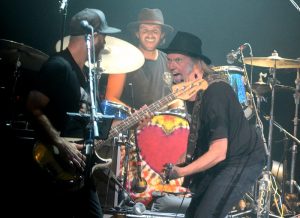 The legendary folk rocker who reinvented himself during the 1990s as that era's "Godfather of Grunge" has no doubt aged, but he clearly remains relevant and — somewhat surprisingly — musically deft as today's Grandfather of Grunge.
After his theatrical show of paper-shredding, and strumming an acoustic guitar for the first six numbers during a career-spanning 13-song set, Young shifted into rocker mode, shredding his electric guitar while launching into "Powderfinger" alongside a boyish group of five men young enough to be his grandsons — including Willie's two sons Lukas, 27, and Micah, 26.
(Check out Neil Young and Promise of the Real's setlist here: http://tinyurl.com/jd36hls)
Young's performance with Promise of the Real, a band fronted by Lukas Nelson, created the most buzz Sunday night, with some in attendance describing it on social media as the finest show they've seen at Montage in years — perhaps the finest in the venue's 16-year history.
Ironman Nelson followed Young, capping the festival with  a relatively standard set of greatest hits.
And there are many, of course.
(Willie's setlist: http://tinyurl.com/h9poy7o)
Nelson opened with "Whiskey River," before performing the hit he popularized alongside country star Toby Keith — "Beer for My Horses."
Nelson also played back-to-back covers of  a pair of songs written by the late Hank Williams — "Hey Good Lookin'" and  "Move it On Over."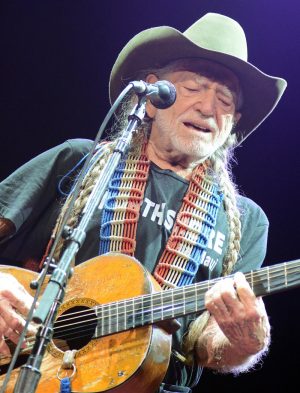 Nelson, perhaps the world's most famously unabashed marijuana smoker this side of Cheech and Chong, later added 2015's "It's All Going to Pot," a song he recorded with the late Merle Haggard, who died back in April, and "Roll Me Up and Smoke Me When I Die," which Nelson wrote in 2012 and fittingly released on April 20 of that year.
"I just think you should know Willie Nelson should be our next president," Sheryl Crow announced during a performance that preceded Young's on the main stage. "I think some weed in the White House would make us all a little nicer."
Crow provided the crowd the pop hit sing-along show of the day among an eclectic lineup that included country singer Lee Ann Womack of "I Hope You Dance" fame.
Crow played all of her easily recognizable hits with the help of an impressively tight backing band, sprinkling political commentary along the way.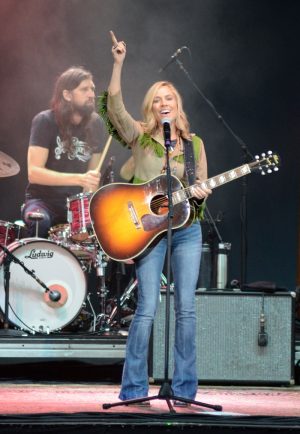 During "Strong Enough,"  Crow asked if those in the crowd were "strong enough to register to vote … strong enough to drive a hybrid … and strong enough to date a girl who recycles."
Crow, a Missouri native and former music teacher,  also informed the crowd she's been engaged to be married three times, adding "All My Ex's Live in Texas," a reference to a George Strait song she didn't play.
"We've been going on 25 years. I started when I was 10," Crow, 54, joked of a decorated career  that includes nine Grammy awards.  "It's good to be in my 50s and playing rock and roll."
(Sheryl Crow's setlist: http://tinyurl.com/j7qm6sv)
Chris Robinson,  on the cusp of 50 himself after a successful if erratic career with The Black Crowes, brought his former side project and current main gig and its brand of hard-charging psychedelic blues-rock harmonies — with a dash of Black Crowesian gospel —  to Outlaw with his four-piece Chris Robinson Brotherhood.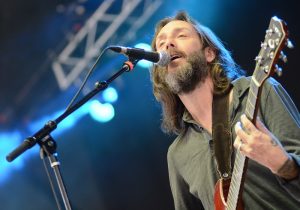 Neal Casal, Robinson's relatively new songwriting partner of recent years in CRB, stood out as  the festival's most engaging guitarist not named Neil Young with his slide guitar solos during a set that featured mostly CRB originals, and highlighted by an uptempo cover  of Bob Dylan's "It's All Over Now, Baby Blue."
(CRB setlist: http://tinyurl.com/z8vwdt8)
But make no mistake: It was Neil Young's set that will be remembered most by those attending Outlaw.
Young opened his set as the lone musician on stage with his trademark folky look — a worn acoustic guitar hanging from his shoulders and a harmonica positioned at his mouth for a poignant solo performance of "Heart of Gold."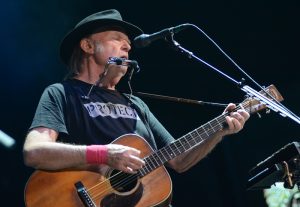 Members of Promise of the Real then slowly emerged  on stage after the song.

"We're growing. We're growing," Young said, welcoming them on stage for a second straight song from 1972's "Harvest" album — "Out on The Weekend."  
After "Unknown Legend," from Young's 20th studio album, 1992's "Harvest Moon," Young approached the front of the stage, hunched over and tossed his harmonica into the crowd.
(How many harmonicas does Young actually have in his musical arsenal? Was it Young who  inspired his Pearl Jam buddy Eddie Vedder's nightly tambourine toss to his audiences?)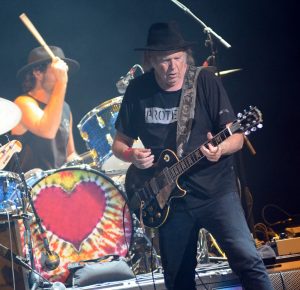 Any Neil Young fan worth his mutton chops could hardly ask for a better setlist Sunday.
The band followed "Powderfinger" with a high-energy run of "Welfare Mothers,"  "Cowgirl in the Sand," which included a "guitar war" between Young and Lukas Nelson, "Everybody Knows This is Nowhere," "Cortez the Killer" and "Fuckin' Up."
The Outlaw crowd's energy crescendoed as Young and company encored with "Keep on Rockin' in the Free World."