You might call Mike Quinn's musical journey a tale of three cities: Scranton, Pa., Los Angeles and Philadelphia. The Scranton native, known for his work there in bands like Okay Paddy and And The Moneynotes, relocated to LA in the spring of 2012, and after two years, he came back East to settle in Philadelphia, where had studied at Temple University years earlier.
Each city has had a different impact on Quinn, who in addition to releasing another batch of songs under his own name this summer, continues to tour with Quiet Life and work with Purples, a Philadelphia band that includes former members of The Teeth.
Quinn's infectious new EP, "Through Love," follows last year's "Tapiama," as well as the full-length albums "Youngs" (2012) and his solo debut, 2011's "Magico."
Mike will play a solo set opening for Quiet Life on Saturday, Aug. 20, at Union Pool in Brooklyn, before taking the stage with the headliner. With the release of "Through Love" (you can listen to the whole thing below) and the Brooklyn gig slated, we caught up with him to chat about the new EP, the differences between Scranton and Philly and the challenges and rewards of performing under your own name rather than as a band.
Tell me about this new batch of songs on "Through Love."
They're from the same batch as the last EP, "Tapiama." They were all written when I was living in Los Angeles, and I came home for Christmas and recorded the basic tracks in Philly while I was still living in LA. Just me, Dave Ulrich, who recorded it, and Pat Finnerty, laying down the basic tracks. That was two years ago. And then they just sat for a while on tape while I was back in LA. And when I was back to Pa., I started working on them again.
It was like a long process to get them completed. The idea of recording them, coming home for a holiday and finishing off a record ended up being like a three-year process (laughs).
Even though you wrote this material at the same time as the "Tapiama" songs, is there a difference between the two groups of songs? Is there a reason these particular tracks work together as an EP?
Yeah, definitely. The reason I did it like that was when I complied all of the songs together, to me, they didn't make sense. I didn't feel a cohesive album or anything. So I started tinkering with them and grouping them definitely, and it seemed that the way they panned out made more sense. The songs that were on "Tapiama" kind of fit well together, and these are all more rocking kind of, and sonically they made more sense together. There's not really a thematic thing there, just more sonic, and the song style I guess.
It seems like a pretty straightforward and upbeat bunch of songs.
Yeah. I wanted to play off some of the strengths like working with Pat, his guitar playing and some of his drumming, like I said earlier we just wanted to do some things quickly, pretty straightforward kind of rock songs. And we did lay them out pretty quickly, it's just finishing them off that took a long time.
I think my favorite track on the EP is the title song, "Through Love." It comes off as a song that came together really easily, but what's the truth about that?
That was one that we did a retake on, for sure, and I demoed it at times too. A lot of stuff from LA was the way I was feeling out there, you know? It was definitely an experience that came out in my songwriting I guess and had me looking over my shoulder a bit, looking back at things.
Nick Krill worked on this EP. You've been working with him going back to the Okay Paddy days. How would you describe your rapport with him, and what do you like about what he does sonically?
He's got a great ear, and he takes his time, and he also experiments in a very tasteful way. He's not afraid to take an interesting approach if it's going to work, and if it works, it's great. And because we know each other, I think he feels a little more comfortable, maybe a little more willing to take a chance.
How did your mindset change when you moved from LA back to the East Coast, being around different people and whatnot?
When I got back, I definitely started playing a lot more music and played with a lot of different groups, and that got me a lot more playing time; when I was in LA, I was writing songs and doing my own kind of recordings, but I wasn't gigging at all, and (in Philadelphia) I gig fairly regularly, and I tour with Quiet Life. So I've definitely been more immersed in music since I came back.
What's going on with Purples right now?
Well, doing some recording there. I've been traveling and some of the other guys have been traveling, so this summer has been a little slow, but the year before I think we recorded 10 songs and we released singles every so often, instead of hoarding up and bringing out an album. We thought the results were pretty good. People seemed to really respond to getting a song at a time.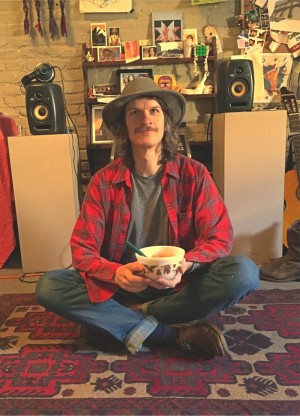 What have you been listening to lately?
I listen to a lot of Michael Hurley, I love him. I've been listening to Bob Dylan's "Theme Time Radio Hour" in the archives online. It's really entertaining. He plays a lot of old music, but sometimes he puts in a funny contemporary song. I listen to the Tom Petty radio show and his Sirius channel, and the Mudcrutch record is really good that came out a few months ago. I just kind of cruise around on that stuff. I guess mostly that, in the last week.
How do you compare Scranton to Philadelphia as a working musician? Are there just a lot more opportunities and places to play in Philly?
Yeah, well that was definitely one of the limitations about that, but I don't know if it's exactly Scranton or just any small town. It's also what you're willing to do for yourself. Looking back, I mean, if you're energetic and you're positive, you can do a lot of things wherever you are. Scranton is more of a home kind of thing, and when I'm there, I feel a little more laid-back. When I'm in Philadelphia, there's just a lot going on around you, you just can't miss a lot of things, there's things in your face, and they remind you of what you're interested in and what other opportunities might be there. That's the only difference that I would see. But I definitely look back fondly, and there's a lot of creativity that came out of my years in Scranton. I don't have any regrets. I think the only thing is I just didn't know how to make that translate to more career goals or career opportunities while living there.
After playing in bands for many years, you finally released a solo album, "Magico," in 2011. What type of adjustment has it been to have your name be on the thing and be the main focus on stage? Was there any trepidation?
I think so, at first. Now it just makes me…I don't have as much hesitation. When you want to do something, you just do it at your own pace, and if it's a bad idea it's your fault (laughs), and if it's a good idea it's your fault. I think I was a little but uncomfortable with putting my name out there just in general, taking on that kind of direct attention, but I also wanted the challenge of it. I mean, there's nothing more clear about who you are than your name. If you can't get behind your own name, you know? That's the way I looked at it. If you're proud of your songs, you want to put your name on them too.
Quiet Life w/ Les Bones and Mike Quinn, Saturday, Aug. 20, 8 p.m., Union Pool (484 Union Ave., Brooklyn). $10, 21+