Monday and Tuesday: (one more) rehearsal and travel day
Once we returned from Ithaca, we reconvened at Tom's house to squeeze in one more rehearsal before we hit the road to St Louis on Tuesday. Putting together the masquerade shows was certainly a tall order for everyone as a band as well as on an individual level. I spent most of the month of August cram-learning somewhere in the ballpark of 60 songs for these shows. After about a month of arranging and rehearsing all of the material as a band, things are coming together quite nicely.
The drive from Philadelphia to St Louis is 850 (or so) miles. We have a day and a half to get there before our scheduled load in time on Wednesday. Our plan was to knock out a vast majority of this drive on Tuesday.  When you know you're going to be in a car all day long, you best plan accordingly. Podcasts have become my best friend on the road in recent years. Some personal favorites of mine include WTF with Marc Maron, Hidden Brain, and the TED radio hour. Dylan Skursky, a good friend of mine and the bass player for Cabinet, turned me on to an app called Amazon Video, which allows you to download tv shows and movies and watch them without being connected to wifi. This simple concept was a huge game changer for me when it comes to days like Tuesday.  I no longer dread the idea of being in vehicle for 14 hours. In fact, if you're smart about it, you can surprise yourself with how productive you can be. After trekking about 550 miles through PA, West Virginia, and Ohio, we decided to call it a night in (lovely) Richmond, Indiana.
Wednesday: The Bootleg. St Louis, Mo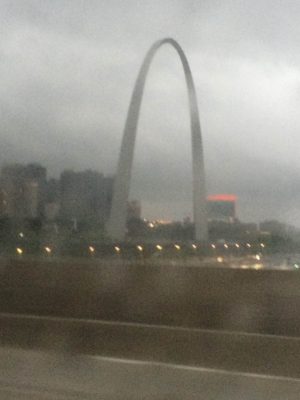 I forced myself out of bed a little earlier than usual (9am) to squeeze in a workout and get a little work on the computer done before we hit the road to St Louis. I always throw running shoes and a GPS watch in my bag when I leave for tour. Typically, our van calls to depart to the next destination are around noon. I typically try to get 4-5 days of exercise a week when on tour (doesn't always happen). I am the lone early riser of the group…and usually try to capitalize on the mornings in hotels before we depart as my "me time."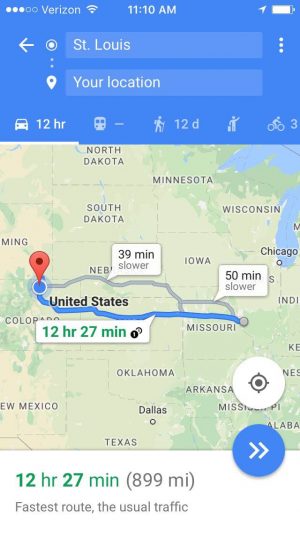 The drive to St Louis was about 5 hours. It was humid day that was filled with showers and thunderstorms for the duration of the trip. Tom was feeling a little under the weather today, so Mark took the wheel for the afternoon. When someone gets sick in the van on tour, it can quickly feel like you are in a losing game of "Oregon Trail." With that in mind, you always need to always be taking care of yourself. (Try to) get as much rest as possible, take vitamin C, etc. The venue we played was called "The Bootleg." I have played St Louis a few times but this was my first time at this particular spot. I had a great time. The food at this place was out of this world, the staff was super nice, and we pulled in a nice crowd for our first headlining show in St Louis in years. We also gained an hour once we passed through Indiana, which helps with our arrival time but certainly adds a level of jet lag to our operating speed. So when we hit the stage at 10:30pm, it's actually 11:30pm for us.
I must add that St Louis is also notorious for being the stolen gear capital of the USA. In recent years, there have been several crime rings emerging that prey specifically on van bands, trailers, and tour buses. It has gotten so bad that lots of venues hire security guards exclusively to watch over the parking lot while the show is going on. You can't make this shit up. The sound engineer was telling us that someone got his friend's van earlier this week. In this town more than any others, we stay mindful of keeping an eye on all of our gear. Luckily, this venue was on a main street so it was way less likely that we would have been targeted (certainly doesn't mean we were completely safe). We NEVER spend the night in St Louis…nor should you if you are a touring musician and reading this. With this in mind, we drove for about an hour and change towards our next destination after the show to distance ourselves from the city of gear bandits.
Thursday: I-70 is our best friend (travel day)
Another marathon travel day. We trekked about about 850 miles through Missouri and Kansas to get to our next destination (Ft Collins, Colorado). We were initially going to break the miles up between Thursday and Friday morning, until a local radio station in Ft Collins contacted us about doing a last minute radio interview/performance in the early afternoon on Friday. We arrived in Ft Collins around 4am, after driving since around noon with only a couple food/gas stops. Two full travel days in the van in the last 72 hours was definitely starting to take its toll on my back, and I was particularly eager to be get some much needed sleep and be horizontal for a change.
Friday: Ft. Collins, Colorado. Radio show and Hodi's Half Note.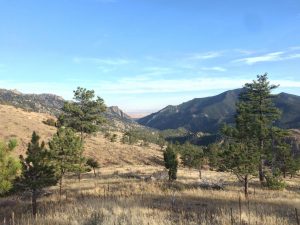 The long travel day was immediately redeeming as I woke up to an amazing view of the Rocky Mountains out of my hotel window. After grabbing some breakfast, we headed over to a local radio station to do a short interview and play a few songs from our latest record. We had a couple hours of downtime between the radio interview and load in, so I had a nice chunk of time to walk around and check out Ft. Collins. For how much traveling I do, it's very rare that I get an opportunity to actually see more of any town besides the venue, a hotel, and maybe a half decent coffee shop (if i'm lucky). After a pretty typical load in and soundcheck, I met up with an old friend of mine who recently moved to the next town over from Ft. Collins earlier this year. It's always surprising and oddly comforting to see familiar faces in your travels.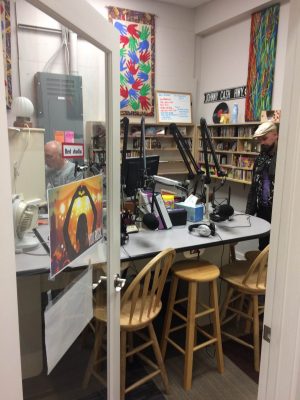 After local openers Grant Farm kicked things off, we took the stage around 11pm for two 60 minute sets. Once again, I felt that our playing was particularly inspired and the crowd was very attentive and receptive . After catching our breaths for a quick second, we loaded the van and headed to our hotel in Boulder (about an hour drive from Ft. Collins). I was definitely feeling pretty exhausted and jet lagged by this point in the trip. One thing to remember about touring bands is that the actual concert is a small fraction of what the actual work day entails…meaning that you gotta take care of yourself when you can. On that note, I made it a point to get some good rest in preparation for our show the next day at the Fox Theater.
Saturday: Boulder, Colorado. Fox Theater (First Masquerade show)
I woke up to do my usual hotel routine, followed by a slightly later than usual band breakfast, then we drove across town to load in around 4pm. For those of you who aren't familiar with the Fox Theater in Boulder, it is a very special place. In my opinion, it is the perfect size (600 capacity) and has the perfect balance of charm and grime you want from a music venue. It was also recently voted as the 4th best music venue in the country by Rolling Stone. I have some pretty special memories of this place. Earlier this year, we played a sold out show here which featured sit-ins by Marco Benevento and Oteil Burbridge (bassist for the Allman Brothers and Dead & Company). It is a true privilege to play in rooms like this one. With all this in mind, it was the perfect choice to kick off our first masquerade themed show. After spending a solid 2-3 hours soundchecking, rehearsing, and fine tuning a few things, we were off to a meet and greet at an amazing record store down the street called "Posterscene." Today seemed to fly by. After grabbing a quick dinner and catching my breath for a second, it was almost showtime.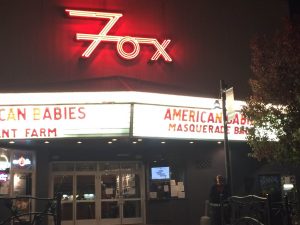 After our new friends Grant Farm kicked things off again, we took the stage for two sets. One of our own music, and one of our "musical masquerade" which was the music of Radiohead. We also featured auxiliary guest percussionist/sampler Will Trask to play the entire show with us. The 6th man on stage made everything sound huge and seemed to channel even more excitement from us. Just like the last time we played here, the house was packed, and the energy was huge. Easily my favorite show so far on this run. When I returned to my hotel room around 3:30am, I was still pretty energized from the show, and it took me a minute to wind down.
Sunday: Boulder, Co. Day off.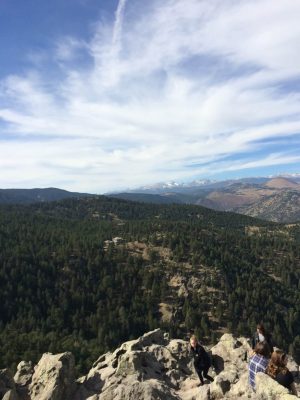 I would always prefer to be playing shows every day of the week on the road, but days off are vital for mental health and well being. We decided to stay in Boulder for a day extra before we trekked towards the midwest for our shows next week. I broke away from the pack and met up with a friend who recently moved out to Longmont (next town over). He took me to the Walker Ranch park, which was only a cool 15 minute drive from my hotel. The great thing about Boulder is that you are basically IN the mountains, so good hiking is a short drive away. We hiked a pretty challenging 8 mile loop that was filled with steep climbs and breathtaking views. Afterwards, we headed to downtown Boulder for a well deserved burger and beer. A quick stop at Whole Foods, and I am in my hotel bed by 9pm. An ideal day off from front to back.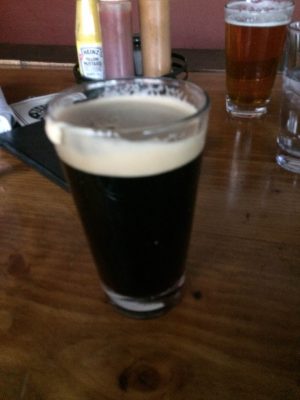 Join me next week as we head through the midwest with shows in Missouri, Wisconsin, and Illinois !
Guitarist Justin Mazer is a member of Tom Hamilton's American Babies. The 26-year-old Northeastern Pennsylvania native also plays with urrently JMMY, Electron, Lithium Angels, Chris Kearney and has performed previously with Leroy Justice, Miz, Heavy Blonde and King Radio. Visit his website at JustinMazer.com.