As a performer, Matt North had accomplished almost everything: writing award-winning screenplays, starring alongside James Woods in a Golden Globe-winning film and acting in seven episodes of "Curb Your Enthusiasm" after being cast by Larry David. But for North, a longtime session drummer, music was always his first calling. And missing from his resume was an album of his own songs.
Finally, last month, North, who moved to Nashville from Los Angeles, released "Above Ground Fools," his debut record. Joining him on the release are bassist Chris Donohue (Elvis Costello, Emmylou Harris), guitarist Stuart Mathis (Lucinda Williams, Wallflowers), keyboardist Michael Webb (Sturgill Simpson, Chris Stapleton), Michael McAdam (Steve Earle), Billy Livsey (Brendan Benson), Christopher Wild and The Nashville Horns.
We recently chatted with the Illinois native about the different mindsets of a session musician and a project leader, his relationship with the late Jay Bennett of Wilco fame and how music has never been far away despite his forays into other art forms.
Why was now the right time to make this album?
Well, it's funny, I still laugh that it's called a debut album because I'm pretty much in mid-career. I guess it's a debut as far my own material. To try and answer your question, honestly, I didn't see it coming. I moved to Nashville five years ago, I've always worked as a drummer whether I'm in a band or recording.
I found myself with time on my hands, and I was spending a lot of time getting more and more interested in songwriting. What I like most about this project is I flat-out didn't see it coming. I was just starting to finish a bunch of songs, and I liked them. I have a home recording studio, and I was happy with how they sounded.
The question was "why not?" and if I can't answer that question, I thought I'd put it out.
What's the dynamic like being in charge of a recording project as opposed to being a session player on someone else's project?
It's definitely a huge, like a big, formative experience for me to be on the other side of that, you're absolutely right. What I learned through this whole thing is the instrument of the drum set, that's the instrument that shaped my brain musically, and when I'm drumming for someone else, that's one thing; I learn the song, and the mindset is to really give them what they want and at the same time be myself and play the way I play. And hopefully that's in a way what makes their song what they want it to be.
Since I come from that mindset, when I'm in the role of producer, I know to give all these guys a lot of freedom and control. If you hire the right guys and you have the right relationships, and they get you and you get them, there's not a whole lot of talking going on. There were a number of sessions where I had to say very little. I succeeded in picking the right guys. My trick is to just let everyone feel like they're producing themselves, and I'm out of the way.
I don't puppeteer anyone, and that goes back to past experiences where I have been puppeteered and I have been told what to do, and privately inside I didn't agree with what was going on, but because it was a work-for-hire situation, I kept my mouth shut and gave them what they wanted.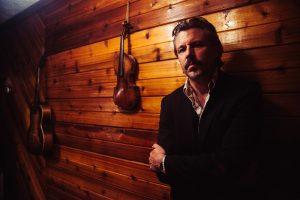 How did you hook up with Jay Bennett?
I knew Jay growing up in Champaign, Illinois. He was going to the University of Illinois, I think he was going to work on a grad degree.
I was a junior or senior in high school, and the music scene in Champaign-Urbana was really special. Jay was in all the cool bands. He was in a band called Titanic Love. I knew him socially through bands we were in and did shows together.
To all of us, the high school kids in indie bands, Jay Bennett was like The Fonz. He'd always have the coolest jackets. He really was that figure to a lot of us. He had unbelievable talent. I got to play with him quite a bit. There was a small jazz and blues club called Nature's Table down on the campus, and that's the club where I really cut my teeth and learned how to play with a band, and jay would come down there and play a lot.
I've played with a lot of guys and I don't like to rank people, but I don't know if I'll ever play with a Jay Bennett ever again, and when I think about him it breaks my heart. I can't even watch that Wilco movie, "I Am Trying To Break Your Heart." If anyone whose been kicked out of a band, we all know how painful that must be. I can't believe what it was like for Jay to be kicked out of a band on a 75- foot-wide silver screen.
I don't want to name names, but that's what did him in, and he never recovered. I think it killed him, along with a lot of other things. There were just very complex, there were other ingredients that went into Jay's challenges, but that humiliation of that damn movie, I don't know, it's still hard for me.
If Jay could have kept himself healthy, I'm convinced he'd be living down here, producing records.
Of all the disciplines you've pursued – from standup comedy to acting to screen writing to music – what is the most difficult?
They're all painful as hell. When things go right, they're all extremely joyful. I've always seen it as one career. My whole time when I had some success with screenwriting and comedy writing and showing up and playing some characters in movies and TV, that was a little period in my life in my late 20s, and leading up to that in Champaign, Illinois, there was 15 years of nothing but music, and by the time I got to San Francisco, I completely hit this wall and burned out in terms of music. And I had an authentic attraction and interest in comedy, and there I was hanging out on a Sunday night at San Francisco Punchline, and they started hiring me, and I was making money after years of bringing drums and tons of equipment to a gig, and there I was showing up with a notebook and getting paid more and not having to split it with a singer and bassist.
I had a lot of success in music growing up, but I had enough failures that I didn't know if it was worth my time. I was really rebelling against music when the truth is, I'm a lifer, whether I like it or not.
With acting, I just laugh about the fact that it even happened. I never identified as an actor; I was a musician sneaking through the backdoor having a lot of fun playing characters. I think that's the only reason I was able to get hired. I've kind of done this with everything. I refuse to make this so precious. I put in the work that's necessary, I'm not interested in turning in 60 percent effort, but I refuse to make it precious.
What else are you working on?
I'm not a guy with a master plan.  just hope these songs reach some ears of people that get it. I have a whole batch of new songs and just today I spent a lot of time at the piano pounding things out.
I just want to continue writing and look back and be someone who has a lot of songs under my belt. And playing drums when the phone rings.