Jason Molina, the iconic, idiosyncratic singer/songwriter who recorded under the equally inscrutable name Songs: Ohia, was not an easy man to know. More than four years after his passing at 39 years old after a battle with alcoholism, he's no easier to decipher. But despite that mystery — or maybe because of it? — those who were close to him are celebrating, if not exactly demystifying, his legacy.
Magnolia Electric Co., the band that backed Molina after he put the Songs: Ohia moniker to rest in 2003, reformed in 2013 and 2014 to perform a few shows as Songs: Molina — A Memorial Electric Co. in Bloomington, Indiana — a key town in Molina lore and the homebase of the Secretly Canadian label, which released the Songs, Magnolia and Molina records — and Chicago and later on the West Coast. Now, the Magnolia crew is back together again for more Songs: Molina shows, including Thursday, June 22, at Underground Arts in Philadelphia and Friday, June 23, at Littlefield in Brooklyn. In addition to special guests, the shows will also feature readings by writer Erin Osmon from her book "Jason Molina: Riding With The Ghost."
A Memorial Electric Co. is made up of the original members of Magnolia Electric Co., Mike Brenner, Jason Evans Groth, Mikey Kapinus, Mark Rice and Peter Schreiner, with Elephant Micah's Joe O'Connell on vocals and guitar.
We recently chatted with Magnolia Electric Co. guitarist Jason Evans Groth about the celebratory tribute shows and what memories they evoke for him.
What is it like performing these songs without Jason?
It was kind of a relief to play them again, in a way. In my brain, Jason was going to get better. With an illness like Jason's, he needed to be in control, and unfortunately he never got to that point. I don't think he didn't want to get to that point. It never occurred to me it was going to end that way.
Part of the the incredible sadness was, Oh shit, I'm never going to be able to play these songs again. It was something less terrifying and depressing. The kind of illness that takes people like it took Jason, I feel I've come to terms with it, but at first playing the songs was like bringing him back to life. I think that's something he loved about songwriting: Songcraft was timeless if it's good music, and Jason always wrote timeless stuff. The songs were made for him, but he didn't publish them so no one would hear them. "Song For Willie," I think he legitimately wanted Willie Nelson to sing that song.
Playing those songs made him feel present. I never don't feel him, but being on stage with people that played with him brought him back spiritually. It was hard turning to my right and seeing Jason instead of seeing M.C. Taylor or any of our guests. Then it was man, I can't believe I was lucky enough to know him, and he introduced me to someone like Mike [Taylor]. Now it's a whole fresh set of feelings.
How was the vibe in the rehearsals for this run of shows?
It's something we talk about. We rehearse as the core group. The people that we're all asking [to sit in] are all professional musicians at some level, whether they're someone like Chris Brokaw who was in Codeine and Come and has been around for a long time, so he's used to having to pick up and play something with very little preparation. We've been talking to them for a few weeks, sharing what the keys are; there are spreadsheets involved.
Jason hated working like this. And for years, especially when Jason didn't live in Bloomington, we worked like this without him. When he showed up, we hoped he wanted to play it in the same key. So this is actually a lot like the band functioned without him. Mostly, we're just banking on the idea that they're going to show up.
Let's talk about the guests for the Philly and New York shows.
We haven't released that list. In Philly, we'll have Laura Baird from The Baird Sisters;"Slo-Mo" Mike Brenner, who really was part of Magnolia Electric Co. but wasn't always an active member; and Josh Britton. In New York, Chris Brokaw; Zeb Gould and his partner Megan who played violin for The Japonize Elephants, one of the first bands to get signed to Secretly Canadian. Zeb is also the guitar player that Jason wanted to ask to be in Magnolia Electric Co., but he asked me instead. Kid Millions, I think, will be there in New York. Mark Trecka, who's in Pillars and Tongues and toured with Songs: Ohia; Todd Chandler.
The guest list could possibly change. We're just hammering stuff out. Todd Chandler did the documentary "The Road Becomes What You Leave." So there's all these interesting connections.   
How did you meet Jason?
We both lived in Bloomington. I worked at the student radio station, WIUS, and I remember when the first Songs: Ohia 7-inch came out and not knowing what the hell was going on. I couldn't tell if it was a man or a woman and what year it was recorded in. I found out my friends, who also worked at the radio station, started a record label called Secretly Canadian, and at 18 or 19 I was immediately starstruck by the whole thing and couldn't believe they signed this guy. I knew he was around. I remember seeing him play at the radio station having no idea how anyone could play music like that. I was in a band that was really into The Kinks and Pavement, and he was doing something that was emulating nothing I had ever heard before.
I really for real met him in late '97 or early '98. He worked at Roadworthy Guitar. I walked in one afternoon and ended up buying a guitar from him. Immediately he started talking to me; he had seen my band. He talked to me reverently about being a fellow musician. Man, you're the Songs: Ohia guy, and you're talking to me? We talked about Metallica and metal. From then, we'd be buddies.
He moved away, then he came back in 2012 after they recorded "Magnolia Electric Co." with Chicago people.  He saw one of my band Impossible Shapes' records in Philly and bought it for 30 bucks. We said he should've just asked, but he said no, I paid 30 dollars for it and I feel good about it.
We talked about Neil Young. My band played an encore of his version of "Out On The Weekend" that night that just emerged on YouTube. I became a fan of Coke Dares, his band. He watched a Neil Young tribute band I was in called The Cinnamon Girls. I'm pretty sure that's the night he decided he was going to ask me and the drummer Mark Rice to join the band. After playing all of "Tonight's The Night" in 2002 before the "Magnolia" record came out he asked me to be in Songs: Ohia, and we were going to South By Southwest and Europe.
Once you were in that band, you were also friends with Jason. We'd have band meetings, talk about Iron Maiden, we'd rarely practice. The most important thing with him was picking up old rocks and looking at knives and talking about Hank Williams and worrying we were sounding too much like Neil Young even though that's what he wanted.
What is Jason's legacy?
I don't think Jason or our band were the easiest thing to get into, and I think for people who did get into it, it felt personal to them.
We toured a bunch. We certainly weren't unsuccessful, and we made a bunch of records. I think his legacy, he was sort of an in-the-moment musician who didn't seem to care really what was expected of him. There was a style that was individual to him. It's so rare to meet a musician who comes out fully formed that way. You can tell it's his voice from the first recording to the very last record he ever made. He was doing the thing that he was so driven to do. He was a guy who surrounded himself with patient people who believed in him, and he believed in them too and was able to produce a body of work and a community, and the amount of friends and family in the universal sense I met was just unbelievable. That guy, he was like a ringleader. He was totally a leader, he was totally a moderator, he was totally himself.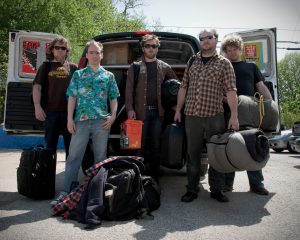 He was so good at playing solo, but he really wanted to be in a band. There was the unbelievable tension of him just playing solo while we were on stage with him. He needed to be alone on the stage even if we were there sometimes. Other nights it was just totally unbelievable, basically because the communication was there. We never faulted him, because that's what the guy did. Some of my favorite shows I ever got to play with him were where I got to step off stage and watch him play on his own. Sometimes we played at each other, sometimes with each other. He was such a fierce and driven guy, he just didn't stop. His persistence and his vision and his willingness to do just whatever in a very much him way, a very stylized way, that was him. That's what his legacy will be to me.