Photos and review by Keith Perks
Lucero is one of those bands that you need to see live. Being out in the crowd is like being with family. A drunk and rambunctious family…and we're all there to sing along and have a good time. It's a back-and-forth with the band. Them playing for us, and we sing back to them. In between songs, there's conversation, like with old friends. And when you're with old friends, there are shots to be shared.
The band's raw energy and emotion are contagious. It spreads out into the crowd and it's felt all around. Maybe I shouldn't describe it in such a way all things considered, but it's true. When they walked on stage, the energy of the crowd grew. And with each song, that energy and love for those songs spread. By the end of the night, after 25 songs, each of us, from the front to the back, felt Lucero's performance, because we were all a part of it.
It's been a long and tough pandemic and each concert I'm able to shoot is special. Special because we've been limited and getting the chance to do what I love during this period of our lives, I consider myself lucky. This one, in particular, was extra special.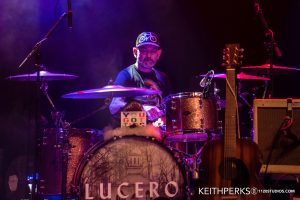 I've been a big Lucero fan for years. Dating back to when I first heard "Tennessee" in 2002, which is up there as one of my favorite albums. I hate to say it, but this was my first time seeing Lucero. They've been a bucket list band for way too long and not only did I get to finally see them, but I was also approved for a photo pass.
Musikfest Cafe is a fantastic venue. I want to make sure I mention that. I love everything Musikfest does. I'm lucky to shoot down in Bethlehem, Pa., several times a year. It's a beautiful place, and Steelstacks is a wonderful organization that offers residents and beyond many opportunities to appreciate art and live music.
Morgan Wade and her band crushed it as an opener and I really hope I get the chance to shoot them again. She's in her mid-twenties I think, but writes and sings like she's been on the road for 20 years. Wade is a very skillful singer/songwriter. She has soul. Her lyrics along with the music are honest and engaging. It's a lot of country and a bit of pop with personal topics in her lyrics, such as chemical dependency and mental health. Do yourself a favor and check her out. Her song "Wilder Days" from her recent release has over 9 million plays on Spotify.
Lucero hit the stage just after 9 p.m. a played a long and solid set full of fan favorites. They bounced from record to record, playing songs like "For the Lonely Ones," "Chain Link Fence," "The War," "Pull Me Close Don't Let Go, "Drink 'Till We're Gone," and probably my favorite, "I'll Just Fall." The evening concluded with lead singer Ben Nichols' solo song "Toadvine".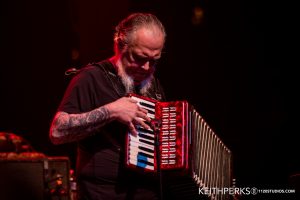 This concert will go down as one of my favorites for so many reasons. The band, the venue, the feeling of being back out and shooting a concert after a few tough weeks, and life in general from the last year or so, all kind of got knocked loose for me that night. I stood there with a beer in hand and I heard the first few notes and Nichols started singing, "I think I'll stay right down here on this floor, 'Cause if I get back up I'll only fall down more," and my eyes welled up. I stood there and was as present as I've ever been and soaked it all in. Nichols knows how to write lyrics that hit home. There's something freeing in sad, drunken moments. When Nichols sings those lyrics, we relate. Our problems might all be different, but that room, all of us during those songs, we understood each other and let it all go.
During the show I found myself drinking with a few officers. Law enforcement from somewhere. We drank, we high-fived, and we sang along. I don't even remember their names or know where they were from, but it
didn't matter. Like I said in the beginning, it was like family out there. Old friends. There's was no politics. No talk of pandemics.
Nothing bad, other than songs about girls breaking our hearts and late nights drinking whiskey.
It's nights like these, the sad songs DO help.