Words and photos by Greg Hild
ARDMORE, Pa. – During the weekend of May 21-22, the Ardmore Music Hall hosted its second annual Live From The Lot festival of funk, jazz, and jam outside of Philadelphia. This year, AMH stepped up the festival by adding an extra day and a lot more music.  That extra day was nearly spoiled due to dreary weather if not for the last-minute move to Philly's Electric Factory for Day 1. An outdoor festival transported into a notable indoor venue, it was a change that didn't deter any festival goer from making the most of it thanks to impressive logistics by the festival staff and quick adaption including a second stage built inside the venue.
Day 1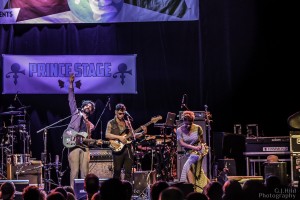 Pimps of Joytime
On Saturday, the upbeat groove was laid out early by the Pimps of Joytime from Brooklyn. The fivesome played over rhythms that lent equally to jamming as to dancing, and the crowd went for both. In addition to showcasing excellent guitar jams and percussion that complimented the feels that ranged from a funky bounce to some Latin influence, the vocals really caught the room. Charlie Hunter even interrupted his sound check to turn and see the source of a voice that nearly blew the roof off the Electric Factory as Kim Dawson – one of three singers – belted out the climax at the close of their set. A lot of people were talking about the Pimps of Joytime for the rest of the day – having never heard them before but making sure they will again.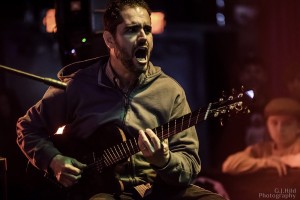 Charlie Hunter
Jazz guitar wizard Charlie Hunter was up next at the more intimate "Bowie" stage doing his always notable double-duty bass and treble on his custom 7-string guitar. He was joined by drummer Larnell Lewis, Justin Stanton on trumpet and Chris Bullock on tenor sax – all from snarky puppy.  While Hunter's more blues-driven tunes were a mellow contrast to the prior set, his very fascinating technique is enough to wow anyone musical enough to notice there isn't a bassist on the stage. The addition of Lewis' very intense beats on the kit and the excellent horn work insured the only complaint was that such a brilliant performance was unfortunately a bit short.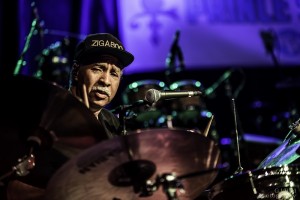 Foundation of Funk
As the afternoon settled in, Foundation of Funk schooled the room on what funk is all about as half of The Meters' original lineup brought their supergroup onboard. With the original Meters legends George Porter Jr. on bass and Joseph "Zigaboo" Modeliste on drums, Eric Krasno and Neal Evans from Soulive/Lettuce joined in to pay tribute to the fundamental sound that still lit up an audience that couldn't get enough. No one had any doubts that Porter and Zigaboo still lock it in as tight as they ever have. A man and his son nearby showed up for one reason that day, and it was to witness Zigaboo manipulating the kit in person.  Everyone in the room was familiar with that distinctive funk shuffle groove that is unmistakably The Meters' sound. Together with Mr. Porter, Zigaboo kept churning it out that night. Krasno and Evans were no less a contribution to the overall excellent sound that was reminiscent of The Meters but at the same time adding new depth and dimension.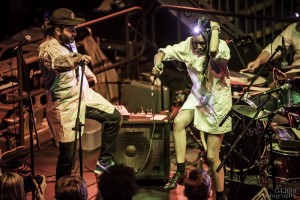 Superhuman Happiness
Superhuman Happiness showed a more progressive edge as the quartet added drums, horns, synths and a lot of dancing over a heavy electronic track. This set was a party where the band was having as much fun with as the audience, making them as much fun to watch as to listen to.
The Revivalists
In their own words, The Revivalists played the best show of their career.  Maybe they say that every night, but the audience didn't disagree.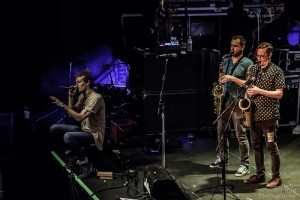 Rolling Stone just recently listed the soulful rock group from New Orleans as one of "10 Bands You Need to Know." A good part of the room already knew The Revivalists, singing along to many of the tunes.  David Shaw fronts the band with his very distinctive vocals and interactions with the audience akin to a pop star. Meanwhile the band backed him with impressive skill and climatic jams.  In particular Ed Williams on pedal guitar really adds to the sound of the Revivalists with his infectious slide. And when Rob Ingraham takes a break from dancing like crazy and swinging his sax like a marching baton, he belts out some nice wailing solos too.  Meanwhile saxman Chris Bullock of Snarky Puppy kept busy and joined the group for a song.  Overall it was a killer set from a band with a lot ahead – a sound that can appeal to a wider audience but still keep it interesting for the smaller subset that wants something more out of their music.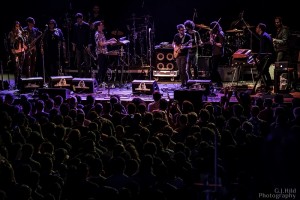 Snarky Puppy
When it comes to delivering more from music, Snarky Puppy takes it to levels of inspiration. It started out off its set with a couple selections from its recent release "Culcha Vulcha" before delving into some classics spanning most of its albums. With some members of the band always in rotation, part of what makes a live Snarky show interesting is the anticipation of who will take the stage and how the sound of the night develops based on the mix and the musicians exploring their funky and complex compositions.  On this night a nice surprise was Zach Brock, who takes the violin places many people don't get to hear, cranking it through his array of effects pedals and possibly being mistaken as a screaming guitar to someone not listening close enough. Together with Bill Laurance on keys, the two approached an extended opening of "34 Klezma" that hinted at a classical duet before breaking into the funkiest Klezmer-inspired 3/4 tune most will ever hear.  As its set came towards a close, Snarky Puppy pulled up the crowd favorite "Quarter Master" while having Charlie Hunter join – on a typical 6-string axe- not to mention Natalie Cressman and Jen Hartswick, the brass players often associated with Trey Anastasio Band among other outlets. They finished out the set with the crowd chanting along to "Shofukan" from the 2015 release "Sylva" followed by an encore from the same album, "What About Me," which featured a spectacular shredding of the violin by Brock and Lewis letting loose on drums.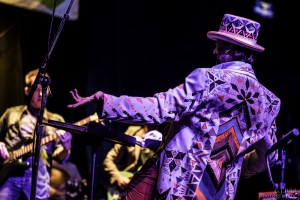 Everyone Orchestra
The after-party set featured Matt Butler's entirely improvised collaboration, Everyone Orchestra. On this night the lineup featured David Shaw, Jennifer Hartswick, Natalie Cressman, Zigaboo and Brian Jay of Pimps of Joytime as well as Marco Benevento, Aron Magner (The Disco Biscuits), Tom Hamilton (Joe Russo's Almost Dead/American Babies), Rob Mercurio (Galactic)  and Johnny Kimock (KIMOCK, Mike Gordon). As the so-called "conductor," Butler basically establishes a key and a feel and the musicians take off. Meanwhile the animated conductor gives direction on who should lead the jam, calls for key changes, and gets the audience to participate. It's a pretty interesting and unique approach to performance to say the least.
Day 2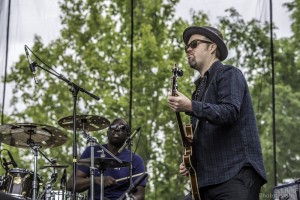 Snarky Puppy, Part 2
For those who didn't have enough Snarky Puppy (essentially everyone), the band had an early set again on the second day of the festival. With such an extensive book of original music, Sunday featured a new set which, despite being at a time many musicians might still be sleeping, was just as or more intense than the night before. Band leader Michael League delved into a very extensive bass solo in "Young Stuff."  Regularly laying down an incredible and funky groove, he showcases a whole other level of skill on the bass when he opens up in solo form. League is always very expressive as a performer, making him captivating to watch, most especially as he explores in solo.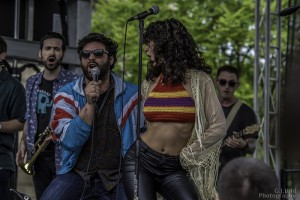 Swift Technique
The Philadelphia-based group Swift Technique brought the party atmosphere to Sunday afternoon with its original funk.  Fronting duo Chelsea ViaCava and Nik Greeley entertained with their wild antics in between belting out impressive vocals.  The whole band celebrated its classic funk sound putting on an energetic show as visual as it was aural.  The band paid tribute to Prince with a cover of "D.M.S.R." (Dance Music Sex Romance). Later, an unexpected surprise was Philly bass legend Gerald Veasley who jumped on stage and seemed to have just as much fun as the rest of the band.  He and Swift Technique's Jake Leschinsky exchanged extensive bass solos. So far this afternoon was a haven for fans of the electric bass. The band rounded out its set with the horns rushing the audience to play among the crowd.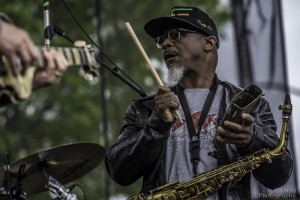 The Greyboy Allstars
The funk jazz outfit of more than two decades, The Greyboy Allstars, delivered nearly two hours of grooves and jams to an audience that kept wanting more of it. Sax legend Karl Denson adds his edgy vocals where needed. These guys can make anything feel funky, even Burt Bacharach's "You're Gonna Make It After All."
The High & Mighty Brass Band
Brooklyn's The High & Mighty Brass Band showed how you can take a lot of horns, lay out the bottom end on tuba, and keep it funky. It brought the crowd in further with mainstream crossovers like Doug E. Fresh's "You Make Me Wanna Shout" and Jason Derulo's "Wiggle."
Matt Doe, also recognizable as part of the busking trio gone viral sensation Too Many Zooz, delivered screaming trumpet solos while clutching his beer and a cigarette in his free hand. The stage full of trumpets and trombones were the least family-friendly act on a sunny afternoon – these guys brought bad to brass, and musically they killed it.
Soulive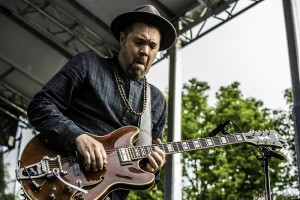 Closing the festival with a long set of its upbeat funk and soul was Soulive. Joining the band later in the set were the full horn section of Snarky Puppy with Chris Bullock, Justin Stanton and Mike "Maz" Maher as well as Karl Denson on flute and sax. The trio debuted a new song, still untitled, which was a tribute to B.B. King written in the studio upon hearing the news of the blues legend's passing. In addition to its original music, Soulive pushed through a diverse selections ranging from Yusef Lateef's "Nubian Lady" to The Beatles' "Eleanor Rigby" to later on Tears for Fears' "Everybody Wants to Rule the World." Toward the end of the set, frequent collaborator and fellow Lettuce member Nigel Hall came out to provide vocals for several tunes. The collaborations kept the music building and elevated the audience as Hall delivered soulful vocals that could otherwise align with r&b or gospel, showing his incredible depth and emotion as a singer.  In the band's final song, it let Denson open up an extended sax jam.  As it approached conclusion, Hall joined Neal Evans on keys and organ, playfully trading places and jumping between each other's hands to cover the highs and lows. Soulive left the lot with a very soulful buildup to a climatic outbound jam befitting to the close of a great weekend of funk and jazz.