While flat-picking his steel string guitar and performing "Culpepper Woodchuck" next to a campfire at The Festy music festival in his home state of Virginia a few years back, Larry Keel reached the point of the song where he halts the music with the line, "Hey y'all, watch this …"
At that moment during the "heavy metal-bluegrass song about rednecks," Keel traditionally hatches some sort of spontaneous stunt to wow the crowd.
"During the show, it's hard to tell what we'll do," Keel said with a laugh, "We'll start dancing or whatever — something to create a laugh or some showmanship."
On this occasion, Keel, 47, made the split-second decision to lower his guitar into the campfire, thrilling his audience.
"I was playing the song out in the campground. It just sort of blew everybody's mind that was around there," Keel recalled. "It didn't burn the whole guitar, sort of scarred the headstock. It gave it a little character."
With antics like that, there's no telling what Keel and his Larry Keel Experience trio will bring to Montage Mountain near Scranton for the Susquehanna Breakdown the weekend of May 20-21. Keel will have that fire-scarred Collings guitar with him, along with the only other two custom-made steel string acoustic guitars he owns and tours with.
The Experience also includes Jenny Keel, Larry's wife of 21 years, on stand-up bass and harmony vocals, and Will Lee, Keel's longtime friend and son of guitar legend Ricky Lee, on banjo.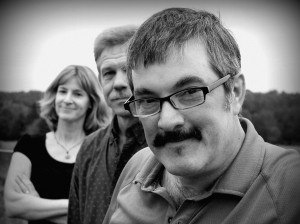 "Experienced," the trio's 2016 album, Larry's 15th and released in February, includes guest performances by Sam Bush, Del McCoury, Peter Rowan and Keller Williams.
Larry Keel, a frequent collaborator of Williams, his "soul brother" and fellow Virginian — they perform as Keller and the Keels — will also sit in for a set with the hosts of the fourth annual Breakdown, Scranton-based Cabinet, with whom Keel has played numerous times on the festival circuit.
Keel, a Manassas, Va., native and avid fisherman who speaks with an Appalachian drawl, said he was happy to sit down for a phone interview in April with Highway 81 Revisited since it meant helping to promote Cabinet and its festival, which will also include performances by Railroad Earth, Infamous Stringdusters and Twiddle.
"Cabinet is some great guys," said Keel. "I've shared the stage with them in quite a few places across the country, too many to name really."
Keel first made a name for himself on the bluegrass circuit at 1993's Telluride Bluegrass Festival, when he won the annual Colorado event's guitar competition.
"It definitely supported my goal of wanting to be a professional," Keel recalled. "It gave me a confidence boost.
Using the award as a springboard, Keel's band, Magraw Gap, began touring extensively in 1994 and recorded its first album that year.
"I went back (to Telluride) in 1995, and I took Magraw Gap. We went out there and we played, and I won the guitar competition again. Our mandolin player won. Will (Lee) did the banjo. We won the bluegrass band (competition) as well. That really gave us a big boost."
Magraw Gap lent musical support to Keller Williams' 1996 CD, "Buzz," and a long-lasting musical brotherhood between Keel and Williams was born.
The duo met around 1991 at an open mic night at tiny tavern in Fredericksburg, Va.
"He grew up near Fredericksburg, in northern Virginia. At the time, I had been living in Warrington, Va.," Keel explained. "I heard about the open mic thing but really didn't know who Keller was. I figured I'd go down and check it out.
"He was doing the open mic situation there to try to build up live music in his town. He was just doing it for donations. I thought, 'This is a pretty cool guy to do that and bring the music to his community.' "We met and pretty much hit it right off. It was pretty weird. We're always bouncing something off each other. We're in constant contact."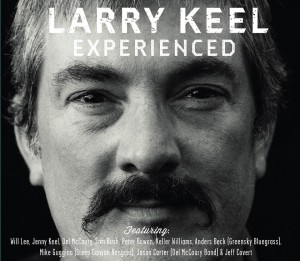 Larry, who "plays a little bit of mandolin and (does) a little bit of banjo picking when I can," grew up in a musical family. His late father Jim Keel, who died about a decade ago, played banjo. His brother Gary, 12 years older than Larry, played guitar and bought Larry his first acoustic guitar when Larry was 7.
Gary works a maintenance job but performs occasionally with Larry. They'll play as the Keel Brothers at the Rhythm River and Roots Festival in Berryville, Va., in late June.
Keel, known for his unusual variations of facial hair, first grew a beard at the age of 15 and landed his first regular music gig at the age of 18 — in Tokyo of all places.
"I was hired as a contracted musician for Disney Tokyo for one year," Keel said. "A friend living in the Orlando area answered a newspaper ad asking for musicians. When he answered it, he found out it was for a trip to Tokyo Disneyland — you know, a pretty strange thing. He called me up right away and said, 'Can you come down here to Florida?' I was in Virginia at the time.
He said we could play some music. We did an audition and got accepted right away. We did Tokyo Disneyland for six months. That was the limit on a visa for entertainers. We went over there and we were the bluegrass band in the western land area that had little stands set up selling French fries and fried chicken.
"We would play six times a day — 30 minutes on, 30 minutes off. Boy, it really tightened my musical chops. We played so much. It really got me loose. I knew when I came back from there, I definitely had to keep on playing."
Keel has also described the only Grateful Dead show he ever attended — 1989 at Riverfront Arena in Cincinnati — as a "life-changing" experience and inspired his "Larry does Jerry" gigs, covering Jerry Garcia songs.
Keel counts Garcia as one of his favorite all-time guitarists, in addition to Jimi Hendrix, gypsy jazz guitarist Django Reinhardt and bluegrass guitarist Tony Rice.
"I wanted to see more," Keel lamented of the Grateful Dead. "A lot of my buddies traveled and went to every show. They finally got me to go to Cincinnati. It was quite an amazing thing to witness — what was going on there, to see music on a scale of that size. It just always stuck. I remember them doing a 'China Cat-Rider.'"
When he's not creating or performing music, there's a good chance Keel is out on a lake or on the ocean fishing. He also hosts combination music-fishing festivals — Bass and Grass and Fishin and Pickin in Georgia.
"Where I grew up, there was three really small couple-acre ponds that was near my house," Keel recalled. "I could walk down to them. That's how I grew up in the summers – on the pond, fishing all day. I just never could get away from that. I don't get to fish as much as I want to. Being out there, trying to connect to any fish, is pure spirituality to me."
The biggest fish he ever caught?
"A king mackerel off the cost of North Carolina. Around 5 feet long, about 68-72 pounds. It was a nice fish."