All Kelley Deal was looking for was a studio, but she ended up getting a new band.
Invited to contribute to a 2011 tribute album to fellow Dayton, Ohio, alt-rock legends Guided By Voices, Deal, of The Breeders fame, enlisted Buffalo Killers as her backing band – who recommended Candyland Recording Studio in Cincinnati. Deal liked working with studio head Mike Montgomery so much they started a new group, R Ring, which has gone on to mount several tours and release a handful of singles.
Montgomery, of Ampline, and Deal will bring their duo project to Johnny Brendas in Philadelphia on Monday, July 27, for a show that will also feature Philly's own Joe Jack Talcum of The Dead Milkmen as well as Cynthia Schemmer. R. Ring's summer "Rad, White & Blue" tour will also stop at The Bell House in Brooklyn on Friday, July 31. The dates are in support of two new 7-inch split singles, both released on vinyl: "Half Of Seven," which includes R.Ring's "Loud Underneath" and Detroit band Protomartyr's song "Blues Festival," which features Deal on lead vocals, and another which features R. Ring's "Singing Tower" and Kentucky group Quailbones' "A Tip To Trick The Tide."
We recently chatted with Deal about the recorded and live output of R. Ring, the glory years of 1990s alternative rock, how she got into knitting – her book "Bags That Rock: Knitting On The Road" was published in 2008 – and the early stages of some new Breeders material.
How did R. Ring get started?
I was invited in 2010 to contribute a song to a Guided By Voices tribute record and I was in the process of having a lot of downtime – Kim [twin sister Kim Deal, lead vocalist and rhythm guitarist of The Breeders] was really busy with Pixies, The Breeders weren't doing much and I was waiting around. I was like, "What am I doing, I'm not doing anything." So when somebody asked me this question, I was like, "I'm going to start saying yes to more things," and this request came in, so I said, "Yes, I will do that." During the process of selecting the song – there's a band called Buffalo Killers from Southwest Ohio, I thought, you know what, I'm going to get those cats to help me do the song, and then I did, and I was like, "OK, where do you guys want to practice this, and then we can talk about recording." And they gave me the name of this place called Candy Land Studios in Cincinnati, and it happens to be the recording studio that Mike owns. And that's how I met Mike Montgomery. We ran through the song and worked out the arrangement stuff, and Mike had mics already up on the amps and said, "Let's just do a couple takes." I said, "We're not ready!" but we did it, and everything sounded great, and I really liked working with him, I liked the sounds he got, he's a really nice guy and just through that process of working with him and talking about the mix and how to stay in touch, that's how it started.
What's the writing process in the band? Do you and Mike write together or separately or is it a mix of both?
It is a mix. The first thing that we did when we started to get together to play out, we each had songs from our quote-"catalog," and we worked on arrangements that would suit this kind of two-guitar assault, two-guitar/two-vocal thing. That's how we started, kind of working on each other's songs. Then we started writing together, and now that runs the gamut between anything like he'll have a chord progression and he'll say, "Here's what I'm thinking," and I'll write the lyrics to it or a guitar line. Also it's an idea of where he's got most of the song and I write just like a harmony and sing some lead, or I'll have a song and he just adds interesting guitar. So it really could be anything.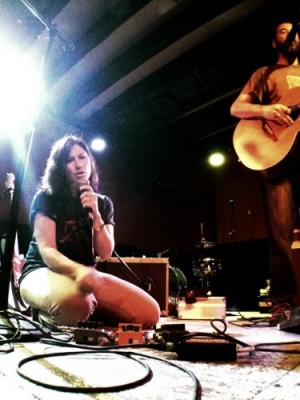 When you were starting up this band did you and Mike make a conscious effort to make sure the material didn't sound like your previous projects? Do you ever find yourself writing a song and realizing it sounds too much like The Breeders or another previous band, so you get rid of it?
Not really. No, no. Usually it's like if I write something because it sounds too much like, I don't know, Cher or something, something like that, "Oh God, have I just re-written a song?" Plus Mike is a different guy, he plays guitar differently than me or anybody that I know. So that helps I think too.
So just the nature of the lineup means it's going to sound different.
Right, we don't have drums, we don't have bass.
How would you describe the vibe of the R. Ring live shows?
It's one of those things, I go back and forth on it, thinking that this the best idea is to take this kind of unusual thing – it's not that unusual, guitars and vocals, we're not breaking new musical ground here – but it is weird for it to be at like a club, because usually you got some sort of punk pop or punky '90s thing I'm hearing a lot now, kind of trend stuff, full band kind of deal, and they're really loud, and we don't do that, and I think sometimes I think "Why are we here again?" Because we aren't loud as other bands, not only in terms of volume either, but in terms of denseness. We're not dense. Sometimes we are, sometimes we're not. I don't know. So sometimes I think maybe we're not appropriate to be playing these places (laughs), but that's what we're doin'.
At the Philadelphia show you're going to be playing with Joe Jack Talcum.
Yes!
So how did you first connect with Joe?
It was in St. Louis, Missouri, or was it Kansas City? It was either Kansas City or St. Louis. He had just done a gig the night before and we were kind of crossing paths and the guy who was playing drums with us, and by that I mean like a snare drum, his name is Kristian Svitak, and he's a skateboarder from Cleveland, Ohio, like this pro skateboarder, he knows I think the guy who was playing with [Joe], so we just crossed paths and ended up having a picnic and this really kind of famous barbecue place in Kansas City and we took pictures of it, and we said in that moment, if we're ever in Philadelphia will you come and play with us? And he said yes. And that's what happened. We're super excited about it.
How have you gone about spreading the word about R. Ring? There's fans that are following what you do anyway, but how do you go about building a fanbase for this relatively new project?
Not a lot. We don't have management or a record company or anything like that, other than we do put out 7-inch singles, but we're not tied into a record company. So like Facebook, like everybody, Twitter, that kind of stuff.
What's the response been from the fans as you go from town to town?
I think people like it. They seem to. They seem to really like it, and I think people really like the break, it's like that one thing that I was talking about, the idea that music can sound like a lot of things. A lot of people don't know that you can be hard and cruel without being the loudest thing in the room. As a matter of fact, the creepiest, most mysterious and meanest stuff is often the stuff that is most understated and delivered quietly and deliberately. Do you know what I'm saying? So that's really fun to explore those kind of dynamics, like what is loud? What is rock? What is abrasive? It's really fun to take a pretty sound and play specifically the wrong notes together so your head goes, "ahh, what was that? That was pretty, I think" kind of thing.
Is a full-length album in the cards for R Ring?
Yes. When we first started working together, I was totally like I do not want to go into a studio, I do not want to spend time in there, I've spent a lot of time in studios in my life, I've recorded plenty of stuff, I just didn't want this to be about that. I wanted this to be about playing live, creating something live. And I do love that and I'm still a huge fan of that, but luckily some time has gone by, and I'm kind of ready. And we have been in and out of the studio in a gentle way. We don't live in the studio, but interestingly enough, I am ready now, I'm actually ready and excited about doing a record, like a whole one. Maybe it's because we just didn't have the songs so I couldn't see what it might sound like or I couldn't envision the narrative arc or the emotional arc of what our record would look like that. I feel like I can now. I'm interested to find out what that could be.
Right now the '90s are being looked backed on as the golden age of alternative rock, with so many unique bands breaking through to the mainstream. When it was happening for The Breeders, did you realize what a unique time it was, or was it just the nature of the times?
No, I remember someone was asking me, what was it like when The Breeders opened for Nirvana on their first European tour? And I remember at looking at [Breeders bassist] Josephine [Wiggs], and this was just a couple days ago, and I said, "Was that the first European tour that they did?" And she said, "Yes it was, Kelley." I was like, oh my God, I didn't realize it at the time. But my answer was that on one hand it was really great. My answer was it was super fun, they were super nice and this was before they were the quote-"biggest band in the world," so it didn't have that import at that time. Had I known what was going on, not just with Nirvana, but also with the entire early '90s scene and the alternative music smushing and catapulting into the mainstream, had I known that was going on…I can vaguely remember backstage in Ireland and seeing Krist Novoselic, if I had known then how important this was, I would have looked around and said, "remember all this detail, because you will be talking about this for the rest of your life. This is very important." But it just didn't feel like that. It just felt like you and all your cool friends who used to pass tapes and were into other music and non-mainstream stuff, and we became the cool people at the party, and it's a wonderful feeling, you know?
How did you get into knitting?
I got into it because I was in Amsterdam – I don't know if you know about my heroin arrest and my issues with drug addiction and alcoholism – but in an attempt to have something to do whilst I was touring, I happened to be in Amsterdam and all of the people I was touring with, they were going to the coffee shops and stuff, poor me, poor me. This was before the Internet and there were two horrible shows on, one in German and one in I don't know, and rugby or something and that was the only thing on the television, so I was like, I got to find something to do and I just can't read another book. So there was somebody who was traveling with the group and she knew how to knit, and I started to knit. So that's how that started. Of course, like an asshole, like I am with everything else, I get completely addicted to it. Woo-hoo. At least it's a good addiction.
Is it something you still do on the road?

Yes I do. I love it. I love making things. We even have this thing where I make CD covers that we sell at the merch table. We have this really cute thing that has a recipe by a popular vegan chef, her name is Isa Chandra Moskowitz, and she's kind of a famous vegan cookbook writer, we did a song for her web series cooking show that showed you how to make these wonderful vegan recipes, and she needed a theme song, and she used our song called "Salt," which is an awesome name for a song for that. In exchange for that she wrote a vegan recipe for us that is a vegan version of Cincinnati chili. So we have that and we have the CD with a couple of the songs on it, and I crocheted these hot pads. Isn't that cute? It's an adorable thing.
What's the status of The Breeders? Is the band still together?

Absolutely. Josephine is actually in town right now and the last week we spent kind of doing some recording on Kim's 16-track in her basement. We have these mics and we run them up her laundry chute up to the second floor and we're just sort of looking at things and creating. Josephine and [drummer] Jim [Macpherson] and I went to a local farm to get some corn the other day. We love each other.