Photos by Robin Palmer
Musicians have had an uneasy relationship with the music business, to put it mildly, since someone figured out they could make money by performing and someone else figured out they could take a cut.
Why, then, would an experienced and well-traveled studio and live drummer like A.J. Jump decide to take on the role — and accompanying headaches — of operating Karl Hall, a new, all-ages venue in Wilkes-Barre, Pennsylvania, which will officially open on Saturday, April 14?
"Well, someone had to do it in that regard," said Jump, a 33-year-old from Plains, which borders Wilkes-Barre in Northeastern Pennsylvania. "And it's been, in my eyes, better to let a musician do it rather than someone that hasn't seen both sides of [the business].
"It's not like I love doing it," continued Jump, who performs in several bands, including King Radio and NEPA's own Underground Saints, "but I love putting on shows. Sometimes it can get a little bit dirty and hairy, but you know, you work that out. The agents are there to protect the artists and themselves. They can get a little crazy at times, and it's like, well, listen — do you understand where I'm coming from, because I understand where you're coming from, let's meet in the middle. And if we can't, they're not going to play."
Following a few invite-only "soft opening" events, the first public performance on Saturday will feature headliner Everything Turned To Color, from Brooklyn, with support from NEPA acts Rosary Guild and Joe Burke. With that show only a few days out, we chatted with Jump about the philosophy behind Karl Hall (co-owned by Jump and Mary McKenna and named after the late Kevin Karl, McKenna's husband and Jump's close friend) and why he thinks the venue is positioned to succeed in a region that hasn't been particularly kind to all-ages rooms. Below the Q&A, Jump gave us a tour of the venue's equipment and explained the significance of the Karl Hall logo.
As a musician, what are you looking for when you play a venue?
No. 1, great sound, because [bad sound] can ruin a show. The average person would think the band is bad if the sound is bad. If the sound is bad, it can ruin a good band's show. No. 2, backline. Professional instruments there to use. Drum set, bass rig, guitar amps, etc. Some of my favorite venues have the best stuff like that to play. No. 3, just the vibe. The lighting is good, and the place is neat, and the staff is also good — and kind.
What are some of your favorite venues to play?
By far, Rockwood Music Hall [in New York City], all three stages there. Arlene's Grocery in New York was always one of my favorite places to play. Hotel Cafe in Los Angeles is super cool. The Cat's Cradle in Chapel Hill, North Carolina, that place is super cool. The Tin Angel [in Philadelphia] was awesome, I really enjoyed it.
What was your "gig from hell"?
Oh boy. Let me think about this. Oh…I don't remember the name of the place, but it was somewhere in the West Village. It was with Miz. They say they have a full backline, and I show up and there's no hi-hat stand, and the cymbal stand is broken. And I had to play with no hi-hat and I had to jerry-rig the cymbal stand, and there was no monitor as well. It was just funny, and I remember Mike [Mizwinski] laughing and saying, "Oh boy, this is going to be a fun one." I remember it vividly.
How do you feel Karl Hall will fit into the greater context of the NEPA music community?
I mean, honestly, not to sound overconfident, but in my vision of this place, if things go as I have envisioned them to go, this place will be a cornerstone in years to come that that's where you play. That's where you start, and you come there, and you develop, and you sell the place out, and you move on to bigger rooms. That's really all I could hope for. I'm giving the artists quality sound and a clean, cool space to play in. They're going to sound good. It's going to look good. That's all you can really ask for, and I hope that 10 years from now, it's just one of those places where even touring acts [say], "Oh man, you're leaving Philly or New York, and you're going west? You have to stop in Wilkes-Barre and play that place." That's the way Metro [Cafe Metropolis in Wilkes-Barre] used to be, and their sound wasn't good, but it was the vibe, and people just liked it.
All-ages venues have been hit and miss in NEPA since Metro closed in 2010. Why do you think Karl Hall will be different than some of the other spots that didn't stand the test of time?
Well, the first thing is it all comes down to money, and people have to pay rent. And also occupancy. Some of these shows in the past were run kind of a little looser and they didn't pay attention to that and they went over [capacity]. After Great White, that was kind of the 9-11 of the music business as far as small clubs go. They started looking more into things like that. You couldn't go over your fire code. It was a little looser in the '90s. …
I tip my hat to the people that put on some of those shows in some of these alternative spaces, but often times what it really came down to is sound, and sound is bad, and bands were like, they had nowhere else to play, but a lot of bands were like, "Man, this sucks." (laughs) So that also had a part in it as well. Going to shows is cool and all, but if it sounds like garbage, you're not going to go.
From what I understand, the reason some of those places were closed down was occupancy. Shut down by either Wilkes-Barre or Scranton.
I'm doing other alternative things that those places didn't do business-wise. I'm selling concessions, and I have a BYOB occupancy. Those places never had a BYOB, so it's definitely a different angle.
It should be able to sustain itself, especially from what people are saying. The main thing I keep hearing from people is "we need this." That's the statement, "Wilkes-Barre needs this." It's like OK, if it needs this so much, I hope the support is there (laughs).
THE LOGO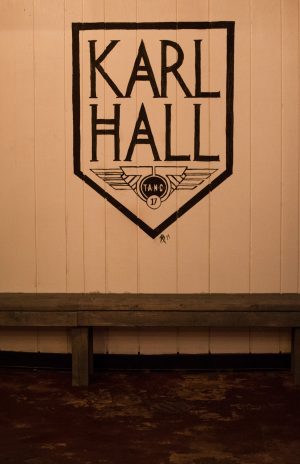 The designer of the logo's name is Judy Lacouture. She's a great designer from the area and a Bishop Hoban grad. She's a really awesome woman and great friends with Mary, that's the connection there. I just let her be. The only direction I gave her was I wanted it to kind of be reminiscent a bit of a forestry patch, so that's why it has kind of that shield look, that patch look to it. The TANC and the 17: "There ain't no cant," quoting Mickey from Rocky, which Kevin would always do. And obviously we were established in 2017.
THE PIANO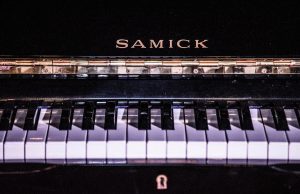 It's a full upright house piano. It's a '90s Korean-made piano. The Asian cultures often are the best replicators of instruments, so that is the Korean version of a Yamaha U1, which is their standard upright. And we got it from the Kirby Center. I traded them chairs for that piano. I gave them 65 chairs or 55 chairs, and they gave me a piano and used those chairs for the lobby series.
THE DRUM KIT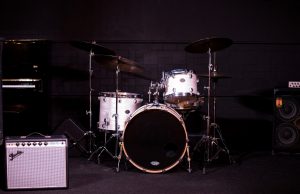 The drum kit is a Tama Star Classic; I think it's a 2013. I got it used from Music Go Round. That, to me, is the workhouse, all-around drum kit. It could be used in pretty much every genre, and it's just built well. I like the hardware on it, it can take a beating, but it's also a professional model. It's not a novice model. I like their drums. 
THE AMPS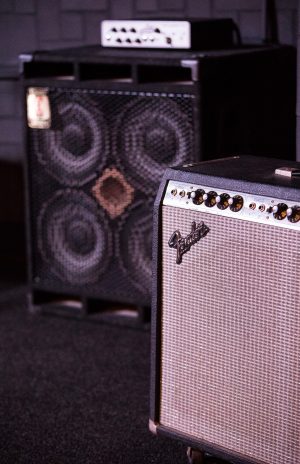 One of those amps is Kevin's. So the bigger one is a 1978 Twin Reverb. I don't know where he got it, but it was his.
The author of this article has also created content for Karl Hall's website, for which he was compensated.