Kamikaze Palm Tree might be the perfect name for a band that blends disparate musical pieces and absurdist lyrics and somehow ends up with something that makes perfect sense in a nonsensical way. If that sounds bewildering, good — now you've got the idea.
Cole Berliner and Dylan Hadley started KPT seven years ago in San Francisco and released their debut album, "Good Boy," in 2019. Last week, they put out their second full-length, "Mint Chip," after signing with venerable Chicago indie label Drag City Records, leading up to a run of coveted dates supporting Wilco, starting Sunday, Aug. 21 at Brewery Ommegang in Cooperstown.
For their Drag City debut, KPT recorded at Wiggle World in Altadena, Calif., with engineer Spencer Hartling, who produced and engineered "Good Boy." Producing this time was Tim Presley of White Fence — Berliner and Hadley are both members of White Fence.
We recently caught up with Berliner and Hadley over email while Hadley was wrapping up UK dates drumming in Cate Le Bon's band to chat about "Mint Chip," the difference between working together in White Fence and KPT and their favorite Wilco albums.
In the bio on your website, you say "none of our songs are about anything." That said, what inspires you to write, and how would you describe your process of writing music and lyrics?
Cole: We write music that feels like whatever we're interested in at the time. A lot of it has to do with the way a song or musical idea comes off, the mood it represents. For this album, we would layer one instrument after another, till we found what felt like a good balance of chaos and fun.
Dylan: For me it kinda depends on what we're doing in that moment when we're recording, what's around us and all. A lot of the lyrics were inspired by photos and art in Cole's room. For "Y so K" I was working delivering flowers and was trying to write lyrics and pretending that I was Mayo Thompson, trying to imagine what lyrics he might write. So I guess either very literally what's happening in the moment or just trying to get completely out of it.
When you first met, what were some of your common influences?
Cole: A lot of different things. We used to show each other everything we were listening to at the time. For one, The Residents … when we were growing up Dylan was my one friend who even knew/cared about that band. And at that, I feel like we were both pretty obsessed.
Dylan: I agree yeah, the Residents, Ween, Melt Banana, Lightning Bolt. Our common influences have definitely changed since then but they were all definitely big influences.
What was your intention coming into making Mint Chip?
Cole: We wanted it to hit different than the last. We had a slightly different process of writing, and wanted to depart from the sound of the previous record a little more, without sacrificing our integrity.
Dylan: Definitely making something fun and relatable but still sticking to the integrity of our sound like Cole mentioned. I definitely wanted to show how much fun we had making it shine through the sound.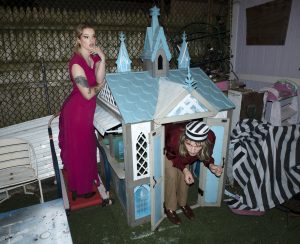 What did Tim Presley bring to the process as the producer?
Cole: He added some elements (like the warbly synth tone throughout all of "Predicament") that we would have never expected, and really helped kind of glue everything together. It felt like he would find the missing piece from the sonic puzzle, and know where to put it. Also, just a lot of fun to work with, we're all good friends so we had a sick time.
Dylan: He added the shimmer that kinda goes over the whole record. It felt really nice working with Tim because it felt like we were very much on the same page and yeah, he did the warbly synth on "Predicament," we co-wrote "Chariot On Top," he's all over the record and really tied everything together and added a really fun element to the studio.
Tell me about signing with Drag City. Why is it still useful to be on a label?
Cole: It feels really good to be a part of a team, and to be working with people who are not only like-minded artistically, but stoked on what we're doing. A label like DC especially feels like such a larger music community — a way to connect and work with other people that line up with your artistry, and also who are just genuinely good people.
Dylan: It does feel really amazing to be working with like-minded people and let us have full creative freedom. It definitely felt like their goal was to let us have our vision and support that and help us carry that out. They're all such amazing, great people, it's great to be able to trust them with your art. It's been helpful for us to expand our audience and have that all-around support.
Who are some of your favorite current or former Drag City artists?
Cole: Royal Trux is one of my all-time favorites. US Maple's later albums, any of the Red Krayola stuff, and of course Drinks, White Fence, Cate le Bon.
Dylan: Same Royal Trux, Mayo Thompson, Red Krayola, Anthony Moore, Jessica Pratt, yeah and of course, White Fence, Cate Le Bon, Drinks!
How would you describe your live show? How important is it to you to recreate the songs as they as are on the albums?
Cole: The live show is really important. I like to think we offer something different than just the album when we perform … the way we play the songs is different, and there's a performance aspect to it that feels equally important as the record. And it's something we love to do. I always feel like I can get into a certain state when performing live that I can't achieve in day to day life.
Dylan: I agree with what Cole said, I do feel like more and more finding ways to keep the excitement of the songs that the record has and trying to translate that live, making other people excited as well.
Dylan, how has the Cate le Bon tour been? Do you get a new perspective from working to support an artist like her that you can bring to your own band?
Dylan: It's been amazing! I love playing for Cate. It's so exciting, and getting to pick her brain musically I feel has been really important to me to gain perspective from such an amazing musician that I really admire and trust. Her style is so intuitive and natural, I think it's definitely helped me tap into my own version of that. Kind of trusting your gut. Also a really big thing I've learned from playing live with Cate is finding new ways and sounds to make the live set more immersive and I like taking some of those things I've learned and bringing them back to KPT and making it our own.
Compare for me your working relationship as members of White Fence with your working relationship as Kamikaze Palm Tree.
Cole: We love to play together in whatever capacity — but with Kamikaze Palm Tree, it's our music, so the creative aspect is more between the two of us. It's a slightly different dynamic when we're creating and coming up with ideas together. We've known each other for a long time, so we work pretty well together.
Dylan: Working with White Fence is kinda different, We don't collaborate musically with Tim, it's all his vision and we're there to help him with that, which is super fun and amazing. I love playing with Tim in a similar capacity to Cate and getting to pick both their brains in that way. Getting to see their process and help carry it out. With KPT Cole and I write the songs and have our own vision that we get to bring to people and have them collaborate and they help us bring our vision to light. Josh Puklavetz also plays bass in White Fence and he did all the bass on the record and came up with such amazing parts. I think all of us playing together in the past and getting to work together again in a different capacity created something really special and organic.
When you were starting out, were there any acts you considered kindred spirits, peers or mentors?
Cole: When we first started, I think we were pretty influenced by Lightning Bolt. Our first shows in San Francisco were among a community of bands that all used to play together, that I think influenced our early perception of what it means to have a band. And everyone else that we've played with along the way has had a significant influence as well.
Dylan: Yeah, definitely Lightning Bolt we were pretty obsessed. I'd agree with everything Cole said. We were growing up in San Francisco at a time that felt pretty hard to play music because a lot of venues had shut down, so we had a pretty tight-knit group of musician friends we played with that influenced a lot of our sound especially at the beginning.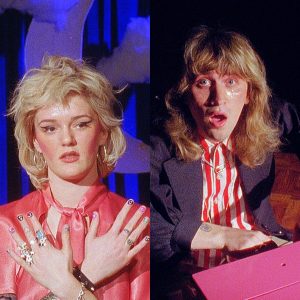 You'll be playing a bunch of dates with Wilco this summer. How did that come about?
Cole: We played Jeff Tweedy's Solid Sound Festival in Massachusetts back in May this year. We got asked to open a little bit after that. Dylan knew Jeff from various interactions while playing in Cate's band, and I think dots were connected after all that.
What's your favorite Wilco album?
Cole: For me, it's "Sky Blue Sky." A lot of the songs are really zany and interesting, kind of uncategorizable, and others are just really nice songs. But truly, I can't lie — I love Nels Cline on this album. He's always been a major inspiration to me. The guitar playing is both insane and elegant the whole way through.
Dylan: I think mine has to be Yankee Hotel Foxtrot. I love the production on it, it's so strange and beautiful. I love the way the instruments dance around each other, the vibe of the whole album kinda creates this feeling of when you're looking back at a fond memory, if that makes sense.
What is your approach when you are playing in front of an audience of people who for the most part might not have heard you before and did not come to see you specifically?
Cole: We just do whatever we feel, and try to be ourselves. We have fun playing our songs together and like to put on a show.
Dylan: Keeping it true to us and just do our thing, yeah. Looking forward to playing new songs from "Mint Chip" that we haven't played yet and we hope people like it!
Are there any other projects you're working on outside the band, in addition to White Fence?
Cole: We both write music of our own on the side and do session work as well. I've got a solo guitar project that's cooking up, in addition to working on an album of full band material, and I've been playing guitar in the new solo project of Laena Myers-Ionita.
Dylan: I'm not no, just playing for Cate and for White Fence when there's shows! I do session for different artists but for now live stuff is just KPT, Cate and Tim.