Photos by Brittany Boote
If it seems like guitarist Justin Mazer has been everywhere lately, it's because that's essentially the case. Whether touring with American Babies, the rising, impossible-to-pigeonhole Philadelphia-based act led by Tom Hamilton, or gracing Northeastern Pennsylvania stages with a diverse and rotating group of musicians in need of a sharp and reliable on-call guitarist, the 25-year-old Wilkes-Barre native has been making a name for himself.
We recently spoke with Mazer before an American Babies show at Stella Blues in New Haven, Conn., about playing with Hamilton (the former leader of Brothers Past, a current member of Grateful Dead tribute Joe Russo's Almost Dead and a sometimes member of Phil Lesh and Friends), opening for some of the biggest names in live music, sitting in with a varied cast of characters and the status of Leroy Justice.
Some of the highlights on Mazer's spring schedule are American Babies' Phil and Friends after-parties Wednesday, March 18 and Thursday, March 19 at Garcia's at The Capitol Theatre in Port Chester, N.Y., a Led Zeppelin tribute at the River Street Jazz Café in Wilkes-Barre in April and a set with Tom Graham at Susquehanna Breakdown in May.
H81R: How did you initially hook up with American Babies?
JM: I met those guys maybe four or five years ago. I think I opened up for them at the Jazz Café with whatever band I was playing with. And over time, I just started hanging with them. I'd see them at festivals. If they were playing around, I'd sit in with them. … Tom called me last year and asked me if I wanted to join full time which I was obviously more than happy to do.
H81R: How would you describe the experience so far?
JM: It's been great, man. I've played shows all across the country, and I mean American Babies as a band and Tom Hamilton as a name is really starting to grow and gain popularity. I'm really excited. This year we're working on recording a new record and I think we're doing an eight to 10 week tour in the fall. Until then a lot of stuff is rolling in for festival season and a lot of one-off stuff we'll be doing from now until then.
H81R: Tell us about some of the bigger shows you've played with the Babies.
JM: With American Babies I opened up for bands all across the spectrum. We opened up for Disco Biscuits at the Electric Factory and the very next week we opened for Cold War Kids. It's the first band I've played in with the kind of versatility to be completely appropriate for a lot of different musical situations, so a lot of different co-bills and a lot of different opening slots. Obviously the Babies are deeply rooted in the jam scene. Tom Hamilton plays with the Joe Russo's Almost Dead project and he had the electronic project with the guys from Disco Biscuits and Lotus. So the shows encompass the kind of diversity he has as a songwriter and a player.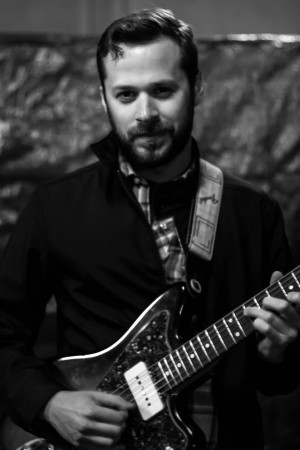 H81R: Have you had to tweak your playing style to fit American Babies?
JM: Every gig is always a challenge regardless of the circumstances, even if it's something I'm comfortable with. I would say there's a lot of elements that go with the band that I'm very comfortable with, and there's a lot of elements that really force me to play things I wouldn't normally play and kind of play "anti-lead guitar," as I like to say. The improvisation is more based around textures and layering than soloing. So in the course of the night I'm not really aiming to take solos the way I would if I was playing a blues gig or a rock gig, but I have to put more focus on effects and textures and layering, and there's also five guys in the band, so I'm just trying to find the right place sonically around bass, another guitar player, keyboards and drums.
H81R: You've sat in with many different acts the past few months in Northeastern Pa. How did this come about?
JM: The last couple of months I've gotten a few calls and I've put together a few shows, starting back in January I put together a Bill Withers tribute show, that was something I came up with. I'm a big fan of playing funk and soul. So I got together a band to play the Bill Withers "Live At Carnegie Hall" record. Besides that I got a couple calls to play with some really awesome bands and some really awesome players. Tom Graham, he's a newly acquired friend of mine. Besides that I played a show with Heavy Blonde a few weeks ago in Scranton. I decided to do that on many levels because I'm a fan of the music and I'm a fan of all the players in that band, but when you talk about songs that are challenging… I get a lot of calls to do gigs that require me to learn songs in a short period of time and there's a lot going on, there's some really interesting stuff. I'm really happy to be playing good music with good people.
H81R: What's up with Leroy Justice?
JM: We're kind of on a break. I don't want to say that the band isn't a band anymore, but all the guys in the band kind of have projects of their own. Jason [Gallagher], the singer/frontman, he got the job scoring all the music for the show "Z Nation" on Syfy, which is really cool because he brought me in to record some stuff for an episode, and he's brought in a lot of players from the circle; I know Pat Finnerty did a song, Bob Lewis did a song, a couple guys from New York City that we play with. He's made it fun for all of us, bringing us in and making it fun for all of us and keeping it in the family, so to speak.
H81R: As someone who's been playing in NEPA for quite some time, but also traveled the country to play music, you probably have an interesting perspective on the whole thing. How would you describe the current state of the NEPA live music scene?
JM: I've been playing there for close to 10 years, and there's a lot of incredible players and a lot of incredible songwriters in a lot of circles between Scranton and Wilkes-Barre. It's weird; I'm at the point now where I kind of take it for what it is. What I'm trying to do is, in Scranton and Wilkes-Barre, take quality stuff over quantity stuff, meaning if I'm not playing Wilkes-Barre or Scranton two or three times a month, I'm going to make sure it's awesome, whether it's filling in for somebody or doing a night of music myself, and I think that's where the scene is going. I think people are trying to solidify groups and take it more seriously and focus on quality shows over quantity, meaning guys not being out playing every day of the week. They're just trying to do the one show Friday or Saturday and make it count and get a good crowd and don't overdo it, whereas five years ago that wasn't the case. You saw a lot more guys playing every single gig they could, which is cool, and to some degree you have to do it if you're playing for a living. It also goes with the fact that there really isn't as many music venues as there was five years ago. To play original music you're kind of limited at this point to what kind of show you want to do and where to do it.
H81R: I know you're a pretty big fan of all types of music. What have you been listening to lately?
JM: I've been really into the new War On Drugs record that was released last year. It's probably my favorite record of 2014. I never get sick of listening to it, I've been listening to it almost every day for the last four or five months. In terms of my playing I've been really getting into Telecaster – Roy Buchanan, Danny Gatton, Jimmy Campilongo, so I've been kind of diving into that for influence on the playing. But in terms of just general inspiration, I love the new War On Drugs record, I love the new Floating Action record, and I love the new Ryan Adams record. I know he got some mixed reviews on it, but I'm glad that he's electric again and he's playing with the full band.