Just a few short months after playing to sell-out crowds in New York — both as headliners and opening for countryman Hozier at the Beacon Theatre for three nights — Irish brother duo Hudson Taylor return to City Winery Loft On Feb. 5 and Feb. 6.
Harry and Alfie Hudson-Taylor are on an upward trajectory following their 2015 debut album, "Singing for Strangers," the EP "Feel It Again," and most recently "Bear Creek to Dame Street," a mini-album made up of new studio tracks and live takes on older favorites.
"We had a whole host of songs ready to go and were coming back to the States for a tour with Hozier," Harry Hudson-Taylor told us while walking the High Line when the band was in town last year. "It had been a while since this song cycle and we wanted to do something a bit more special than releasing an EP.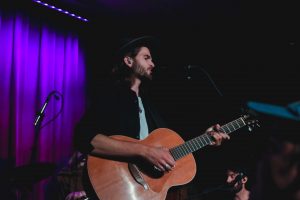 "Half is new songs, half is older songs. Bear Creek Studios in Seattle is where we produced side A, and side B is taken from a beautiful theater in Dublin called the Olympia on Dame Street, one of our favorite venues."
The support sets at the Beacon were received "incredibly well" by Hozier's audience, he said.
"Some elements they like better than our own headline crowd back home. I don't know if that's an American thing. They are very respectful and listening. And we were going back to the merch desk at the end of our set, just go and say hi to people, and when walking through the crowd people were giving us an applause. It's pretty strange."
Harry Hudson-Taylor recalled hearing albums by '60s and '70s mainstays like The Beatles, Beach Boys and Simon & Garfunkel in the family home and "on car journeys," which was "a pretty big influence on us."
"As we got a little older and started learning guitar, I was really into The White Stripes. We went to a White Stripes gig when I was like 9 years old, and Alfie was really into AC/DC and also extreme haircuts — he used to have a mohawk at age 9 or 10."
Ten years ago, the folk revival led by Mumford & Sons added another layer, as did the music of Dublin's pub and busking culture. "You can't really go into a pub in Ireland without there being some lad in the corner [performing]," he said. "We started out playing covers as well, whatever was in the charts in '09, '10, '11, '12, '13, mainly, doing our busking. All of that stuff would influence us."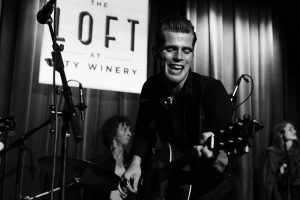 While sibling skirmishes have been a famous part of rock history thanks to bands like The Kinks, Black Crowes and Oasis, Harry assured us he and Alfie aren't at each other's throats.
"It's all good. I'd love to tell you that there's loads of drama because it reads better and it's funny, but we're actually pretty good," he shared. "We are more understanding of our differences over the last year or so and being more honest with each other. We try to keep family matters out of the business side. We've been doing this for 10 years, man, and there were times where we let our personal lives encroach and mess things up. We also have our younger sister on tour with us singing backup vocals and stuff, which keeps us reminded of our roots and all that stuff.
"Me and Alfie get on like a house on fire."
Photos of Hudson Taylor on Sept. 28, 2018, at The Loft at City Winery by Ella Jewell